The Cabinet Office's Fast Stream and Early Talent programme aims to identify leadership potential and diversity in the Civil Service candidates through physical assessments. But the COVID-19 pandemic suddenly prevented assessments from happening in person. Cyber-Duck was ready to turn the physical experience into a secure, yet welcoming remote one. With 100% client satisfaction, in just 12 weeks we built a platform that is now used by all candidates.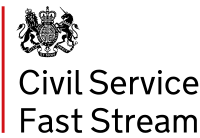 What we did
Objectives
Cyber-Duck originally researched, designed and developed a robust, inclusive digital assessment platform for the Cabinet Office's Fast Stream Assessment Centres in London and Newcastle.
This platform was intentionally tailored for the physical experience; for example, it was designed for (and locked to) the Cabinet Office's iPad assessment devices.
But the COVID-19 pandemic suddenly prevented these in-person assessments from happening. As part of our ongoing partnership, Cyber-Duck was ready to help with the UX and technology transition. If tackled in the right way, it was an opportunity to create a virtual assessment centre that would remove the geographical divide between Newcastle and London, while still providing an inclusive and accessible experience. Our objectives were to:
1
Develop a remote assessment platform that was secure and easy-to-manage for the Operations team
2
Provide a reassuring, accessible experience for the Fast Stream candidates, consistent with the original
3
Deliver the project urgently, by applying our Agile methodology
UX and technical strategy
Cyber-Duck has a long-term, supportive relationship with the Cabinet Office. During one of our routine calls in April 2020, we agreed we needed to pivot the UX and technical strategy of our successful Fast Stream Assessment Centre platform. This was because the COVID-19 pandemic prevented candidates, assessors and operations coming together, in person, for that winter's cohort of assessments.
In August 2020, Cyber-Duck begun research. Although we had built the previous experience as a responsive website, the Cabinet Office's unique needs meant switching to remote, online assessments wasn't as simple as it may sound.
For instance, the app was tailored for the Cabinet Office's iPads. The assessment was only accessible from their office and assessment centres for a reason. We needed to tackle a number of challenges, if assessments were to be completed successfully remotely:
1. Remote access – how could we ensure users could access a performant experience, with the device/Internet they had access to?
2. Security and User authentication – how could we ensure the right person took each assessment?
3. Document analysis – how could users switch between video- and document-writing in a seamless experience?
4. Accessibility – how could the platform continue to promote diverse applicants?
We were particularly proud that disabled candidates had a 27% increase in success rates in the original instance of our platform. Together, we had to keep it up.
Technical development
First, we tackled the desktop and remote experience for our assessment platform. By creating a new theme for Drupal and continuing to patch it, we optimised our original work-around (previously tailored for iPad) to be responsive, ready for the variety of devices candidates would be using at home.
Second, Authentication was critical. We presented many options to the Cabinet Office. These included an encrypted VPN, ruled out for the amount of IT management/permissions required; 2FA, not possible in case users didn't have access to a mobile.
Our solution was that only the candidates' assessment was made public. The Drupal CMS was IP-restricted to VPN, which all the Ops team had on their machines. When in-person, candidates were only asked to log in with their first name/candidate number; now, they required a password. Ops admins could manage this easily and passwords are changed daily.
Lastly, Ops needed to be able to 'see' the candidates. Instead of reinventing the wheel, we selected Google Hangouts; it was the Cabinet Office's preferred videoconferencing software and one candidates may already have experience with.
Together, we divided the candidates into small groups. Ops would activate exercises for candidates in batches and could see their video / screen whenever required. It also meant candidates could have some of the 'spirit' of the in-person days, as they could chat in small virtual rooms between assessments. Before launch, we recruited and conducted a 'dress rehearsal' with candidates to ensure the experience was smooth.
Results
At speed, Cyber-Duck was able to adapt for the pandemic: turning a physical experience into a remote, digital experience, while maintaining the supportive atmosphere. We delivered this project in just 4 months, ready for the November 2020 cohort of candidates. We applied our Agile methodology, conducting ceremonies such as backlog-grooming and regular show and tells to ensure we were heading in the right direction.
We provided support for the CDIO assessment; this was the light-touch version of the famed Government Digital Service assessments, which ensure best practice (like WCAG 2.1 AA) are met. When surveyed, our client gave us a 100% satisfaction rating. The first time we ran the assessment in real conditions, there were no bugs or notable issues!
Our performance optimisation was also exponential. We noticed, on our previous instance of the app, that the database server usage was up to 80% with more than 70 candidates. After our efforts on performance optimisation/caching, it never goes above 5%. This is important, when users are accessing the website from all kinds of devices; it will maintain accessibility gains.
Ultimately, the candidates found the system easy-to-use. One said "this was a really engaging and enjoyable experience despite the online-format. The way that it has been adapted to fit the online-format was very easy to understand and navigate and clearly extremely well organised and thought-through, which I very much appreciated."