After just 5 weeks of streamlined hard work at supersonic speeds, the team are proud to announce the production and take-off of the new, refreshed Eurofighter website. The new accessible and engaging responsive website design (RWD) has been produced to embody the quality, strength and power of the Eurofighter Typhoon fighter jet.
Eurofighter Jagdflugzeug GmbH based in Munich, Germany approached Cyber-Duck in September 2013 to spearhead the revamp of their old website by modernising the information architecture and content so it works perfectly on multiple computing devices including PCs, tablets and smartphones.
In order to deliver a website that 'adapts' to different screen sizes and feature enhances, Cyber-Duck opted to use our own RWD framework developed in house called Hoisin. The framework ensures that the content, navigation, multimedia and graphics are optimised for all users using a modern browsing device.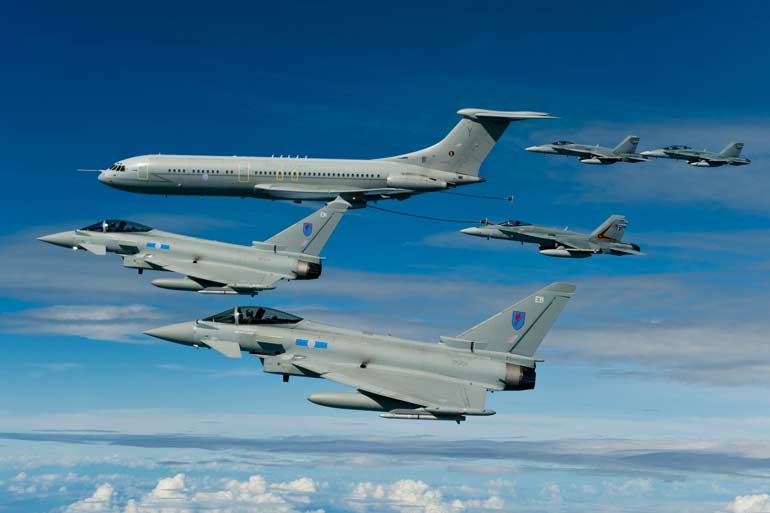 Eurofighter Typhoons (RAF 6 Squadron) on exercise Bersama Lima 11 in Malaysia (Photo: Geoffrey Lee, Planefocus Limited).

Production
As part of the build, Cyber-Duck utilised its ISO accredited user-centred design (UCD) process (ISO 9241-210:2010). Part of the UCD process entailed stakeholder and personas research as well as data analysis so the team had informed insights before any design commenced. Based on this research, the information architecture was redefined so it suits the different website audiences.
The typography on the website is responsive so the font size, leading and line height changes depending on the device. Besides refining the copywriting to ensure it is more concise and reads better, Cyber-Duck also designed a compelling new art direction and infographics to easily communicate key statistics about the aircraft to key users.
The RWD, typography, new copywriting and new information architecture immediately enhance the user experience of the website, ensuring that all key audiences are well catered for, encouraging visitors to explore and find out more about the world's leading swing-role fighter jet.
Outcome
The new Eurofighter website took flight (within 5 weeks!) to coincide with the Dubai Air Show this weekend (16th November 2013) in which the Eurofighter Typhoon was displayed to world leaders, who will be looking to find out more about the world's most advanced combat aircraft. After the Dubai Air Show and during 2014, Cyber-Duck will be continuing to release new pages of information, content and features to continually enhance and enrich the user experience.
Check out the new Eurofighter website here.