Apple finally unveiled new versions of the designer's best friend – the first Macbook Pro update we've seen in eighteen months! But it's the new hardware that has got us excited. I'll take you through the TouchBar feature and its potential for MacOS and web apps (hopefully!).
At Cyber-Duck, our designers, developers and marketers are big fans of Apple's stunning MacBooks. Naturally, last Thursday we crowded around to watch their Fall event – where the line-up of their new MacBook Pro range. Here's a quick recap if you missed it:
The new model replaces the function keys (top row on the current keyboard) with an interactive touchscreen called TouchBar
Built into the touchscreen, the TouchID scanner enables web payments through Apple Pay as well as adding an additional layer of security to the device
Their suite of software programs (Garage Band, Photos) have been updated with gestures and controls for the new TouchBar
The MacBook Air is dead and has been replaced with a cheaper MacBook Pro without the TouchBar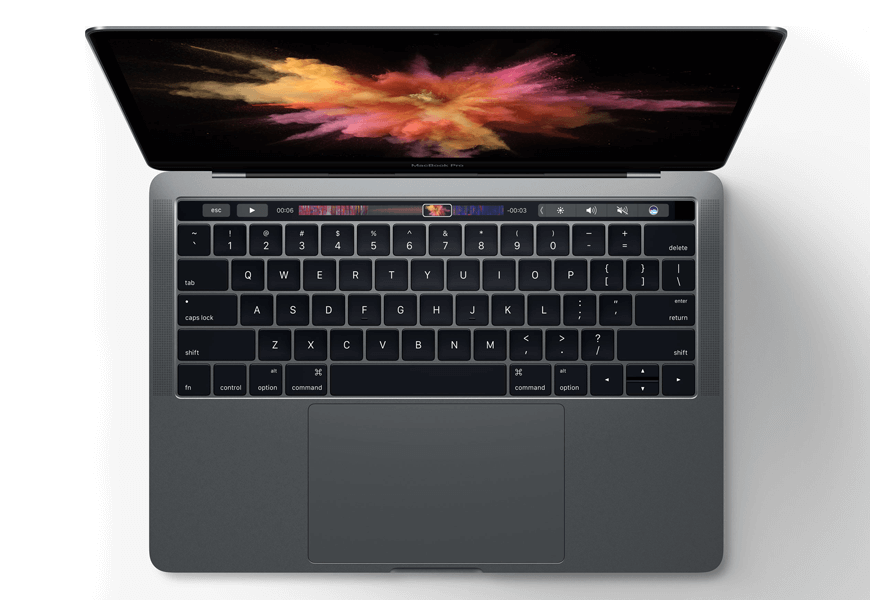 So, What's the Touchbar?
The TouchBar is essentially a touchscreen display, similar to an iPhone. It enhances the usability of just native MacOS apps at the moment – displaying controls (or buttons) which users can interact with through touch. This means they can use custom interactions and gesture-based inputs that are specific. Apple hasn't gone for a full touch screen. Instead they want to offer a 'contextual experience', an easy-access extension to the keyboard that is tailored for apps.
Some examples we've seen in practice include a scrollable timeline for video editing, text formatting buttons in Keynote… and very important things, like dedicated emoji keys for Mail.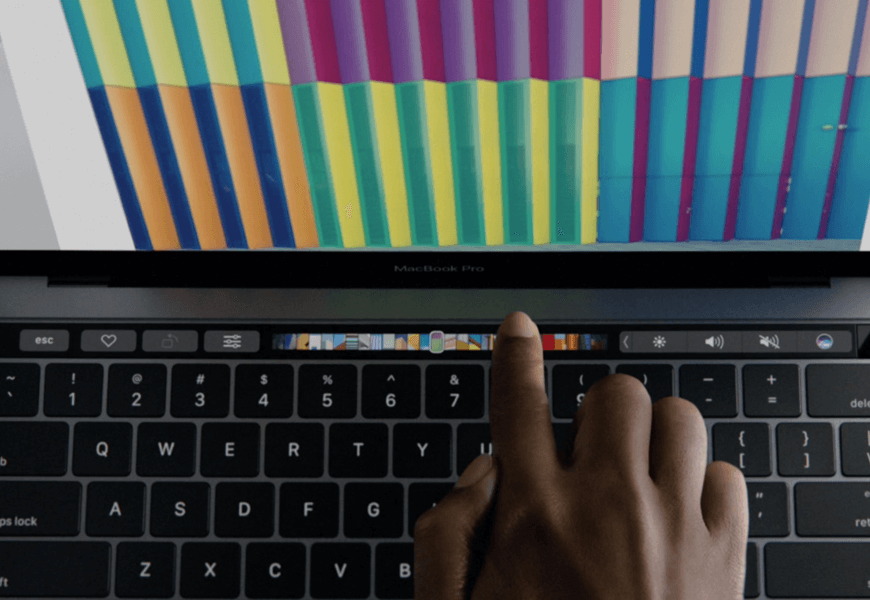 The announcement of the TouchBar has caused a big stir in our industry. Apple has stressed in their guidelines that the feature should be used as an extension of the keyboard and trackpad, not as a second display.
Why Are We Excited?
Apple's TouchBar opens up a whole load of opportunities for improving the way customers use our products. It's currently available for native apps, or programmes installed on MacBooks. We can improve their efficiency with bespoke controls that are tailored to getting tasks done fast, with less clicks. Here's an easy example for any text editor programmes, including Pages, Evernote and more. Basic formatting you use all the time – like bold, italic – will be so much easier to access in the TouchBar.
There could be even more advantages if Apple opens TouchBar up to the web. With the ability to create custom controls, we could make our websites more accessible. For example, we could build a 'breadcrumb bar'. With this, users exploring websites could easily use the TouchBar to navigate back to key pages of content, once they were finished reading a deeper page. This kind of change could have a big impact on accessibility. Users with limited dexterity could navigate a website through touch alone.
If you'd love to see it for yourself, watch Apple introduce the new MacBook Pro's full design, performance and features below.
We'd love to get exploring these features – so if you're a business who wants to get their MacOS apps ready for TouchBar get in touch. The new MacBook Pro with the TouchBar will dispatch within 4-5 weeks!