This month, we headed down to Britain's sunshine coast for BrightonSEO. What followed was a day jam-packed with talks on everything from social media to content strategies, advanced keyword research to online PR. Here's our whistle-stop tour of what we saw covered.
We were thrilled to head to Brighton earlier this month for BrightonSEO, one of the country's leading SEO and digital marketing conferences. Although we had to get up earlier than usual, it was well worth it to glean some of the best insights the industry has to offer.
Today, I'm going to run you through just a few of the things we learned, including how to improve your content strategy, refine your keyword research, and enhance your social media output. We also heard from Google's Gary Illyes, who in his keynote address answered questions about Google's upcoming changes and what they mean for digital marketers everywhere.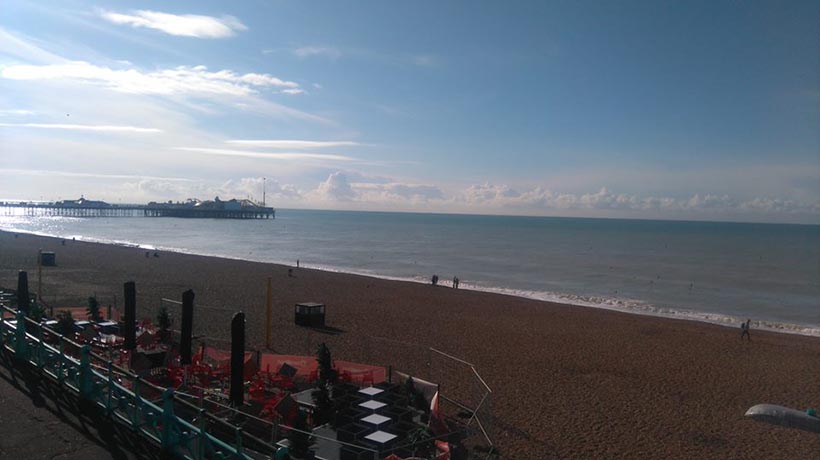 Online PR
In the first of the day's sessions, we popped into the Syndicate 1 & 2 theatre hall to listen to talks from Shannon McGuirk, Sophie Everett and Bobbi Brant about how to improve your online PR with a link-building SEO twist.
Their talks explored how to cultivate links from journalists and PR specialists. The fact that journalists are extremely busy was often mentioned. That meant if you wanted them to use your content and link to your site you needed to work with them, rather than trying to get them to work for you. If you could meet your contact halfway and make their life and job easier, they'd be more likely to use your content.
But how could you make a journalist's life easier? By finding and crafting a story for them. The speakers recommended using free statistics and looking for fresh approaches to data to see if you could discover a new story. This kind of analysis takes up a lot of a journalist's time, so any help is greatly appreciated.
Ultimately, if you can scratch a journalist's back, they might scratch yours. Then the links could soon come pouring in, drastically improving your rankings.
Content Marketing & Strategy
After the Online PR session, we decided to divide and conquer the vast labyrinth of BrightonSEO's many talks. Half of the team stayed in Syndicate 1 & 2 for talks that stretched into the afternoon about content marketing and strategy. We heard six talks in all about content, but one of the greatest highlights came from Amy Harrison.
Amy's talk focused on the disconnect between content creators and their audiences. She pointed out that we need to build a relationship with our readers, customers and users to push sales. A copywriter by trade, Amy showed that the way to bridge the divides between companies and their customers was through generating stories.
This is something we here at Cyber-Duck hold quite dear. User stories, for instance, are a crucial aspect of our user-centred design process. We create a variety of personas that help us to picture users and explain their needs, and then we set out to meet those needs and expectations.
You can find out more about user stories on our app, UX Companion, and about our user experience services here.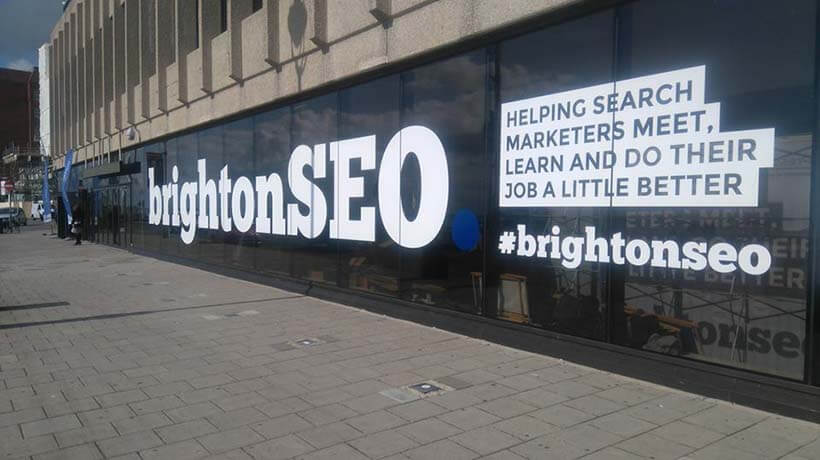 Later, Jade Tolley presented her thoughts on content strategies, outlining her Hygiene, Hub and Hero pyramid approach to content. Each element of the approach is a different type of content Jade believes your site must have.
First off and at the bottom of her pyramid approach is Hygiene. This is evergreen, generic content that populates and fleshes your site out. Unless your services change, this content is unlikely to change. It targets search and converts sales.
However, content-wise things start to get more exciting as you move up the pyramid. The Hub is where your blog content falls and is intended to build and maintain your community. It engages your demographic by giving life to your brand. The Hub is your site's beating heart.
But it's the Hero content that tops the pyramid. This is where you make a big splash and raise brand awareness by using high-quality content such as interactive pieces, videos, and detailed infographics. Hero content, Tolley argues, is highly shareable and fun, but it requires a huge amount of work to produce. As a result, you should only produce Hero content a handful of times in a year, most usefully around awareness days and product releases.
Advanced Keyword Research
Meanwhile, in Auditorium 1, our client marketing team members Joanna and May were enjoying the Advanced Keyword Research talks.
The speakers – including Stacey MacNaught, Sophie Coley and Kelvin Newman – had some brilliant insights about SEO. Among the points they made, one especially pertinent point was that the traditional search engine isn't the only search engine out there you have to contend with. Yes, you must optimise for Google. But ignoring the fact that eBay, YouTube and Amazon all have their own search functions is a tremendous shortcoming. Finding the right words to use across the board is therefore essential.
Again, this is something that we here at Cyber-Duck understand well. For instance, we identified the rise of Amazon Alexa early, so redesigned our UX Companion app to include Alexa functionality. Discover more about our work making UX Companion Alexa compatible.
Another great insight shared was that, as we all know, search behaviour is in right now. But that doesn't mean we have to default to content as the main way to connect with your audience. If you can find alternatives, you should pursue these with gusto – doing so could delight your audience, resulting in them coming straight to your brand for answers rather than Google.
Crawl & Indexation
In the afternoon, we were treated to some very exciting talks in the Yext Auditorium. For Joanna, it was the last of the three speakers that truly grabbed her attention, Cindy Krum. Her talk, Understanding the Impact of Mobile-First Indexing, predicted where indexing was heading and, if right, could have huge implications for the future of SEO.
Krum's thoughts on mobile-first design were that as it's all about prioritisation and portability there is a strong likelihood that cloud-first indexing will emerge. With cloud-first indexing, URLs won't be required – that would shake the world of SEO to its core.
Her reasoning is that data – and the world at large for that matter – is becoming ever more connected. Progressive web applications (PWAs), for example, are getting more and quicker traction with users because they are so useful. These apps sit on your desktop and don't need a URL to function, so SEO specialists need to get ahead of the curb.
Fortunately, our marketing team is exactly that – we work hard at Cyber-Duck to anticipate how the industry will change and how we need to manoeuvre to retain our clients' positions in the market. Check out more about our services here.
Keynote: Gary Illyes
It had been a long day, but after making a pit stop in the exhibition hall for a free craft beer, we were on our way to the final act of the day: a keynote address from Gary Illyes of Google.
Kelvin Newman had tasked everyone with thinking of some difficult questions we could grill Gary with, and the BrightonSEO audience didn't disappoint. Gary was interviewed by Jennifer Slegg, and there were many questions about Fred, the latest updates to Google Search. This was the perfect opportunity for Gary to let us all in the story behind its name.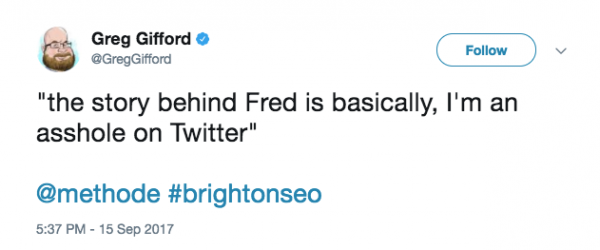 Turns out, Gary is just as sarcastic in real life as he is on Twitter.