Danny Bluestone talks about the importance of having a digital marketing strategy as an SME in the construction industry.
The article titled "A Strong Digital Marketing Strategy is Pivotal for SMEs" was published in the leading construction magazine on Thursday 2nd August 2012 and covers the basics in digital marketing which a lot of SME construction companies seem to be missing out on. It demonstrates the importance of web design, search engine marketing, email marketing and creating a mobile presence as part of wider marketing campaign.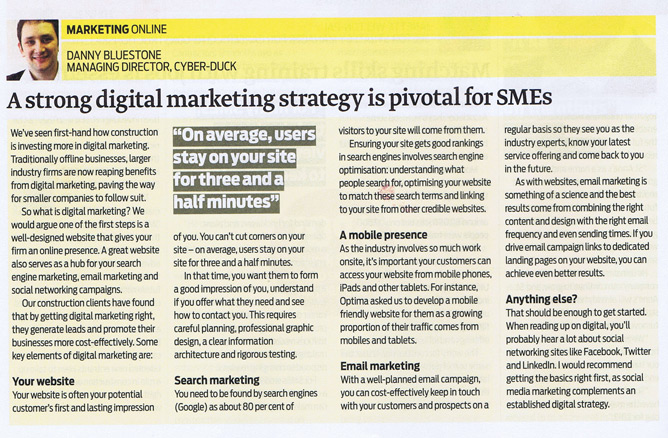 Danny was asked to write in the SME section of the magazine because of Cyber-Duck's successful history and long-term working relationships in the construction industry, working with a range of nationally known construction companies including BAM Construct UK, Optima Group and Jewson. Cyber-Duck also has a proven track record working alongside start-ups and growing SMEs.
You will be able to see the full article in the 2nd August edition of Construction News magazine on page 26. You can also read it in full online at cnplus.co.uk (subscription only).