We're delighted to welcome Yahye Siyad, former Team GB Paralympian and certified awareness trainer for the United Nations' Convention on the Rights of Persons with Disabilities [UNCRPD], as Diversity & Accessibility Lead, to team Cyber-Duck. Yahye will provide Cyber-Duck with guidance based on his wealth of experience working in inclusion.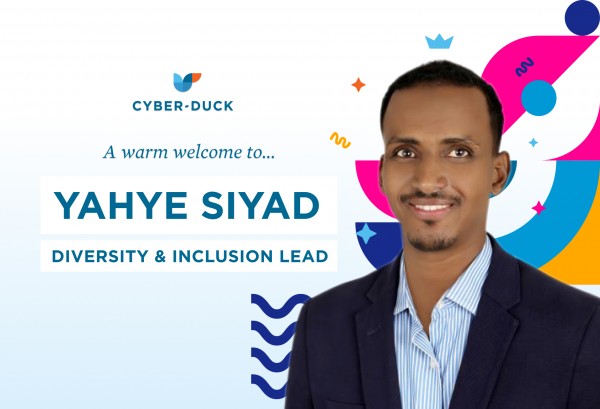 As an accessibility agency, we've always focused on inclusion, not only to create a better and fairer society, but because it enables Cyber-Duck to understand the full range of user accessibility needs. Without diversity in our team and approach, we simply wouldn't be able to do the user-centred design and technology work that we do. However, while we have long been taking proactive steps towards greater diversity and inclusion in our organisation, we still see this as the beginning of an ongoing journey, which is why we've created a dedicated role to this end.
Yahye's personal and professional background is remarkable. He was born in Somalia with a visual impairment caused by retinal dystrophy, grew up in the Middle East, quickly becoming fluent in Arabic, then moving again to the UK, where his drive saw him achieve a Masters in International HR Management at Westminster University and fully bilingual in English, all the while becoming a Team GB athlete in disability team sport, goalball.
Yahye's entrepreneurial spirit found its expression in his consultancy business Inclusive Horizons, a self-led social-advocacy service in the realm of accessibility, inclusion and inspiration coaching, working on projects with multinational clients including Mercedes, the Jumeirah Group and Emirates NBD. He is also an aspiring author, keynote speaker and certified professional Co-Active coach, not to mention the first visually impaired Certified Scuba Diver in the UAE.
Yahye recently hosted our Fireside Chat webinar, Deconstructing Digital Inclusion, along with our Chief Growth Officer Siji Onabanjo. They discussed ways to bridge the digital divide and talked about our passion to achieve greater digital inclusion.
With Yahye's ongoing guidance, Cyber-Duck plan to focus further on our existing expertise in inclusive and accessible digital transformation projects, as well as help shape Cyber-Duck's own culture to support this. We are thrilled to have him on board.