The Application Developers Alliance is an international organisation that "supports developers as creators, innovators, and entrepreneurs". In 2015, their App Strategy Workshop series will see 15 events across 7 countries in Europe, North America, and the Middle East. I was invited to host the Putting the U in UX panel on 26th March in London.
At Rivington Place in Shoreditch, developers, designers, product managers and marketing professionals gathered for three separate panels about various aspects of app strategy, from user experience to mobile app monetisation. I moderated the user experience panel featuring experts Karim Toubajie (Senior UX Designer at Songkick), Joel Freeborn (Creative Director at Kidslox), and Caroline Van Den Bergh (Head of Business Development at Golden Gekko).
On App Format
While many themes were explored during the session, the discussion focussed on how user-centred design can engage and retain users. We considered how best to capture users across devices, choosing whether to build a responsive website, native or hybrid app.
Ultimately, this depends on the context of the specific business case, and the formats are not mutually exclusive. I have touched on this topic, while considering the future of native apps for Econsultancy. I advised to start with a responsive design to increase the accessibility of the main website of most businesses, and offer native apps as an additional or more targeted service. For instance, Songkick revealed the conversion rate of their native app is up to 70 times higher than their mobile website due to the fluid experiences it offers.
Hybrid app development means creating a single design and code base for both iOS and Android versions. It was recommended for apps that don't rely heavily on phone-specific functionality like a microphone or accelerometer. For instance, while we initially released our glossary app UX Companion for iOS, we decided to rebuild it as a hybrid rather than maintain separate a separate version for Android in the future. The time and money saved on development also makes hybrid apps a good option for companies with smaller budgets.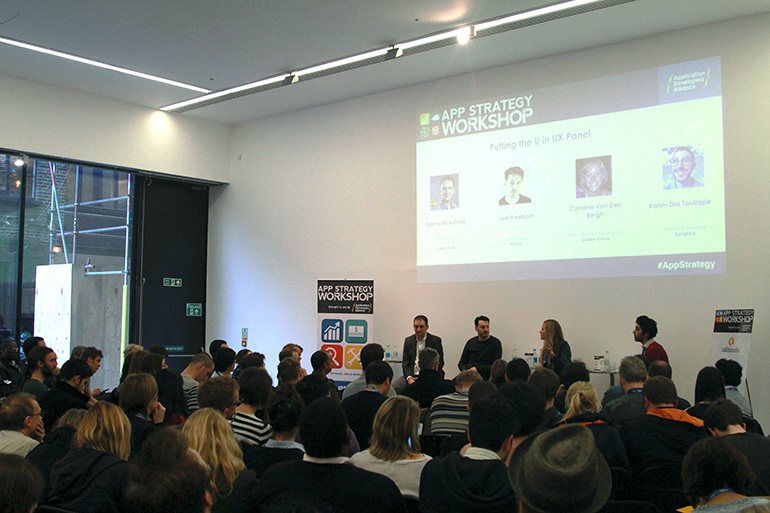 On Individuality
The debate then turned to maintaining an app's individuality whilst adhering to both Apple's iOS guidelines and Google's Material Design manual. These proprietary set of standards include recommendations for everything from gesture behaviour to icon sizes. They are intended to provide users with the experience they expect, no matter which app they use on their device.
But, the panel's consensus established "the brand comes first" when designing native or hybrid apps. With great visual and user experience design, it's possible to create a unique app atmosphere, strong enough that users don't even consider whether it looks like the apps they're used to. A great example is transit app Citymapper, which includes typical elements such as tabs but presents them in user interface style all their own.
One suggestion for prioritising the brand over platform standards is to borrow visual cues from other successful and trustworthy apps. This can help reassure or win over your own users by still providing a familiar experience. An alternative strategy is to maintain separate native apps for iOS and Android and tailor their designs to the guidelines of each, which has the benefit of increasing your app's chances of being featured by the App Store or Google Play.
On Security Concerns
For mobile app security, social authentication and third-party payment solutions were praised as current solutions. These aim to minimise the amount of sensitive, personal data stored by the app itself. Apple's Touch ID, which allows users to unlock their phone or verify their iTunes Store account with a fingerprint instead of a password, was also mentioned as a great current standard. However, the future of heartbeat authentication using wearables – where a device such as a smartwatch detects one's unique vitals and grants access to an app – was seen as an even better option.
The Final Word
At the end of the discussion, all the experts – myself included – had the same advice for audience members looking to improve usability: "Testing, testing, testing!" Head over to Cristina's blog post to find out more about best practice for usability testing, and ensure you test across real mobile devices.
If you'd like us to moderate or speak at your event, please email events@cyber-duck.co.uk.