The latest instalment of our popular digital event series, The Digital Pond shed light on building brand loyalty with customers across 3 different industries.
We live in a world where people don't just buy from brands – they join them. This means customers are captivated by more than what's on sale itself. Brands' values, personality and promise can sway customers to purchase again and again… even sharing with others, as a way of expressing themselves. So building that loyalty with a brand that can appeal to customers' very core is key. But how?
We dipped our toes into this nebulous question at our last Digital Pond event. Over 100 digital professionals were eager to build their knowledge. Our three speakers shared how to build organic brand systems in three very different industries. Here's their key takeaways that can help you connect with customers across services, products and channels – generating business consistently.
Building Compelling Brand Systems
Firstly, our very own CEO, Danny Bluestone took to the floor. He revealed the building blocks of compelling brands. Businesses must establish these early. By developing a unique personality and ethos – and communicating it consistently! – businesses can charm users and power growth.
Begin by establishing a clear mission that your business is here to solve. By conducting thorough user research, you can solve a real challenge (or need) for people. It unlocks a specific audience for your business and the information you need for effective targeting: their motivations, needs and potential obstacles.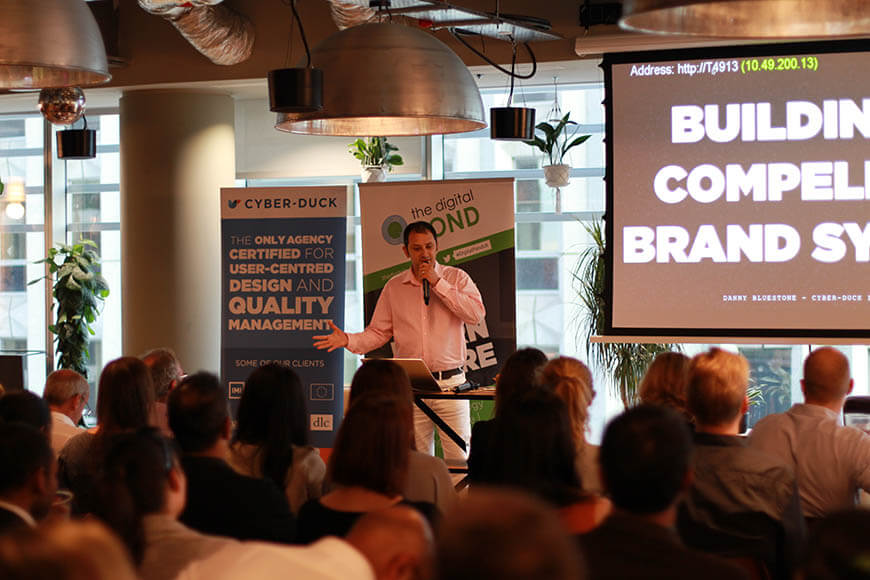 But, communicate your offering with a punch of personality. If it's focused, scalable and supported by value-driven content, brands can boost innovation and outreach. What's your brand story? Does it have an overarching narrative that users can identify with, and will want to share? Document a tone of voice and visual language to give your team the tools they need to communicate.
Smart brands use both digital and physical infrastructure to engage with all generations. Dream up new ways to engage and talk to audiences in-line with your brand's tone of voice.
Watch the full video of Danny's talk:
Maintaining Brand Loyalty
Next up Joan Murphy, the Co-founder of Frame demonstrated how it's done. By telling the story of your brand with collaboration, innovation and personalisation, your business can thrive.
Co-founders Joan and Pip couldn't find the gym they wanted… so they created it themselves! With their fun personalities and values at the heart, Frame's brand has been breaking the mould since day one. Frame is an attitude, a way of life, and that is reflected in their mantra: getting fit shouldn't be a chore. This mission guides all activities, eight years and five studios later!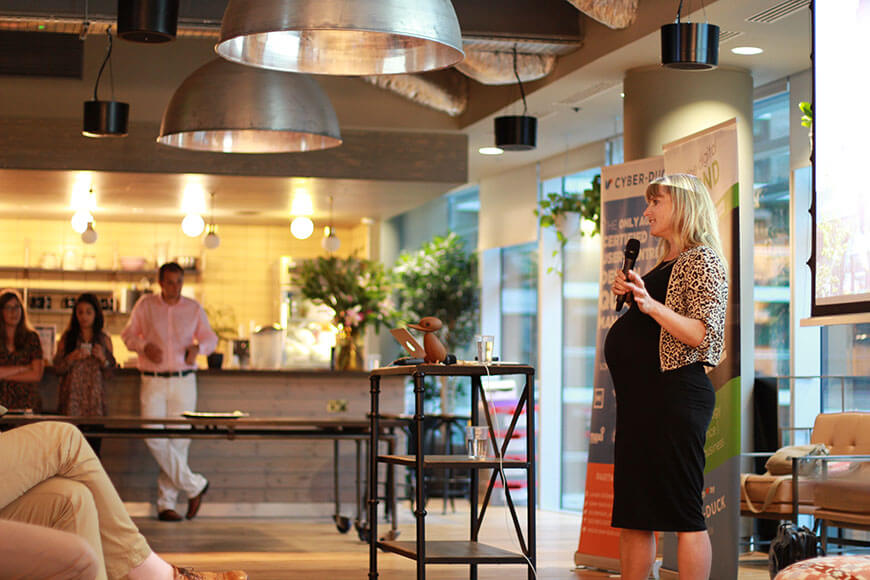 With so many messages flying at consumers, how do you make yours stick? Joan and Pip took their message and turned it into a story. They do not advertise, but collaborate with like-minded people who believe in their story, and tell it for them.
How has the Frame brand maintained its loyalty over eight years? Their tone of voice is consistent. Don't take yourself too seriously! This resonates everywhere, from simple class timetables to a bit of Instagram inspiration. Their style of communication with members makes them feel part of a special, supportive community. And when their members are engaged they provide valuable educational content. Their secret? Personality, consistency and storytelling.
Watch the full video of Joan's talk:
Building a Brand Community
Building a brand community before a product has even been launched is another kettle of fish. But BLOCKS – the modular smartwatch winning thousands on Kickstarter – makes it look easy. The Co-founder, Serge Didenko proved it's possible, with passion, iteration and a unique product.
Serge and his co-founders knew they had something special on their hands (literally). They just had to get people to believe – and invest. They pitched to various panels, events and investors and despite winning an award for the best commercial potential, telling the story of a product in progress wasn't enough.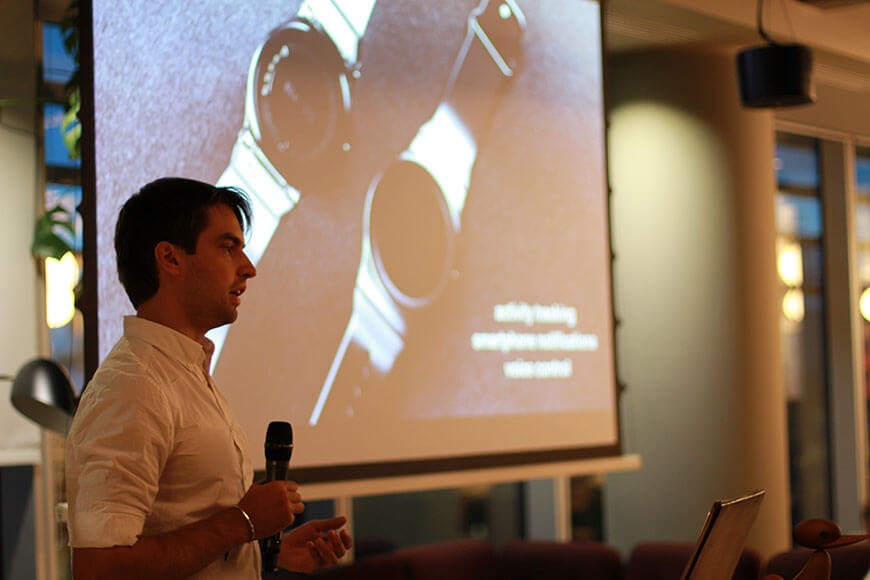 To convert their passion into investment, they needed to create a community. Taking their CAD images, they created simple a video and stuck it on YouTube. Big players in the digital world published articles exploring the features of the watch. Out of nowhere their brand community was born.
Like Frame, BLOCKS needed like-minded people to tell their story. They offered individuals within their community the opportunity to speak directly to the founders, ask questions, get exclusive updates… and not to mention receiving the watch before anyone else in the world. All this, in return for a small investment. Repeating this model over and over, this simple community building exercise took their bank account from £0 - £100,000.
Through working hard (and taking risks!) refining their product, BLOCKS found that personalisation, and real, fun interaction with their customers was the key.
Watch the full video of Serge's talk:
Join Us in November
After a healthy dose of inspiration from our speakers, there was plenty of chance to mingle and ask questions over a drink (or two!). Once again, thanks to WeWork Aldgate Tower for the great space and Rackspace for the support!
We work closely with sponsors to host fun, inspiring events every other month. If you'd like to support us, please get in touch.
Keep an eye out for our next event by following the Digital Pond on Meetup or Twitter – we'd love to see you there. Next time, we'll peer into our crystal ball… and explore what's next for marketers in 2017.