Not one, but two Ducks have been selected to join the infamous BIMA Hot 100 2021. We are delighted to celebrate Meera Rao who has been selected in the Creatives and Designers and Nick Garratt in the Rising Star lists.
Founded in 1985, the British Interactive Media Association (BIMA) represents the UK digital and tech industry. Cyber-Duck is a proud, active member; we've spoken at their breakfast briefings and enjoy teaching teenagers at their BIMA D-Day events.
The BIMA 100 celebrates the 100 people who are shaping the British digital industry. They're the movers, shakers, trailblazers, innovators and pioneers who represent digital and tech's best and brightest. The winners are selected by an independent panel of industry experts, which this year also included our very own Chief Growth Officer, Siji Onabanjo judging the Business Developers & Marketeers.
We're happy to announce that Meera Rao, Senior UX Designer, and Nick Garratt, Visual Designer, have been selected for the BIMA Hot 100 for 2021. Meera joins the Creatives & Designers category, which recognises those who can "combine creative originality and exceptional execution, which has seen them push boundaries… or surprise and delight clients". Nick joins the Rising Stars category which celebrates "The future leaders of our industry… The 'ones to watch' – earmarked for success because of the influence their ideas or work are having in their organisation or the wider world."
Due to Covid restrictions, there could be no live ceremony again this year, instead, BIMA replaced it with a Springboard Conference closing with the announcement of the winners.
Since 2013, Cyber-Duck has been bestowed the honour of being selected for the BIMA 100 nine times! Our Founder & CEO, Danny Bluestone, has selected twice in 2013 and 2014, followed by Siji Onabanjo in 2015. Then our CPO, Matt Gibson, was selected in the Creatives & Designers category in 2016. In 2017, Benjamin Maugain was selected in the Devs & Makers category before Sofia Breg joined the Rising Stars ranks in 2018 and Cristina Vigano in 2019.
BIMA 100: Meera Rao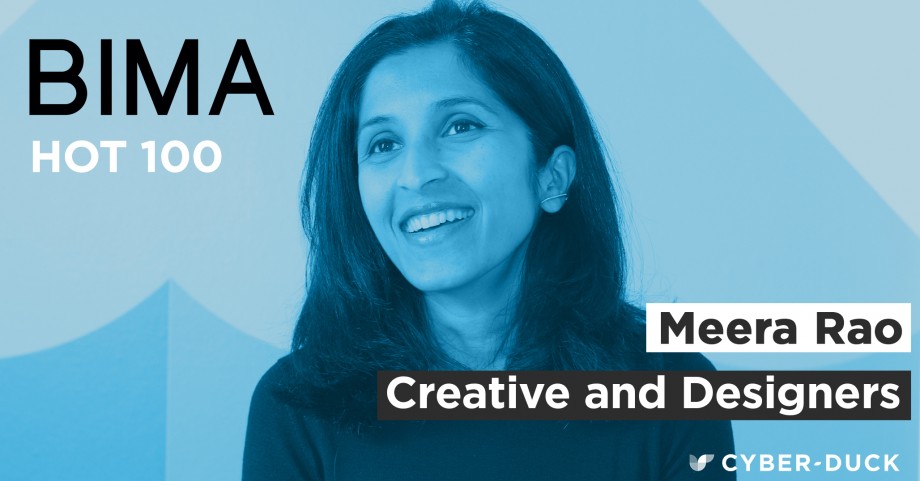 Meera Rao, BIMA 100, Creatives and Designers

After opting for a complete career change from Finance to UX Design, Meera joined Cyber-Duck in 2018 and really made her mark. With less than 3 years of experience as a UX Designer and two years into her role at Cyber-Duck, she was promoted to a senior level. Fundamentally, Meera is a problem solver; she believes design is powerful and can make a real consumer impact.
Our UX Lead, Sam Hooper, said:
"Meera's professional and considered approach, and staying true to UX processes and principles, makes her a formidable UX Designer. One I am proud to have witnessed develop into an incredible Senior UX Designer, something she rightfully earned in just a couple of years after a career change to UX.
Since then, she has stepped up and taken on multiple projects and led less experienced designers on projects to enable them to do their best work.
She is passionate about accessibility and it's not all talk; Meera has regularly championed it on some major projects, making sure clients understand and follow through on making their websites inclusive and accessible to all.
Meera is a great representative and example for UXers everywhere!"
BIMA 100: Nick Garratt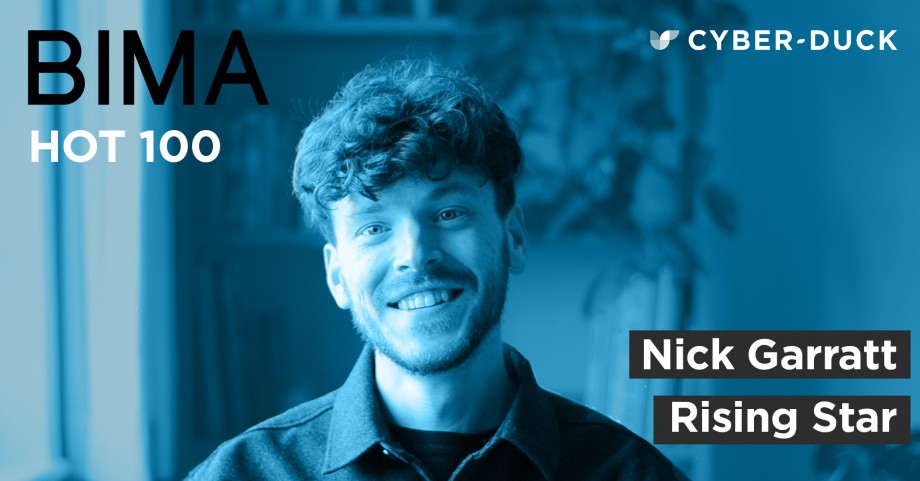 Nick Garratt, BIMA 100, Rising Star
Nick joined the pond 5 years ago as a Junior Designer on a 12-month placement as part of his degree. Impressed by how he drew on his previous experiences and creative flair to support the team across user experience and graphic design, he's still quacking with us today as a full-time visual designer.
Not only has Nick continued to impress us through his work at Cyber-Duck, but he's gone above and beyond for the design community as a whole over the last year.
In response to the creative isolation of lockdown in 2020, Nick created a new magazine, Quaranzine, offering an outlet for creatives around the world to express themselves.
Nick manages the design, printing, shipping, and crowdfunding of the zine all himself, with no prior experience in things like marketing or operations, and now has a core community of 50 artists across 4 continents.
He's grown as a combined designer, project manager, and marketer, selling 140 zines in total, shipped to 11 countries, including Brazil, India, and Australia. Through this, he has raised £160 for the Bail Project, WHO COVID-19 Relief Fund, and Cool Earth.
In addition to this prestigious award, last week Nick was also selected as a finalist in The Drum Awards for Design, within the Rising Star category. We are now eagerly awaiting 20th May when we will learn whether Nick will be adding another trophy to his cabinet.
I'm sure you'll join us in congratulating both Meera and Nick. If you'd like to work with our award-winning team, feel free to get in touch with us. We'd love to share our UX expertise.