In July, I climbed Mont Blanc in aid of Goods for Good. We managed to raise £758.50 in total, all for great causes providing aid in the Middle East. Today, I'm here to tell you about how my expedition went and how my mountaineering experiences can apply to project management.
Previously, I discussed my Expedition for Good, my solo ascent of Mont Blanc in aid of the Hertfordshire-based charity Goods for Good. The great thing about this adventure was that organising an expedition is quite like managing a project. As such, I've learnt a few things from mountaineering that can easily apply to project management.
If there's one thing I've learned in the office and in the mountains, it's there's no better training ground than high-risk environments that push you beyond your limits. After summiting the highest peak in the alps, I'd like to share my experience and show how both project management and mountaineering are more linked than you might think.
Learning from Others
The first step in the lifecycle of any project is its initiation. The Project Manager (PM) details the business case and begins to build a project charter at this stage. But before jumping straight into the project planning, the project initiation can also include a research phase.
When planning to ascend a mountain, I always try to get as much information as I can: about the different routes, the weather, required equipment, main dangers/risks, and reading testimonials of people who succeeded before me in search of advice.
You can also include this research phase in your projects. When you're confronted with a new challenge, it pays to find out if other people have managed similar projects before – you don't want to reinvent the wheel. Adding a research phase can help you choose the methods, tools and technologies, and seeking advice from others is immensely helpful in this.
Going Backwards to Move Forwards
At an altitude of 5000m, oxygen levels are just 50% of those at sea level. As a result, your body will be pushed to the limit and requires careful preparation – you couldn't just have a helicopter drop you off on the summit as your body would be completely unprepared!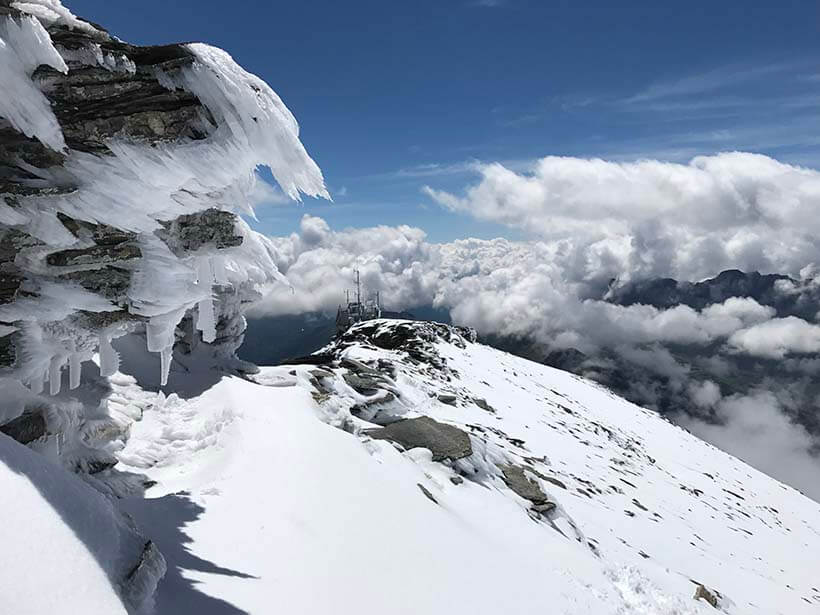 Instead, you must go through an acclimatisation process, which includes many smaller trips to high altitude in the days before the main ascent. After climbing a part of a mountain, you need to climb down to sleep at a lower altitude, and you must repeat this process until your body acclimatises. Psychologically this is hard, but powering through is essential; after all, you're going backwards to ensure you're stronger later.
During a project, you can realise a strategic or a technical choice wasn't the right one. Applying this logic, you should be agile enough to be able to return to a previous decision and stage, as sometimes stepping back allows you to increase your chances of success later.
Making Decisions in a Changing Environment
At high altitude, the environment can change suddenly. When that happens, you need to be able to act and react quickly. Although I had carefully planned my route on the mountain to avoid the worst changes, during my ascent I did encounter sudden and potentially disastrous changes.
For instance, at one point I met a crevasse that was too big to jump over. Although I knew this might happen – on a glacier, when the moving ice is separating from the static ice it can create massive crevasses known as "bergschrund" – it was no less problematic for it. I had to choose a new direction, not knowing in advance if one or the other would allow me to get around. Luckily, I was able to recommit to my original route quite quickly.
Another example came on my way down. Just before addressing the most technical part of my descent (a 700m granite wall), massive black clouds and the first signs of a storm arrived from nowhere. I had to weigh up the risks the storm might pose and whether to press ahead regardless. In the end, I decided not to change my plan and to try to move quickly before the storm hit.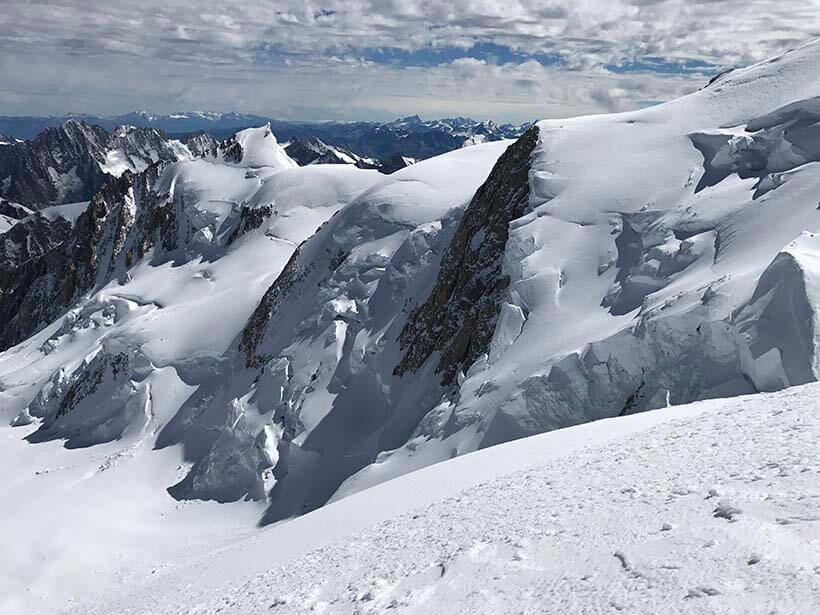 Adopting agile methodology allows you to have this flexibility in your projects, too. Even after weeks or months of careful planning, you can be certain that the environment can and will change – you need to be ready to embrace that rather than fight it.
However, to avoid confusion, Agile doesn't mean to have "no plan". On the contrary, it means to have a thinner plan, revised on a regular basis and tailored to the circumstances. Flexibility and agility are essential whether you're facing a mountain storm at 3800m in the alps or handling a disruption in the IT sector.
Learning from Your Mistakes
As I mentioned earlier, it's important to learn from others. It's equally important to learn from your experience and from your own mistakes.
At the end of the first day of my ascent, I set up base camp at Tête Rousse (3200m), planning to spend a short night there before the summit push. Once I arrived, I started to blow up the inflatable mattress I use to isolate myself from the ground when sleeping on snow. As silly as it sounds, I felt completely exhausted after only a few minutes, and struggled to maintain consciousness. With the lack of oxygen, any effort like this makes you feel instantly dizzy– definitely a mistake I'll only do once!
At Cyber-Duck, we are following an ISO-accredited User Centred process. As such, we use Non-Conformities (NC), Opportunities for Improvement (OFI), Project Retrospective Analysis (PRA), Satisfaction surveys – all of which are embedded in our processes – to provide data we constantly use to improve the way we work. We view any mistakes we make as a development opportunity, thereby ensuring next time we will be better.
Proactive Risk Management
Tête Rousse is an extraordinary place to be. When I arrived there at the end of the first day, clouds surrounded the whole place, giving it an out-of-this-world feeling. At night, you can hear and feel the deep and loud rumble of frequent avalanches and snowslides on the surrounding faces. On top of making you feel very small, you become quite conscious of the constant danger of avalanches that you face.
Likewise, when walking alone on a glacier you face the risk of walking on a snow bridge. These are thin amounts of snow that cover a crevasse, hiding it from view; as such, there's a constant risk of falling deep into the glacier.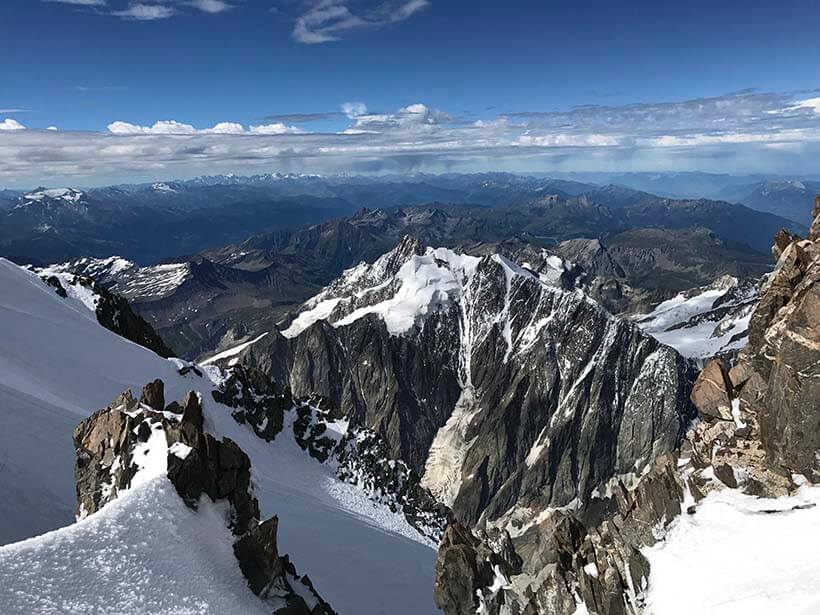 To mitigate the risk of avalanches and crevasses, I wore a GPS probe at all times. I didn't wear it to know where I was, but so the external world would be able to constantly monitor my position and progress in real time.
Reactive management tends to address issues when they happen, with support team, helpdesk and ticketing systems. But in a fast-paced environment with rapidly evolving technologies – like those in the web industry – you need to manage risks proactively. Risks aren't an issue until something happens. In reality, it is "uncertainty that matters". Managing risks consists in establishing a risk strategy, risk identification, risk assessment and planning a risk response – you always have to be agile in your response to these risks. All along the project lifecycle, risks are logged into a risk register which is reviewed on a regular basis.
Step Out of Your Comfort Zone
Many dangers and unknowns around you can instinctively bring fear and anxiety. This is a natural reaction, but fear can cause bad decisions and anxiety isn't desirable in the long term. By assessing and mitigating risks, you can turn natural anxiety into excitement. It is only then that you can take full advantage of the experience and fully enjoy the wilderness the mountains offer. Same goes with fear. You can turn fear into focus. When facing dangers on the mountain, being focused at all times keeps me alert and on my toes, ready to react quickly.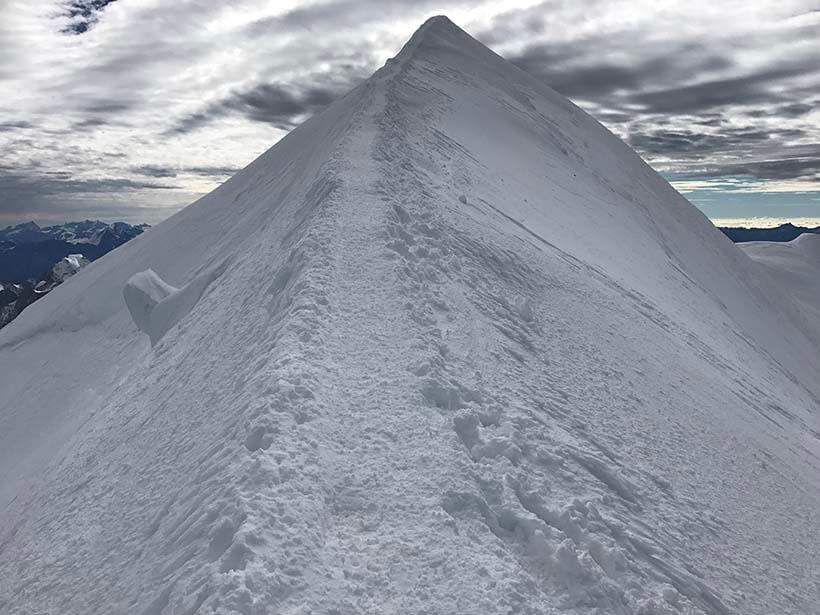 The instinctive apprehension when facing the unknown can lead you to stay in your comfort zone. By turning anxiety into excitement and fear into focus, I've learnt to accept and enjoy projects that are more and more challenging. In the natural world and at the office, I enjoy tackling complexity and now face projects I would never have imagined before.
I can't stress the following enough: the most important part of an ascent isn't reaching the top, it's what you learn in the attempt. The real value of the experience isn't in making the summit but in what you learn and what you do with it. At the end of any project, what you really gain is not a vague feeling of success, but very practically the experience, knowledge and confidence you can apply to the next one.
Keep Your Objective in Mind
Sometimes when I was climbing the mountain, I felt the urge to turn back and go home. The exhaustion built up, but I knew I had to continue. That's because I always kept my objective in mind. For me, reaching the summit wasn't my main goal. Instead, it was to raise money for a great cause - for Goods for Good - and that provided me with all the motivation I needed.
You need to bring this same type of mentality to a project. You must clearly define your goals, and always refer back to these objectives when you need to make a decision that affects the project's direction.
During my Expedition for Good, I kept thinking back to why I was climbing Mont Blanc - it's what saw me through to the end. Last week, the culmination of all that hard work paid off when I delivered the funds raised to Rosalind Bluestone, founder of Goods for Good.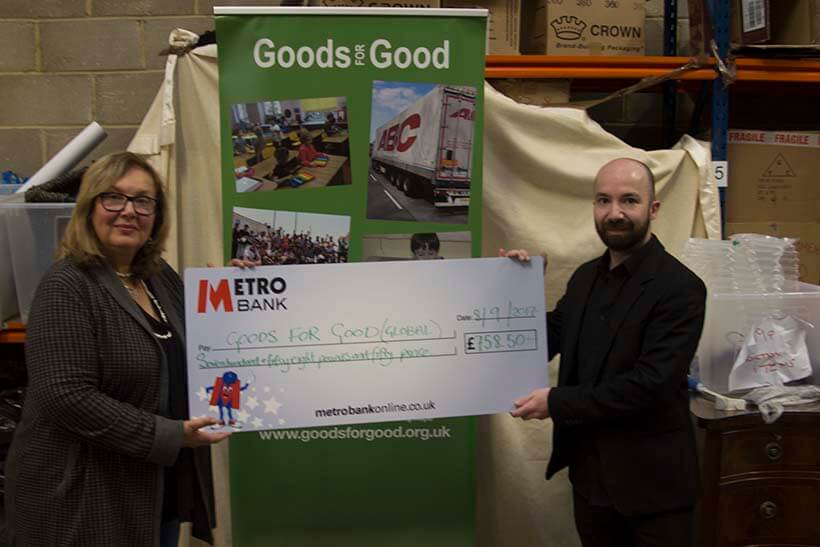 All in all, we managed to raise £758.50 to help send much needed aid to war-torn countries in the Middle East. In my next blog, I'll look at the ways Goods for Good used these funds.