We dropped in on a design class to give a case study presentation and challenge students to our UX Companion pub quiz.
We've had nothing but good things to say about General Assembly since designer Sasha Ward, graduate of the User Experience Design Immersive (UXDI) course, joined us in 2014. When they invited Matt and I to spend an afternoon with a class last month, we were happy to oblige. Students were hard at work on their final projects during the week we visited, but welcomed us with a light and laid back atmosphere.
The aim of Matt's talk was to provide tangible insight into working on design projects for clients. To accomplish this, he presented a case study detailing our work for dlc. For them, we created a customer portal and redesigned their direct mail to customers, with user experience at the very centre of each.
Matt detailed how our process of conducting stakeholder interviews and user research, creating personas, and designing from a mobile-first perspective led to a 75% increase in online transactions and a UX UK Award. The students responded well, asking many questions about our workflow and other scenarios they might encounter whilst working professionally.
After the Q&A, I joined in as quizmaster for a few rounds of trivia based on our popular iOS and Android app UX Companion. We tested the students' knowledge and jogged their memories with questions based on terms and definitions from the app. The winning team scored a very respectable 13/15 and took home some Cyber-Duck portable chargers as a prize.
The warm reception has us invited back for another guest class next month, and we're excited to see what our new friends will surely go on to achieve after General Assembly.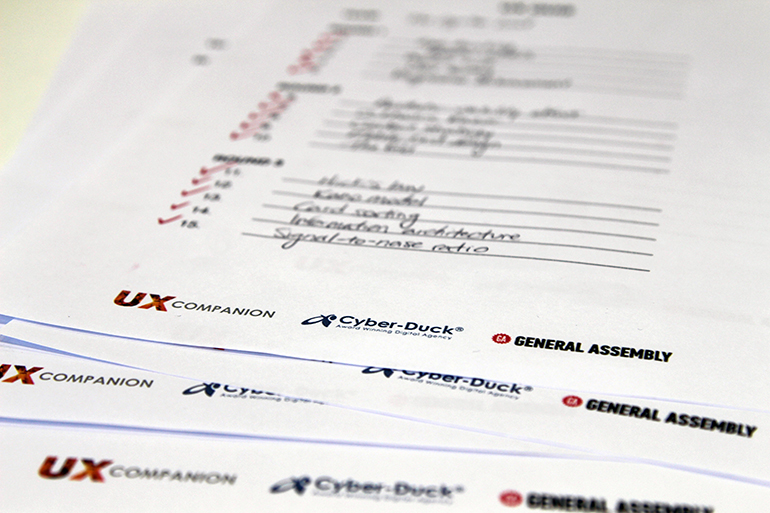 If you'd like to hear Matt speak about the client experience, he will be appearing at next month's Future of Web Design conference. To book us for speaking engagements or workshops, please email bookings@cyber-duck.co.uk.