In June this year, Siji and I underlined Cyber-Duck's commitment to diversity. A lot has happened since then, and today I'm delighted to share one initiative in particular that we're supporting, both with our time and with sponsorship.
1000 Black Voices is on a mission to improve understanding of Black culture, racism and what it means to be Black. They're creating positive change through conversations and programmes that aim to eradicate racism, create true equity and celebrate our differences.
I met Dr Elizabeth Shaw, its smart and driven founder, at an AI event last year. I could see that with her help, we could make a difference to our industry. That's why we're proud to be partnering with 1000 Black Voices and Microsoft on the 2020 1000 Black Voices Black Tech Accelerator. Her programme is running for both African and UK start-ups so as part of the programme Cyber-Duck is mentoring start-up's in England, Cameroon and Nigeria.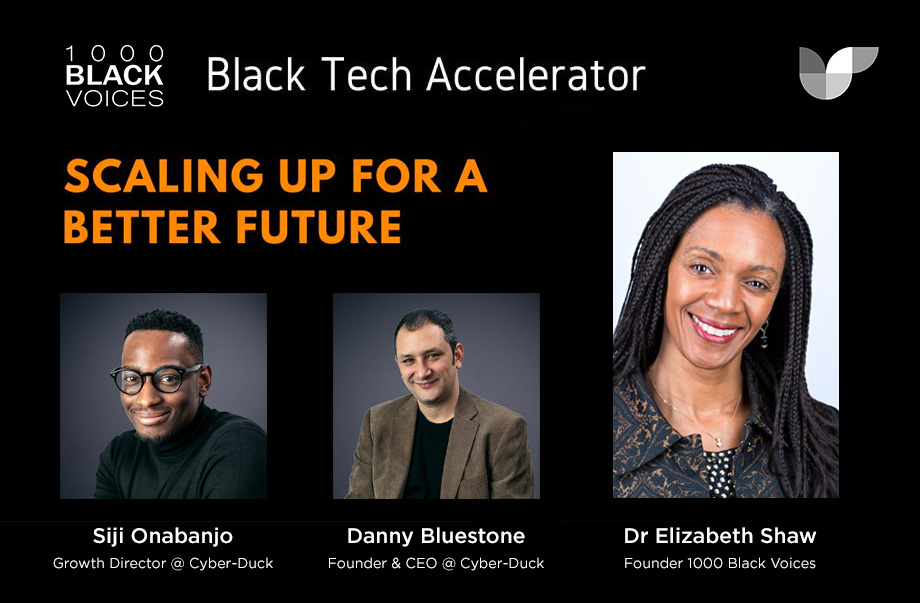 We're proud to partner with Elizabeth Shaw's 1000BVAccelerator programme.
The 1000BVAccelerator is designed specifically for Black-led tech startups. Here's why:
In Atomico's 2019 State of European Tech report, just 0.9% of European founders self-identified as Black/African/Caribbean. That percentage almost halved when it came to who'd raised external investment.
We want to change that. That's why Siji and I will be sharing insight with the participants, providing mentoring and supporting them with technology to boost their innovation and efficiency.
The accelerator programme for the coming year is packed with:
Workshops
Collaborative forums
Mentoring and leadership shadowing
Hackathons
Every element is designed to support the Black tech founders to succeed with their digital innovation and digital transformation businesses. I can't wait to see the results.
Here are the five start-ups that are benefiting from Cyber-Duck's mentorship:
The work all five are doing is exceptional. The innovation, ambition and technological prowess they demonstrate deserve a bigger platform. We're really excited to be partnering with them.
Our first 1000BVAccelerator session: Lean business building
The first workshop took place this Wednesday. We started by exploring how your startup can conduct discovery, and exercises that can clarify your challenges and user needs.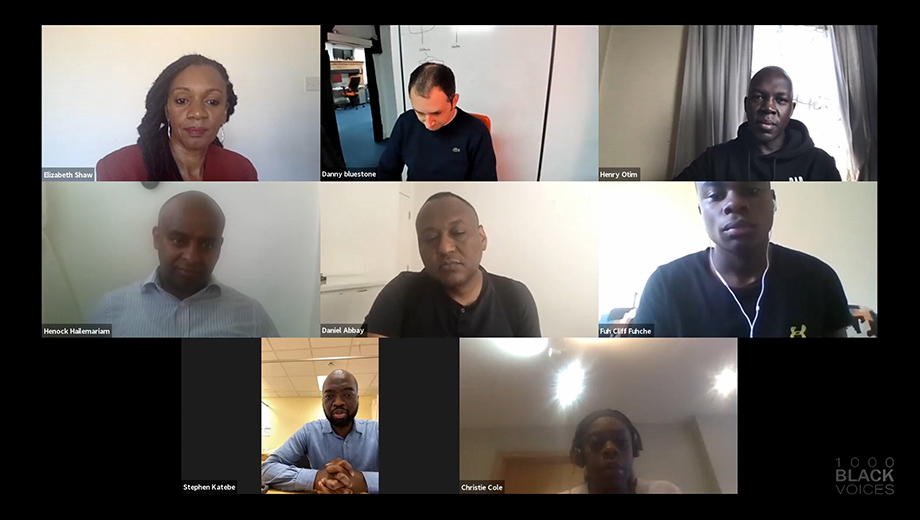 Our first workshop covered discover, culture, roadmapping and more.
Then we delved into personas: why they're so critical, how to create and verify them, how to map them to a service blueprint, and why they go far beyond simple demographics.
I talked about the relationship between qualitative and quantitative insight, and why data becomes increasingly important as your startup scales.
There was a great question about creating personas without bias. To avoid falling into stereotypes, I explained, at Cyber-Duck we simply conduct more research. That doesn't necessarily mean talking to more people, as long as your users are representative - you just need to ask questions about ease of use, accessibility and cultural context.
Values and culture are everything
Then we had a great discussion about establishing your values. It's something that can be a struggle early in your journey, as you try to define what you stand for and where you sit in the market.
I explained that I like to divide these into business values (your principles, philosophy and your standards of work) and your people's behaviours. There are tools that can help you and your team brainstorm, and you can also look around at your team and see what qualities you admire in them.

Tools like word tables can help refine your brand values.
It's still a tricky area, and one where an external facilitator can often help.
That led to a side-discussion about working with clients or partners who don't share your values. That's even trickier. In the earliest stages of your startup, it may be a case of 'beggars can't be choosers', and that's fine – you don't have to love every customer. But you want to get to a point where you can find that cultural fit and be more selective.
Roadmapping – and protecting your IP
Then we talked about how you build a roadmap for your company. We looked at tools including the Blue Ocean canvas and the Lean canvas, and how they can help you decide what to prioritise.
My key tip for startups looking to scale: Be wary of over-designing. Keep yourself agile and listen to your customers' needs. Then you can pivot more swiftly. It always comes back to them, so verify your decisions by talking to them as you move from task tables to prototypes, messaging and marketing.
There were lots of great questions from participants including Tekihealth's Stephen Katabe.
Finally, we finished by talking about how to protect your intellectual property. It's critical to have the right contracts in place, even with arms-length partners like mentors. And if you're outsourcing internationally, working with a mentor or negotiating with a potential hire, my final tip is this: Face to face is always worth it - and fly there if you have to.
Where next with 1000BVAccelerator?
Of course, we had to make do with Zoom today, but the two hours flew by and I loved hearing the thoughts and questions from our founders. Siji and I will be following up with the startups in a collaborative forum next month where we'll dive deeper into the topics we covered this week. I'm looking forward to hearing from their founders, learning about their challenges and supporting them with some solutions.
We'll be updating our progress here, and you'll be hearing more from our founders and Elizabeth soon. I'm really proud to be partnering with 1000 Black Voices on this superb programme and hope you'll join us for the journey, too.