London's leading Award Winning Digital Agency, Cyber-Duck, have this year been invited back to the highly respected New Designers exhibition in the Business Design Centre, London for the third year in a row.
This year Cyber-Duck will be judging the UK's latest crop of exceptional Design, User Experience (UX), Technology and Marketing talent with the sought-after New Designers Associates Prize 2012.
The New Designers (held between 4th-7th July 2012) is an annual event which congregates over 3,500 budding design graduates from across a wide variety of academic disciplines and enables them to showcase their final year design projects to the design community. The event also gives design graduates time to meet and greet some of the leading professionals in the industry, helping to open future employment opportunities.
For the last three years, Cyber-Duck have been strong supporters of the thriving event, using it as an opportunity to discover the latest design talent and educate them on how they can take their skills even further in the industry.
Cyber-Duck will be judging all the latest Design, UX and Technology projects and award one lucky design graduate with the coveted Associates Prize, which is awarded in the category of UX Design and Interaction Design.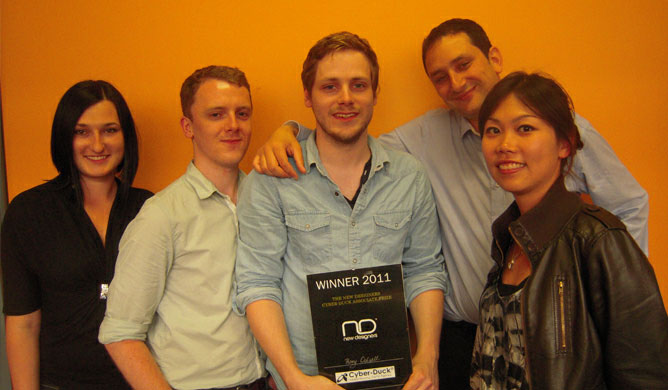 The winner of the prize will also be treated to the amazing Raspberry PI, which is a credit-card sized computer that plugs into your TV and keyboard. The device can be used for many of the things that your desktop PC does, like spreadsheets, word-processing, games as well as the capability to play HD video. The device is extremely difficult to get hold of due to popular demand. Cyber-Duck is also offering 3 months of invaluable work experience at our Elstree, Hertfordshire office.
At the event Cyber-Duck will shortlist design graduates for the second annual Duckies UX Awards, a Cyber-Duck hosted awards ceremony which highlights the outstanding new design projects and talent on show at the New Designers Exhibition 2012. The Duckies UX Awards 2012 follows on from the success of last year's event in which seven projects were rewarded for their design, innovation and creative excellence.
It is possible to purchase tickets on the New Designers website. Due to the prestige of the event Cyber-Duck will also be running a competition in which 5 lucky winners will receive a New Designers ticket completely free.