Following stellar growth last year, we're thrilled to announce the opening of a brand new office for our digital agency in Leeds. Based at the Platform, our new office will serve as our web design base in Leeds as we continue our successful relationships with clients like Myerson Solicitors and Connect 2 Cleanrooms in the North.
Last year saw some of our biggest client wins to date. We worked with the Bank of England, Mitsubishi Electric, Thomas Cook Money and Cancer Research UK. But we also gained new business and grew our existing relationships with many of our clients in North England. That's why, as Cyber-Duck approaches its 13th anniversary, we're proud to announce that our digital agency has successfully expanded into Yorkshire.
As of July 2018, Cyber-Duck has had an official office in Leeds at the Platform. We've already been making waves in the local scene. Back in April, our esteemed user experience (UX) designers delivered three talks at Leeds Digital Festival. More recently, we've appeared in Prolific North and the Yorkshire Post.
If your organisation is based in Leeds or Northern England and you're in need of an expert digital agency, we're here to help. Keen to meet the Ducks? Reserve your place at our launch party now. We're celebrating World Interaction Design Day on the 25th of September at The Platform, our digital agency's Leeds HQ. Find out more below.
Why expand our digital agency to Leeds?
Cyber-Duck has a growing roster of clients based in the North, so it made perfect sense for our digital agency to open a new office in Leeds. In fact, Leeds isn't just an an excellent geographical position for us to expand our web design network.
The city is widely regarded as the UK's next big digital scene, and it is clear why. The city's £64.6bn economy has attracted a lot of investment, which has seen several start-ups acquire funding. In 2017, PwC recognised Leeds as joint first in its Good Growth for Cities report – they noted that the city had a growth potential of 92%.
HMRC also recognises Leeds' potential – the governmental body will relocate to Leeds in 2020, bringing with it 6,000 civil servants. Likewise, NHS Digital is based in Leeds, and half of the North's top ten digital agencies are based in the city.
Cyber-Duck is keen to contribute our unique skills and expertise to this thriving digital scene.
What will Cyber-Duck bring to Leeds?
Above all, Cyber-Duck will bring our accredited user-centred design process to the city. We're the only digital transformation agency to hold three separate ISO certifications (ISO 9001, 27001, and 9241), and we're a Google partner too.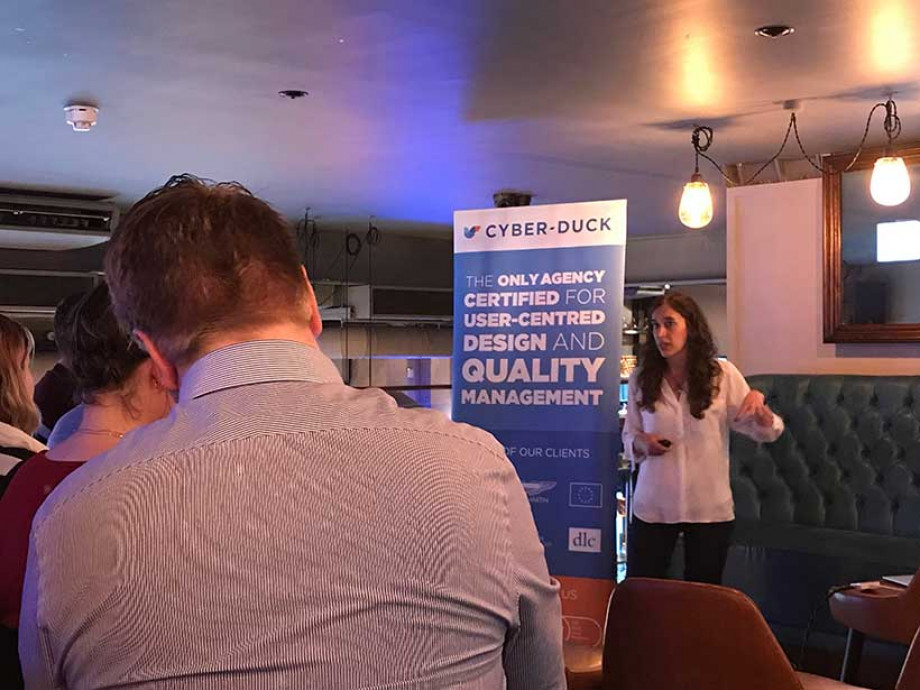 Not only is Cyber-Duck accredited, our digital community is one of London's largest digital communities with over 2,500 members. We plan to bring both our accredited processes and our digital community to Leeds. Keep an eye out for our upcoming events, including our first event in September – more on that below!
We are particularly interested in working within the FinTech scene in Leeds, and we've already begun fostering our relationship with FinTech North and other financial tech initiatives.
It isn't just us that's excited about our Northern adventure, however. The Chief Executive of Leeds City Council, Tom Riordan, said recently:
"We are immensely proud of and excited about the dynamic Digital sector being built here in Leeds. There is a huge amount of talent in the city and we look forward to welcoming the Cyber-Duck team. Having a successful London agency choosing Leeds as a key strategic location is a great win and will further enhance the digital services the city can offer."
Join us on September 25th for World Interaction Design Day
With the successful launch of our digital agency's new office in Leeds, it is with great pleasure that we announce the very first Cyber-Duck event at what will become our very own Northern Powerhouse.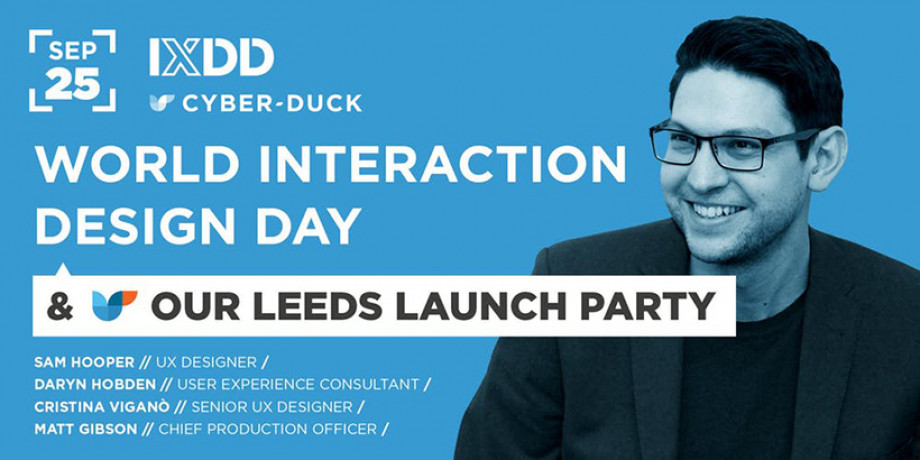 September 25th is World Interaction Design Day, an event that unites the global design community to show how interaction design has the potential to improve the human condition. Cyber-Duck will be showcasing our user-centred design process, detailing the role empathy plays in our designs and how you can create user-friendly forms. Together, we aim to show you how to make a positive impact on your users by embracing diversity and inclusion in design in your work.
After the talks from Cyber-Duck veterans Matt Gibson and Sam Hooper, as well as other special guests, our launch party will begin. Come, raise a glass with us and celebrate World Interaction Design Day and the opening of Cyber-Duck's Leeds office. We would love to meet you.
You can reserve your place for this event now.
If your organisation is based in Leeds or Northern England and you're in need of an expert digital agency, we're here to help. Contact our friendly team today to find out about our user experience design, web technology and digital transformation services.