Since January 2017, our marketing team have partnered with HF Holidays, who offer fantastic guided and self-guided walking trips. This summer, we were lucky enough to experience one of their excursions. It's the best way to do product research!
HF Holidays are walking trip specialists. They provide a wide variety of guided and self-guided walks across the world, for hiking enthusiasts to novice strollers. So whether you fancy exploring the fjords of Norway or taking a weekend jaunt in the Lake District, there's something for everyone!
From January 2017, we started working together to conceive a marketing strategy that could increase their reach to the baby boomer generation. The HF Holidays team invited us along on an away weekend this summer! Experiencing a trip together acted as a great idea generator.
After all, in-depth analytics and product (or service) research is the best foundation for any campaign. Testing your ideal customer journeys with real users early is a great way to get all-important feedback and iterate further for continuous improvements.
This way, you can identify any potential issues that could become pain points, or key moments that could become opportunities. Crafting a micro-moments wheel is the best way to visualise this and ignite ideas for tactics. Read our last blog for your free micro-moments wheel template!
Our HF Holidays Trip
To get a feel for their guided and self-guided walking holidays, we travelled up to Derwent Water in the beautiful Lake District. HF Holidays' lovely hospitality put us in their users' shoes. By understanding their experience, we could align our digital marketing tactics and boost engagement.
The weekend opened with short but informative briefs on all the different walks, from the easier, to intermediate and finally more challenging routes with all the safety notes. This created a feeling of camaraderie amongst walkers. There was a hike for everyone of any ability! If we hadn't taken part in this type of product research, we wouldn't have known how important evoking the friendly, supportive atmosphere is.
On Saturday, our guided walking tour took us on an adventure around Keswick, Threkheld and Derwentwater. We walked a whopping great total of 17.1km! We were so far from civilisation, you could hear the water trickling in the streams and the wind running through the grass. It really opened up our eyes to a world outside the hustle and bustle of the city and our busy everyday lives. It's hard to know exactly how it feels to get in touch with the natural world on a long hike, without actually going on one. Personal experience can bring marketing this adventure to life.
The peaks we climbed were reminiscent of those in The Lord of the Rings film trilogy. It was truly a sight to behold especially when we made it to the top, looking back at Keswick and Derwent Water.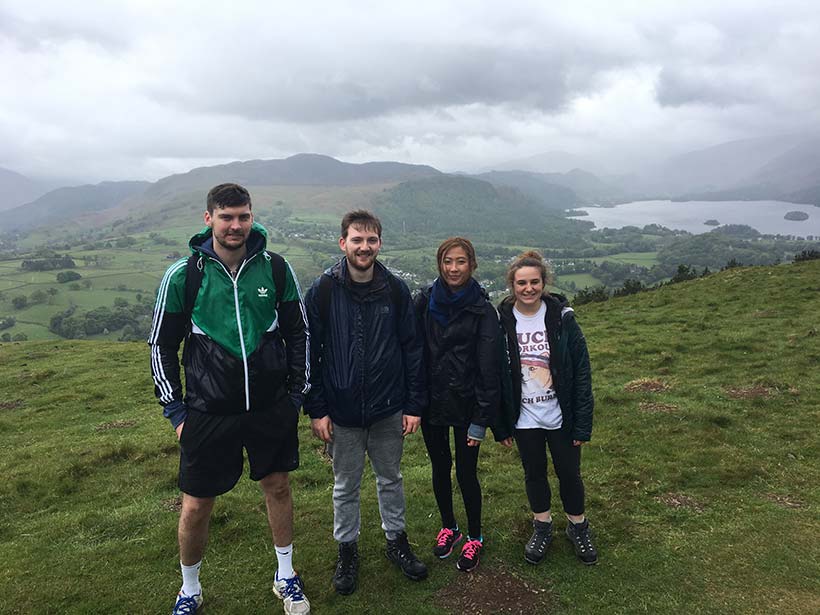 You can see our happy faces in the picture, coming towards the last few kilometres of our walk. That's the mark of a natural high, which stays with you for days afterwards. This just goes to show that hiking is great, rain or shine, with the right people and product research helped us discover that.
One of the nice things about HF Holidays are the optional evening activities which take place after dinner. It's a great way to bond fellow walkers together. These activities can be anything from a pub-style quiz and folk dancing, to entertainment from local talent. This was one of the reasons that guests said they would return again. It's ironic that the element of sociability, which you fear may turn potential guests away, is actually one of the most unique selling points. We could feed this into trip follow-up marketing.
Throughout the trip, we spent a lot of our time chatting with the guests to discover some of the other reasons why they love HF and continue to return for many more holidays. This included the staff, the UK houses in areas of outstanding natural beauty, the guided walks, meeting new walking buddies, the personal challenges and more. We could tell there's a great atmosphere, even when guests were feeling the effects of a long day's walk.
Last Minute Thoughts
I've highlighted the importance of our product research with HF Holidays and our reasoning behind doing so. But I wanted to leave you with some food for thought about how product research works to encourage you to conduct your own.
If you're starting from scratch, look in the library for research
Look for case studies you can use as a model of inspiration
Gain insight from product engineers
Use your target audience as a focus group and if there's not enough market research, or new directions spring up, open it up to a wider audience
Survey your potential customers about the value and 'buyability' of your product
Implement the feedback and test