We're halfway through our financial year at Cyber-Duck. And what a year it's been. I'm excited to introduce you to our new Finance Director and a whole host of new ducks.
It's undeniably 'winds of change' in the UK, with Boris Johnson becoming our new chief and Brexit on the horizon. That's why the motto I chose for our team back in February is so apt.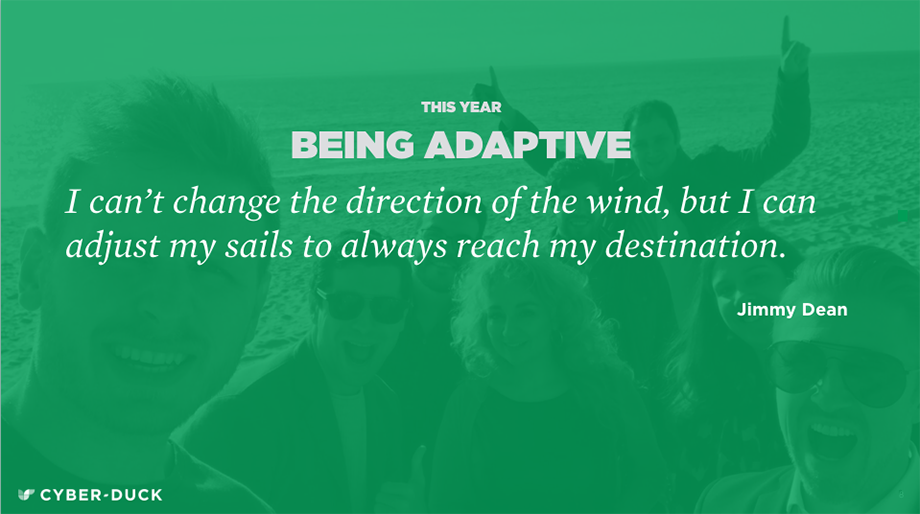 Our democratic, diverse, close-knit culture is one of the attributes I'm proudest of at Cyber-Duck. Together, we're working on exciting projects for the Financial Ombudsman, Sport England, and the Commonwealth this year. So far, we've been invited to appear at SXSW (USA), Share Algarve (Portugal) and Laracon (both Madrid and USA). We're on track for 20% revenue growth, in partnership with our clients. But to deliver that growth, we needed a new steering force and ducks for the pond.
Promoting our new Director, Lina Tiareh
I was delighted to promote Lina Tiareh to our board after 2.5 years working with us. She becomes our first (overdue!) female director. This recognises her transformative role in improving billable efficiency, employee satisfaction and client satisfaction.
She now guides our business expansion as we work towards becoming a £5 million turnover business. This leverages her combined experience working within large institutions like the BBC and SMEs. Hear more about Lina's role and why she loves Cyber-Duck in our interview.
Welcoming 13 new ducks to the flock
Successful client wins and growth means we're thrilled to welcome a host of new Ducks to our flock. Boosting our technology and user experience capabilities, this includes:
Jamie Landers, Senior Developer
David Millington, Software Developer
James A, Software Developer
Javier Pedrera, Backend Developer
Elaine Young, Frontend Developer
Nacho Valera, DevOps Engineer
Connor Fox, Junior Frontend Developer
Ricardo Faria, Full Stack Developer
Mohammed Jammeh, Junior Web Developer
James Martin, UX Designer
Fabiola Degani, UX Designer
Amin Tohidi, Junior Finance Executive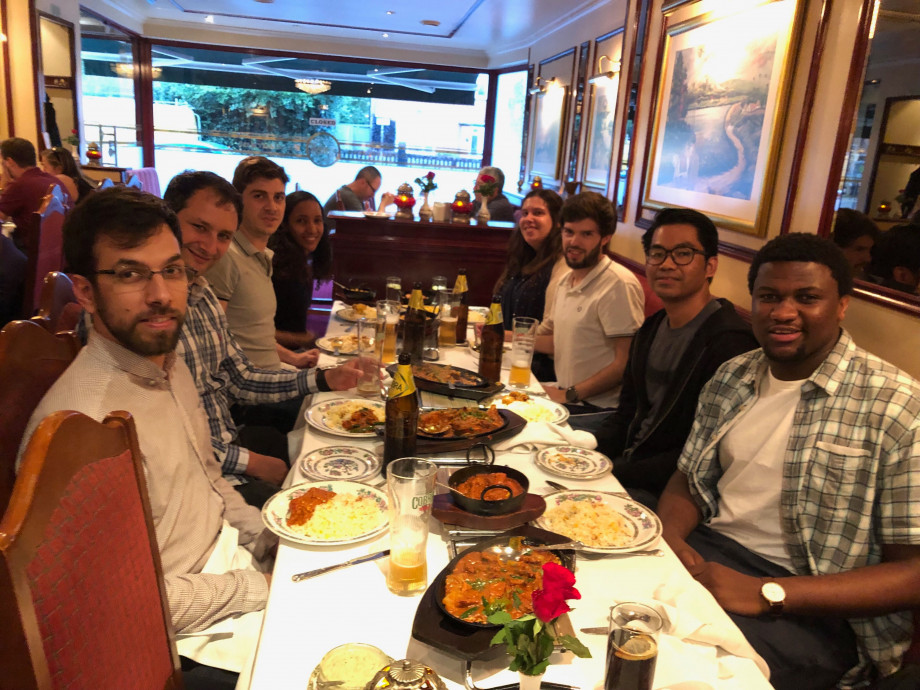 I went out for a curry with the newest members of our Technology team.
They're already making a big impact, overseen by our newly promoted UX Leads, Cristina and Sam and Technical Leads, Ramon and Tiago. It's been a fun challenge squeezing everyone into our Elstree and London offices, even though some are working remotely from sunny Portugal. I've been getting the toolbox out – sawing desks, repainting walls and renovating fireplaces in our historical Elstree HQ.
Funnily enough, it's also been a lovely year of welcoming so many baby ducklings to the Cyber-Duck family. We celebrated a new son for Yalda and daughters for Sylvain, David Bishop and me.
Six award nominations for our agency and projects
Lastly, don't just take it from us. Once more, Cyber-Duck has been rewarded for delivering high quality work that performs for our clients. We're up for six awards so far this year - two each for the Wirehive 100, UK Agency and Prolific London Awards. Read the blog to find out more.
So, are you searching for an award-winning agency that can drive your digital transformation – powered by an accredited user-centred design, technology and marketing process? I'd love to hear from you. Get in touch today.