Cyber-Duck will give two talks offering insight and expertise at the 23rd annual South by Southwest Interactive festival. Two of our creative ducks' innovative ideas were voted for by the community, through the intensive PanelPicker submission platform. Flying out to Austin, Texas, they are excited to join the inspiring lineup in March 2016.
South by Southwest (SXSW) celebrates music, film, interactive media and emerging technologies. The much anticipated festival has become known as an incubator of digital inspiration and innovation, bringing together international industry leaders, digital professionals and creative technologists. Previously, our Senior Developer Ramon Lapenta flew out to debunk the myths surrounding CSS pre-processors; his blog fondly recalls the city's transformation into a buzzing hive of digital creativity.
This year, we're excited to announce our CCO, Matt Gibson and UX Designer, Cristina Viganò will join the inspirational lineup. Their proposals rose to the top of the rigorous judging process and community vote, against a record-breaking 4,600 submissions. Taking to the stage alongside the brightest names in digital, read on for a preview of their talks.
More Than Media Queries: Reframing Responsive UX
Too often, responsive design is just framed as an implementation challenge; limited to tackling the technical issues caused by squeezing designs onto different devices.
Escaping the norm, Matt's session will dive into responsive design from a user experience perspective. Looking beyond media queries, Matt will explore how to overcome the challenges of mobile content strategies, designing for performance, and ensuring future-friendly development with progressive enhancement. By combining all of these techniques, we can create responsive designs that are truly exceptional, for all users, on whatever device they're using.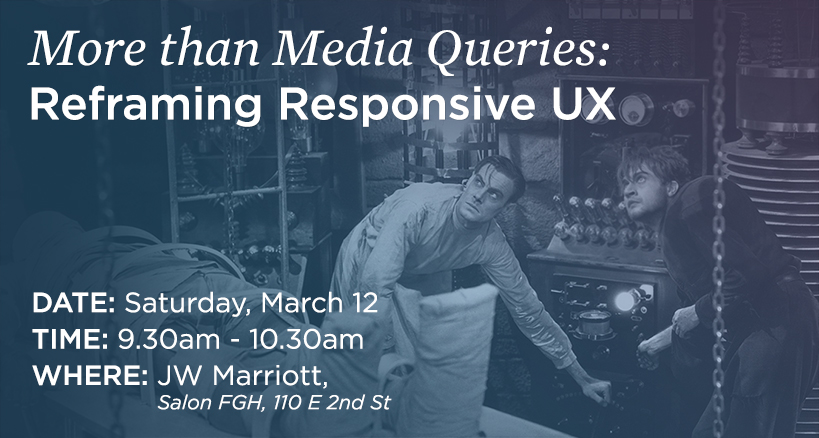 If you're attending SXSW 2016, remember to plan ahead! You can find a breakdown of all the exciting events, including Matt's talk, here.

Dark Times for Dark Patterns: Ethical Alternatives
Many designers constantly negotiate their work on a knife edge, balancing user needs and business goals. It can be tempting to fall back to the "dark patterns" designed to trick users, as a quick shortcut to results.
But, this isn't conducive to a good night's sleep. Most designers seek real solutions, which don't resort to deceiving users in pursuit of business objectives. Collaborating with Senior UX Architect Neil Dawson who has worked with us in the past, Cristina will explore the alternatives to infamous dark patterns. She will reveal how psychological principles and persuasive design techniques can help you design to meet business goals through encouragement, rather than deception.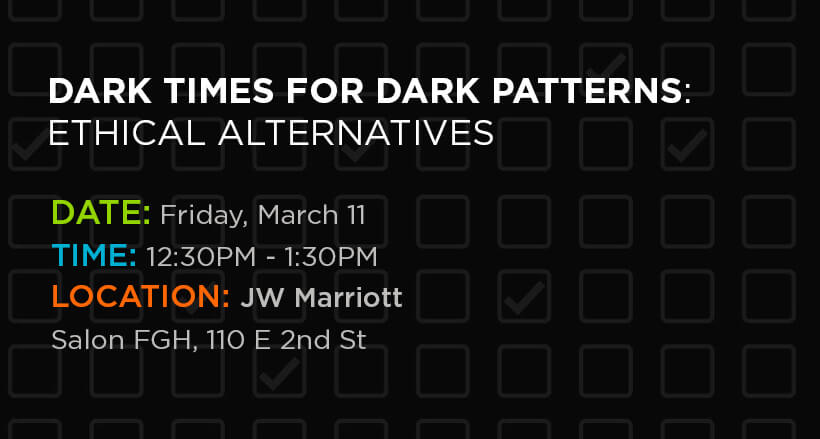 We're excited to share our views from beyond the Pond – see you in sunny Texas this March! If you're lucky enough to attend, keep an eye out for our speakers on the Design and Development track. You can follow our Austin adventures on Twitter (@cyberduck_uk) and Periscope – join the #UXblackout and #RWDUX conversations for Cristina and Matt's sessions, respectively.