Danny and Matt presented at Figaro today alongside Richard Collinson, a client and one of the co-founders of RetireEasy.
The presentation went very well with Danny introducing the project and how Cyber-Duck took a user-centred design and agile approach to building the world's first 'retirement planning' web application. Richard explained the vision behind the project and Matt went into detail about flows of control, focus groups, wireframing and user testing with Danny explaining how Scrum development is being utilised.
The audience seemed intrigued by the project, sparking a discussion about accessibility and usability for an older target market. Fellow presenters included David Stevens a UX Consultant from we are:London and Ismail Ismail, a User Experience Specialist from Webcredible.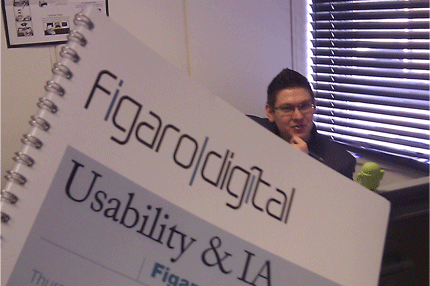 Industry News
Panabee also finds variations of the .com domain name you want, as well as translating your search in to 24 different languages to try and find something a bit different. The website also displays web results and social media posts on your keyword.
We found an interesting article this week which claimed a research scientist at Georgia tech's College of computing, had developed an iPhone app which scans 3D objects. The app can also output directly to a 3D printer, so you can make copies of all your 3D objects. The app is available in the US for only $5, with an android version rumoured to be in the pipeline.
The creator of World Wide Web has challenged users of social networks, to improve the content of popular websites. Tim Berners-Lee described twitter users as "foaming at the mouth" and reluctant to retweet any update that did not offer an extreme opinion. Berners-Lee wants to encourage internet users to connect with one another, rather than building up barriers that prevent it.
Finally we would like to wish a happy Easter weekend to all our readers – we'll be back next Thursday for a "wedding special" ;-).