This week Danny spoke at EyeTrackUX 2011 on eye tracking vs. other user testing technologies.
At the conference, Danny spoke of the wide variety of user testing methods available, ranging from focus groups to eye tracking technology. He was joined by the likes of John Ward, Director of Acuity and representatives from multiple usability labs and academic institutions. Danny also presented a short case study on how Cyber-Duck benchmarked a Tobii T Series eye tracker against more 'conventional' user testing software, to understand if the eye tracking technology reveals more user experience issues or intelligence.
Today, Danny attended the University of Lincoln Degree Show for interactive design. The exhibition allows art students of the university to come together and present their work at degree level. Danny was able to look at a variety of student portfolios and was very impressed with the high standard of their work. One of the stand-out pieces from the event was the 'Visualising Sound' showpiece, which created a unique visual response when someone created a sound. This was done by pouring ink in to a variety of speakers and seeing the visual pattern they made when sound was created via a microphone.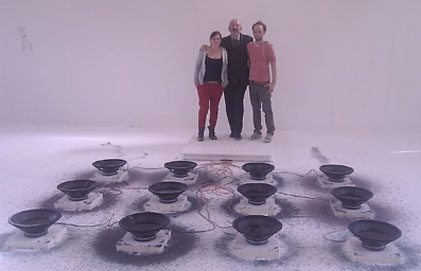 Industry News
Facebook have come under some criticism this week as they turned on their new facial recognition tagging service by default. Facebook now use facial recognition technology to group similar faces together and automatically suggest the friend you should tag them with. However, the move came in for some negative publicity, as many believed this violated their online privacy. Many users were angered that the new feature was set up by default, and that they were not informed about it beforehand. This forced Facebook to apologise for the way they introduced the new system and said they should have done more to notify their massive user base.
This week has seen another cyber attack, this time it was Lulz Security targeting the NHS in what they have dubbed 'a friendly attack'. In recent weeks LulzSec have claimed they are the culprits behind the recent attacks on Sony and Nintendo. However, the group were quick to stress that they meant no harm, and that they simply wanted to help the NHS fix their tech issues.
Technology Giants Microsoft have had to pay up a whopping $290 (£180) million for infringing a small Canadian company's patent. The company, i4i, claimed that they owned the technology behind a text manipulation tool used in Microsoft's Word application, which was used in both Microsoft Word 2003 and 2007. Microsoft has now been ordered to stop selling copies of Word which contained the infringing technology.
Finally, the world's biggest technology giants all came together to switch on IPv6 versions of their websites for a one day trial. The trial was carried out on 8th June 2011 because the world is running out of older IPv4 addresses as more devices come online. Some of the companies partaking in the experiment included Google, Yahoo, Facebook and Microsoft.