Roughly two-thirds of Drupal websites are still on version 7. This is essentially an outdated version of the CMS, that doesn't provide website owners with the improved security, editorial experience and accessibility features of Drupal 9. And with the Drupal Association planning to phase out version 7 in November 2022 (this means the official Drupal community will no longer be providing updates, security and bug fixes, and enhancements), there is no better time than now to upgrade.
For many businesses, the process of migrating a website from Drupal 7 to Drupal 9 can be extensive and expensive. But by adopting the right processes and tools, businesses can streamline and accelerate this task - allowing for more time to be dedicated to auditing, testing and website improvements.
On June 17th, Sylvain Reiter (Client Services Officer) and Liza Koroleva (Project Manager) from Cyber-Duck, and Dave Thomas (Senior Solutions Engineer) from Acquia, discussed how developers can implement a more advanced upgrade strategy for Drupal websites.
Key Talking Points:
The benefits of Drupal 9: What advancements can you expect from Drupal 9, and why your marketing team and content creators will thank you for upgrading.

The upgrade challenge: The challenges and barriers you may face when adopting a manual approach to migrating from Drupal 7.

Building your toolkit: How adopting Acquia tools such as Migrate and Edge can enable you to migrate faster and easier, with more security.

Hosting and DevOps: Best practices for the hosting environment and security.

Your pre-migration strategy: Why performing content, UX and accessibility audits prior to migrating can maximise the effectiveness of your upgrade strategy.
You can watch the Highlights here, or read our recap of the Drupal 7 to Drupal 9 upgrade.
Please, use the form below to download the full on-demand video, or get in touch with us at hello@cyber-duck.co.uk if you're interested in an accessibility audit of your own website.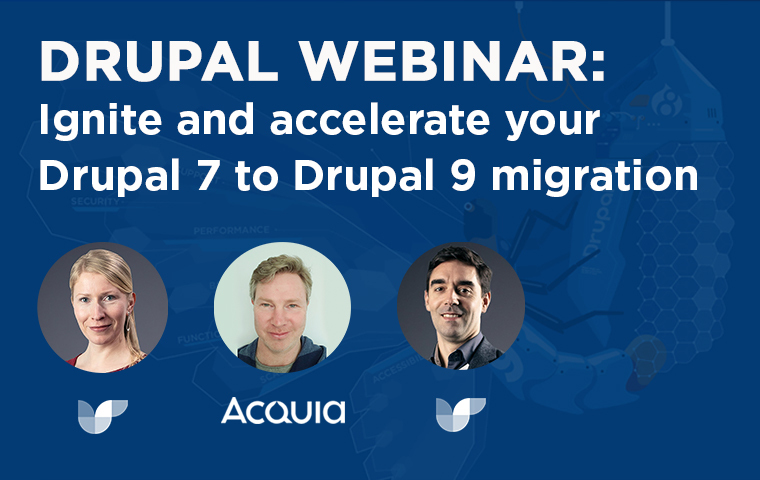 Watch our Drupal webinar on-demand
Sign-up to watch the Drupal Webinar: Ignite and Accelerate Your Drupal 7 to Drupal 9 migration

Acquia x Cyber-Duck
This webinar is brought to you in partnership with Acquia.
Acquia is a digital experience platform (DXP) that's built on Drupal. We recommend its powerful out-of-the-box functionality that helps you build, manage, optimise and market your websites, apps and experiences.
Cyber-Duck is an Acquia Certified Drupal Agency Silver Partner.