As of June 2021, around 60% of Drupal websites are still on version 7. This is despite the release of Drupal 9 in 2020, as well as D8 being readily available for several years.
NOTE: In June 2023, it was announced that the end-of-life (EOL) for Drupal 7 is being pushed back to January 2025. Read more here.

Whilst D7 has always provided Drupal developers with a quality experience, the planned end-of-life for November 2022 will have serious consequences for sites that aren't upgraded. If you're not on version 9 by then, you will no longer benefit from security updates, bug fixes and enhancements from the official Drupal Community. This could lead to more costly issues down the line and leave your website less secure.
The time to upgrade to the latest (and best) version of Drupal is now.
On Thursday 17th June 2021, we partnered with Acquia to run our Drupal Webinar: Ignite and accelerate your Drupal 7 to Drupal 9 Migration. This introduction to Drupal 7 to Drupal 9 migration was led by Cyber-Duck CSO Sylvain Reiter and featured keynote speakers Liza Koroleva (Cyber-Duck Project Manager) and Dave Thomas (Acquia's Snr Solutions Engineer).
Watch the highlights of the virtual webinar below or read on for more insights.
The future of Drupal
Sylvain kicked off the webinar, providing users with a Drupal 7 to Drupal 9 introduction. This talk focused on the challenges of a manual upgrade process as well as the benefits of upgrading to version 9.
Drupal 7 is arguably the most famous and beloved version of Drupal. That's why many businesses opted for D7 as their CMS of choice. To this day it is still powering many high-profile websites across the globe. Yet, as Sylvain explained, Drupal 7 is already 15 years old. As such, it is gradually becoming more insecure and inefficient for developers and content editors alike.
By upgrading a Drupal 7 website to 9, businesses have the chance to benefit from a wealth of new features and functionalities. This includes a new underlying framework, modern dev standards, a layout builder and improved mobile performance. Furthermore, D9 is just the beginning of Drupal's journey of innovation. Future upgrades will be much simpler and more regular – something that we explored in our Drupal in 2021 and Beyond Roundtable.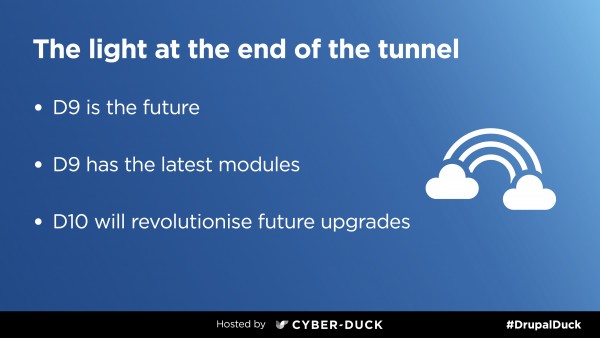 Whilst hugely beneficial, the process of upgrading from Drupal 7 to 9 can be time-consuming.
As Sylvain explained, before moving to 9, Drupal 7 websites must first be upgraded to 8. This process can be months of work. It can involve substantial data migration, content migration and identification of modules that are incompatible with the newer versions of Drupal.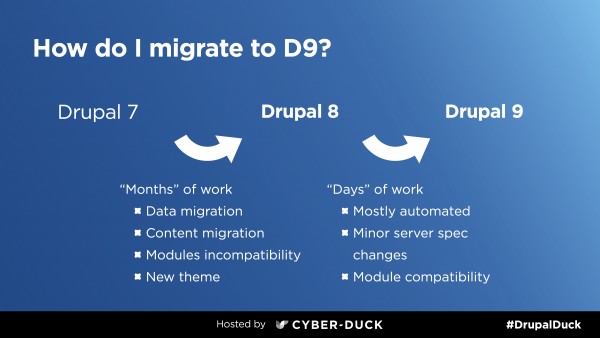 But there are solutions to streamline this process.
Building your toolkit with Acquia
Following on from Sylvain's Drupal 7 to Drupal 9 introduction, Acquia's Dave Thomas discussed how developers can streamline the upgrade process.
By conducting research with their own clients and the wider Drupal community, Acquia was able to analyse how the time and costs involved with Drupal 9 migration project were being spent. They found that when upgrading from D7 around 50% of the effort is effectively rebuilding the presentation and logic, while the other 50% is taken up by analysis and planning (essentially identifying what can and can't be migrated).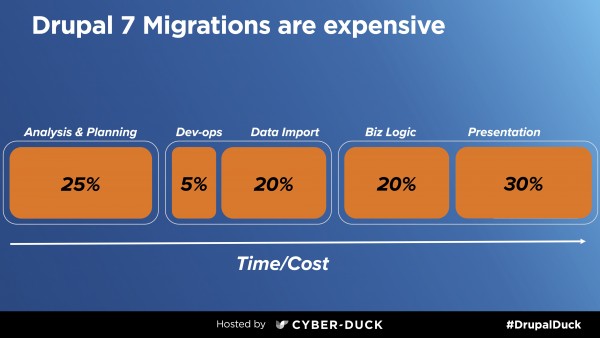 With this in mind, Acquia developed Migrate Accelerate. This software essentially provides Drupal website owners with a set of tools to reduce the time and effort when migrating from an Acquia-hosted Drupal 7 website to Drupal 9.
As Dave explained, in some cases this reduction of time and effort can be up to 80%.
DevOps

and

h

osting
Following on from Dave's presentation, Sylvain provided more information on the benefits of hosting Drupal websites on Acquia's platform.
While public bodies, government organisations and corporates may have strict requirements, they are not always following best practices. In fact, many new clients or prospects we speak to aren't always running a 100% secure and scalable site.
Identifying the right partner is essential in maintaining a secure and reliable website. As the leading cloud platform for Drupal websites, Acquia can provide added security as well as 24/7 support. This is essential for websites that can't afford to be down for several hours.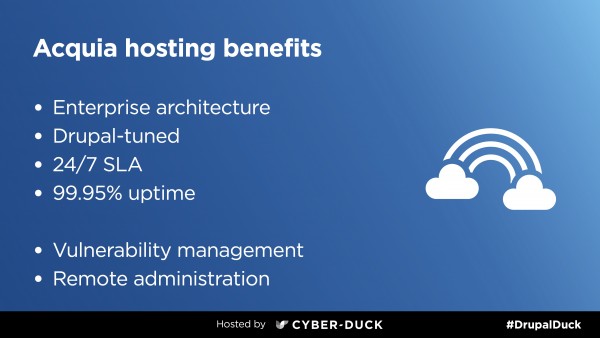 Things to consider before upgrading
Our final talk in this introduction of Drupal 7 to Drupal 9 migration was from Cyber-Duck Project Manager Liza Koroleva.
As Liza explained, regardless of your CMS, when upgrading your website it is essential to bring a dynamic and broad team into the discussion. Even an agency will need your business's team for support - we can't work in silos, only with constant collaboration can a project succeed.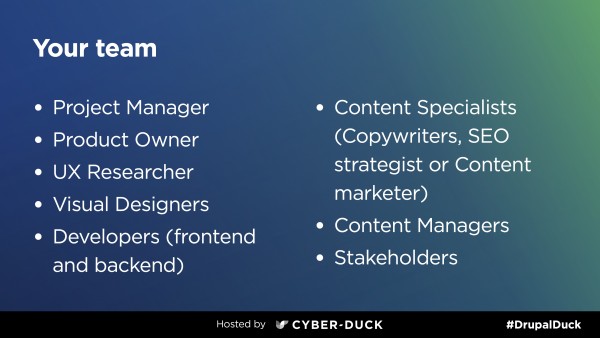 As well as this, there is a need to have a proper process and strategy in place. A common mistake businesses make when updating their website, is that content is considered something easy to produce, and not given attention till a few weeks before the launch. This can cause major delays.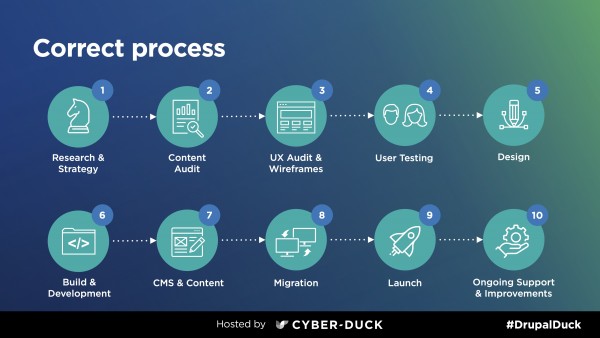 One of the major benefits of using Acquia's Migrate Accelerate is that it gives you back that time to build out this process. Bring your team together and focus on elevating your content and user experience. By reviewing this earlier, you can action your CMS upgrade with a clearer vision of what's working and properly prepare teams (resources) for the migration.
Conclusion
Do you have a Drupal 7 to 9 migration strategy?
If not, it is essential that you start bringing your team together and plan how to best migrate to Drupal 9. By hosting your website with Acquia and utilising tools such as Migrate Accelerate, this process can be swifter and more secure. That gives your business the time to focus on improving other areas on your website.
You can view the slides from the webinar, and download the full on-demand webinar here.
We're also available for a virtual coffee to discuss any Drupal or Acquia challenges or questions your team may have. Just contact us at hello@cyber-duck.co.uk or via our contact page.