96% of businesses realise why digital transformation is important. But untangling the best responsibilities, initiatives and tech your business needs is hard. So, what are the benefits of digital transformation – and why does it matter?
Digital transformation presents a hugely demanding set of challenges for businesses today. It's difficult to know where to start. You have to untangle what the nebulous term means for your business, who's responsible and what processes, tech or initiatives you should start with. Powerful digital technologies are available. But they can't cure everything alone – you must know how to wield them. That's why digital transformation is important. By starting with your strategy, you can reap the benefits of digital transformation.
Digital Transformation Trends
Business transformation with a digital spin is nothing new. For example, HP consolidated 85 data centres into 3 virtualised ones in 2008. This improved their performance by 250% and they saved costs by 50% on top of that. Thus, transforming their services with technology translated into greater cost and process efficiency.
This term was the trend until early 2015. Now, digital is the new forerunner, with 'digital transformation' as the term on everyone's lips. Businesses realise it's a competitive opportunity or even a matter of survival – but have a lack of focus that's causing anxiety.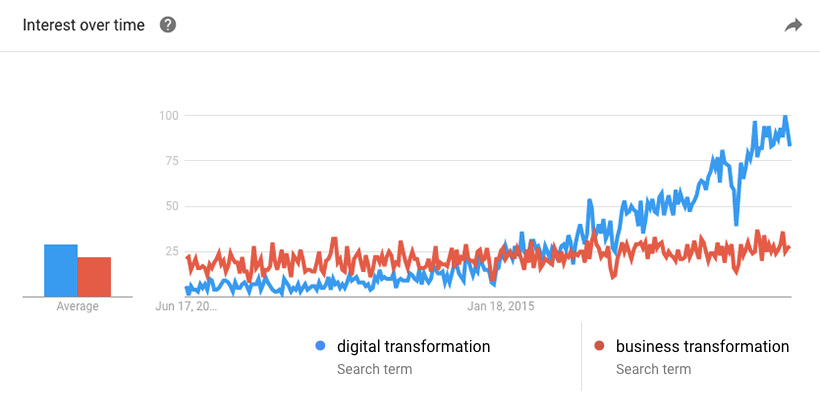 We must begin by understanding the forces behind the terminology shift. Any choices you make within your business are affected by the wider landscape. These are:
Technology advances – Gartner estimated that 5.5 billion devices were connected online last year. By 2020, this will increase by a further 20 billion. From voice-activated search, personal assistants and the connected home, all this connectivity is changing the marketing and user experience space. They can no longer be isolated functions – so how can we bring them together?
Millennial expectations – it's true that the young prefer streaming, sharing and social media. But they hold more in common with your grandparents than you'd think. They want prosperity, good jobs and can be loyal to brands – but have higher digital expectations of brands.
Fashion and trends – when something's fashionable in our omnichannel world, everyone notices. For example, I can easily show off my Fitbit points; if I connect to Alexa, simply ask aloud how many calories I burn each day. When new products and paradigms succeed, everyone notices. They become the new norm quickly – putting pressure on businesses like yours to join in.
Brand evolution – Disney's MagicBands are a fantastic example of how designers must move away from screens to consider holistic experiences. Once you've purchased a ticket, you register online and receive your MagicBand in the post. It simply makes park visits magical – rides call you by name and you can purchase all that Disney merch with a swipe of your arm.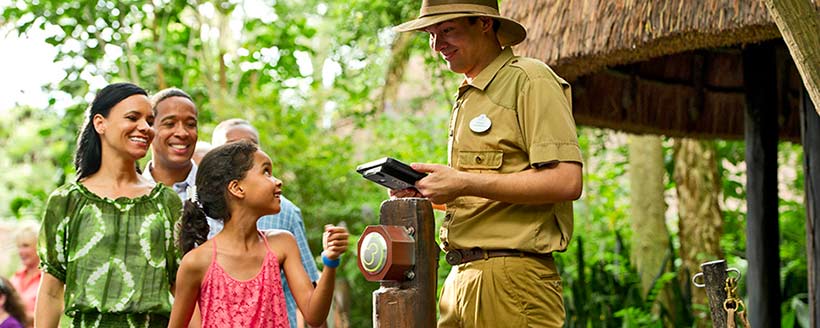 While many of these trends appear consumer-focused… always remember that with B2B, you're marketing to humans. We don't stop being people at work, so personal preferences and habits do enter the workspace. A Google survey revealed 42% of B2B decision makers use mobile devices for research throughout their purchase journey.
Don't assume millennials are too young to be amongst them! Nearly half of all B2B researchers are young – and their preferences must shape your choice of channels. For example, 70% love watching videos as part of the research. That stat has doubled in the last two years.
What Is Digital Transformation?
I believe that digital transformation is a user-focused business transformation. Its purpose is to catalyse brand, efficiency and customer initiatives – where technology functions as an enabler.
Customer centricity is what really drives successful digital transformation. As you can see, the business transformation predecessor was about increasing efficiency using digital elements. Balancing user centricity with business efficiencies is a real juggling act. That's why digital transformation is important.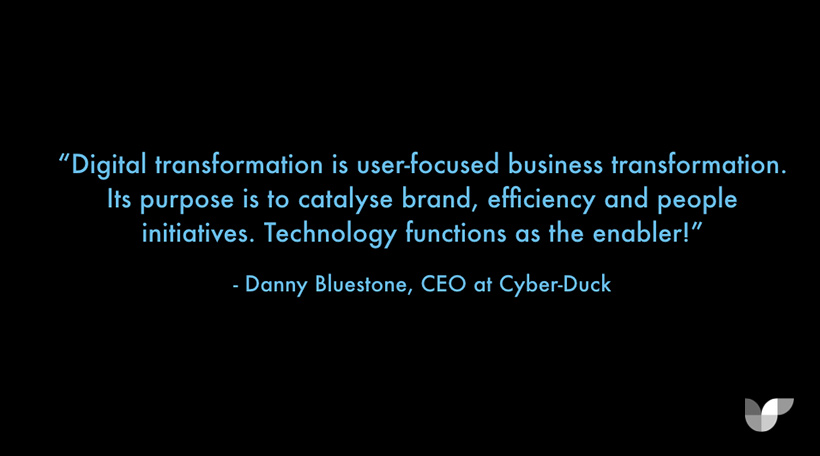 Digital transformation is truly disruptive. It will affect your entire business, from sales and marketing to HR, finance and suppliers. Although there's plenty of benefits of digital transformation, not everyone will like it. Teamwork, detractors and motivators can make or break your experience.
It's a collective, continuous, challenging process… no wonder 75% of professionals aren't confident they can do it alone. User experience professionals and digital transformation agencies – like ours of course! – are well positioned to serve digital transformation. With solid experience in strategy, technology, brand and process implementation, agencies can provide fresh eyes and help you get a handle on the bigger picture.
Where Are You At?
Let's understand where your business is at on the transformation journey. It'll help show what your success could look like against your first steps on that path. The Harvard Business Review outlines three distinct stages:
Improving Operations: your organisation is working to improve current processes. At this stage, benefits of digital transformation look like improved efficiency, lower costs and increased customer satisfaction. This may work in today's business environment, but the chances of it working tomorrow are slim. For example, Kodak has used digital technology to improve the quality of their film.
Operational Model: you have moved beyond improving operations and are now changing the way you operate. Success looks like the development of new business streams that are well received by the market. For example, Netflix moved from simply providing DVD rentals to a global content and streaming provider.
Strategic Transformation: these are the organisations that lead the way. They're not improving or changing, but are strategically transforming their business. Success is a track record of high year-on-year growth that's expected to continue for years to come. For example, Amazon transformed from bookselling to cloud computing.
What Does Digital Transformation Look Like?
A case study from Marks and Spencer (M&S) depicts the shift from business to digital transformation well. As early as 2001, M&S placed radio-frequency identification (RFID) tags on plastic pallets. This would help them to track stock effectively during transportation from suppliers to stores. By 2006, two-thirds of all pallets used in their food business had the tags attached. Food accounted for 45.2% of total turnover in 2005, at £3.6bn.
Whilst M&S did not mention the financial benefits of digital transformation from the implementation – only improved efficiency and cost saving – they clearly realised the value of RFID tags. The critical element? They moved their business vision in line with this new technology. Last year, M&S discussed the positive impact RFID tags had on their customers: ensuring quick product delivery.
So, although this started over a decade ago, M&S learnt how the strength of digital is not from a single technology. Its strength is in how businesses can integrate multiple technologies within a customer-centric strategy. The best way forward is transforming how businesses operate – with customers at the heart.
This is an important concept to grasp. Harvard Business Review's 'It Doesn't Matter' reveals how technologies are unlikely to provide a competitive advantage on their own. As with electricity and rail, technologies become like a commodity. The business advantage lies in how you use them.
Final Thoughts
Overall, digital transformation exercises must establish a holistic, customer-centric strategy for a business. Once, efficiency was at the core of business transformation. Now, you must align user experience and organisational efficiency to drive real change and opportunities for your business.
Digital technologies can only work as an enabler to achieve these goals. The human side of transformation should drive technology and back-office operations. Building a value-driven business that is 'friendly' to both staff and customers must overarch everything. Then, you'll be able to experience the full benefits of digital transformation.
Are you ready to get started? Read my next post on the classic do's and don'ts for your digital transformation project. The process is definitely challenging to lead alone! If you'd like that extra, experienced set of hands – get in touch with us. Cyber-Duck is an experienced digital transformation agency that's delivered for clients including the Bank of England, Cancer Research and Thomas Cook Money.