Our team was crowned as winners of the Barclays Hackathon at unBound London! Participants were challenged to ideate and create products that could help shape the future of FinTech. In less than two days, our team combined Barclays' APIs with an innovative Internet of Things concept that the judges loved.
Cyber-Duck was a proud community partner at the London edition of unBound Digital: a global conference series exploring the future of digital innovation across sectors. Held at Vinopolis in South Bank, the event brought together global brands, corporations, growth stage companies and industry leaders for two days of inspiration and insights into disruptive technology.
Barclays hosted their very own Hackathon as part of the conference. This event celebrated the unveiling of Barclays Launchpad: offering customers the unique opportunity to test and give feedback on the features they want for Internet banking apps.
With just 36 hours, stubbed banking APIs and a prototype mobile app, participants were challenged to code products that could improve the digital experience for Barclays' 16 million customers around the globe. Research and development (R&D) is at the heart of Cyber-Duck's creative culture – so our developers Clément Blanco and Benjamin Maugain were eager to put their creativity and coding skills to the test.
Coding with Creativity: Our Barclays 'Piggy'
Our team was inspired by the Internet of Things – building a digital update for the traditional children's piggy bank! The project would be offered as a fun yet educational tool for children; helping parents instil good budgeting and saving habits from a young age.
The project has a sustainable DIY feel, communicating how children's saving efforts are going through a coded light system. We constructed a connected piggy bank using only simple circuits, tape, cardboard and plastic bags. In this way, we could provide simple instructions for children to build and customise their own version, exploring the basics of technology and electronics.

How It Works
After setting up a simple bank account for their child, parents can add and monitor savings by syncing it with a web app. Children then enter their target savings amount in the app. This triggers a LED 'light stack' on their piggy bank: showing green, red and orange to reflect how close they are to achieving their goal, and flashing green when money is added.
The piggy bank runs on either a secure or autonomous mode. This means parents can modify the experience to fit with the maturity of their child, offering them different amounts of control over savings. In secure mode, children can submit a request to withdraw money from their piggy bank, which would be approved (or disapproved) by their parents. Once parents believe their child can manage pocket money responsibly, they can switch to autonomy: offering full access to the account's savings.
Using the Laravel framework, our team developed custom front-end and back-end systems to process data from the Barclays API library and communicate with our piggy: the connected object. The web application is pivotal to this mechanism, allowing users to activate the piggy bank.
Hack Your Business Growth
Our team was thrilled to be named as winners of the Barclays Hackathon at unBound London. We believe our 'piggy' could become a fantastic fun, educational tool for children to learn the basics of budgeting; we are looking forward to discussing how the project could move forward in the future.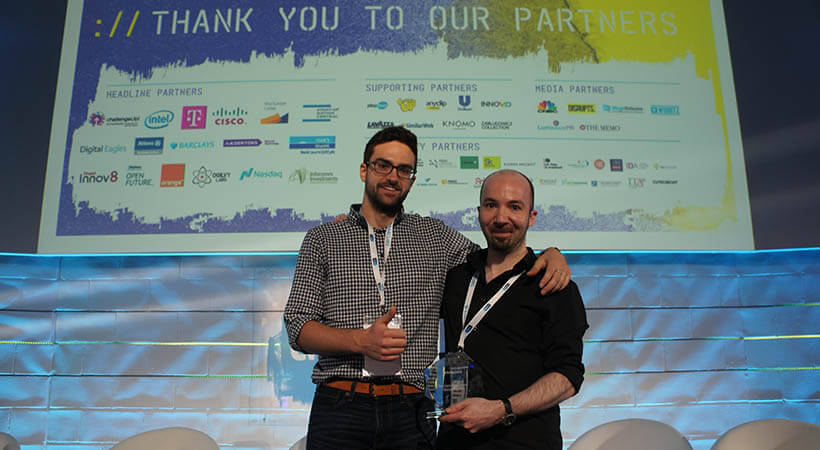 Participating in a hackathon can accelerate your business growth. Our annual Quack Hack has helped us rapidly develop solutions to client challenges, often generating new opportunities. If you'd like to host your own intensive hackathon with your staff, drop us a call. We'll show you how to hack towards innovation for your business!