We're happy to announce the launch of a striking website for BAM, the UK's leading construction company. The new responsive design transforms their online presence, providing a platform to showcase the unique, integrated nature of their construction services across an array of current and future mobile, tablet and desktop devices.
Cyber-Duck has enjoyed working in close partnership with BAM since 2008. In 2013, we launched a vivid sustainability microsite that shares their environmental vision and performance in a more creative, fun way than the norm.
This project revamped the corporate website we built with BAM five years ago. Despite standing the test of time for many years, user interaction with the website has evolved substantially. Mobile and tablet traffic in the UK has been close to overtaking desktop since mid-2013; one-quarter of BAM's visits are now from mobile devices, which provided the main inspiration for the revamp.
We wanted to use the latest responsive web design (RWD) techniques to create a powerful, modern website with high performance across current and future mobile, tablet and desktop devices. This was achieved using Hoisin, our effective lightweight Sass framework, and the Sitefinity CMS.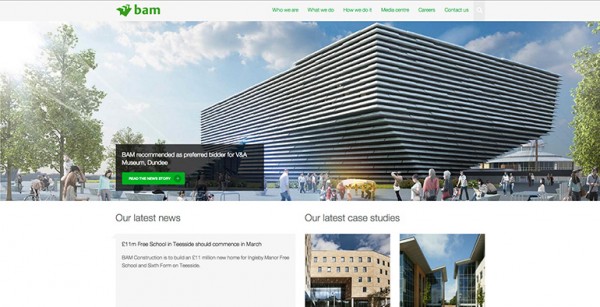 The image-led homepage for the new BAM website.
Using a rich, photography-led design, the new website portrays the unique, integrated nature of BAM's construction, design, facilities management and engineering services; comprehensive case studies demonstrate the worth of their work in practice. Furthermore, it reinforces the core people-focused ethos of the company and allows users to explore an illustrated timeline of their history, dating all the way back to 1874.
"Technology moves so fast that we needed to update our website to ensure our visitors have a great experience, whatever screen size or device they're using," said Mukesh Parmar, Marketing Information Manager at BAM. "It's full credit to Cyber-Duck that our previous website lasted 5 years - an incredibly long time in the digital world. We have a great working relationship with Cyber-Duck and when we decided to update the website they were the obvious partner of choice."
If you're looking for a future friendly, striking new design for a corporate website, please get in touch to find out more about our services.