In late September 2018, Cyber-Duck finally became a teenager. We celebrated our 13th birthday at the central London venue, the Happenstance. Here's our summary of why the last year in particular was worth celebrating with a night on the town!
After another great year at Cyber-Duck, we flocked to the Happenstance in central London for an evening of partying with our clients. We wanted to celebrate our digital agency's 13th birthday in style, so we booked out a private room, hired a DJ and cracked open the bubbly to see the year off. But what's been so special about this last year, I hear you ask. Well…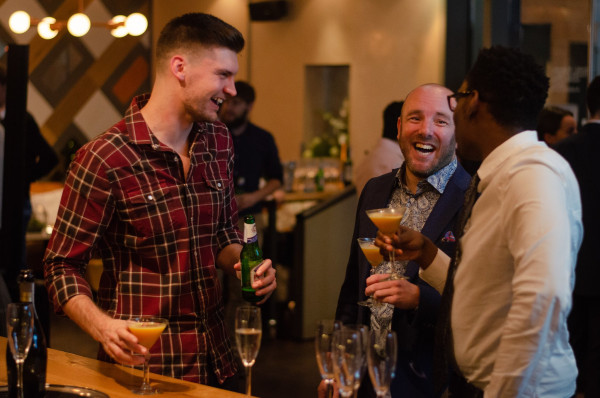 We launched a new website
Cyber-Duck proudly launched a brand new website, which took our brand and online presence to new heights. We needed a new website, one that truly represented who we are today. Redeveloping the entire Cyber-Duck website was a major project for our internal marketing team, and they certainly delivered the goods.
What you see here is the final product – an alluring, representative website that shows who we are in 2018. It will play a vital role in our future marketing activities.
We opened an office in Leeds
After unprecedented growth for our digital agency in 2017, we decided now was the time to expand our operations. We opened a new office in Leeds this year – this brought us closer to our Northern clients, including Connect 2 Cleanrooms.
With two of our esteemed Ducks moving to Yorkshire this year, the timing was perfect for an expansion. We kicked off our Northern adventure with a UX talk and party on September 25th 2018 – more on that here.
We redesigned the Bank of England's website
The Bank of England project took place in 2017, but the finished product finally went live this year. We created an innovative design system for the Bank of England, allowing their marketing team to create whole new pages using pre-developed front-end content. The design system was accompanied by a detailed content strategy that would allow the Bank to create user-friendly experiences throughout the website.
You can view our video for the Bank of England project below.
We created a new app for the elderly
Our R&D culture at Cyber-Duck is fantastic, and we're really proud of it. What drives us is the desire to do good and to give back to the community. That's why we built a brand new system to help the elderly.
It's called Jim.Care and it works by utilising Amazon Alexa, Internet of Things devices, and an API to bring it all together. If an elderly or disabled person who lives on their own falls in their home and can't reach a phone, our proof of concept system is designed to be their helping hand. Users simply call for help, and Jim.Care sends an alert to the users' family, loved ones or carers.
We hope to work with various charitable organisations in the future to develop Jim.Care further. Needless to say, we aren't finished trying to help out the community.
We launched Mitsubishi Electric UK's new website
Another major project for Cyber-Duck over the past year was the Mitsubishi Electric UK website. This was a massive project, which involved a great amount of UX and the entire redevelopment of their Living Environment Systems website. The main task was to consolidate the entire website using a new content strategy. We wanted to make it easier for users to find the information they need, so we created new persona types so different types of users could quickly get where they needed to go.
We were finalists at the UK Agency Awards
Cyber-Duck's exceptional work was recognised once again this awards season. We were a finalist at the UK Agency Awards in the Design Agency of the Year and B2B Agency of the Year categories. We had a great night, and although we didn't take home the top prizes our eyes are now firmly set on the next awards ceremony - the Wirehive 100, where we were shortlisted in the Best Use of Emerging Technology section!
We welcomed a new director
Our board of directors grew again this year when we officially welcomed Justin Cooke to the pond. Justin joins us as a Non-Executive Director, here to advise Cyber-Duck on new business ventures. He founded the now WPP-owned agencies Fortune Cookie and Possible Worldwide. Justin is also on the Digital Advisory Boards at the British Museum and No. 10 Downing Street. We're thrilled to have Justin here to help Cyber-Duck grow and develop further.
Our pond grew and grew
In 2018, we continued to grow in new and exciting ways. We welcomed 10 new ducks to the pond. If you work with us, you'll probably have met some of these talented designers, marketers and project managers already. But if you haven't had the opportunity, we'll have more on each of our new starters soon.
Bring on our 14th birthday!
Cyber-Duck has achieved so much since we were founded in 2005, and this year was one of our best yet. As a digital agency in London, it was always our dream to expand beyond the confines of this great city and make waves in the world. The fact that we've now been able to do that is thanks entirely to the loyalty and support of our valued clients – so thank you!
Here's to the next year of delivering amazing user experiences for our clients!
If you'd like to learn more about Cyber-Duck's user experience and development services in London and Leeds, remember to contact our team today.