A few months ago, we were visited by Ortis Deley from Channel 5's The Gadget Show. If you want to catch our appearance on the show - tonight's the night!
The resulting comic was conceived from some of the key chapters of the novel, and then personalised to feature Gadget Show presenter Ortis Deley in an innovative, interactive comic book format. Utilising photos of Ortis and turning him into the Dracula character, Cyber-Duck scripted out a summary of the section of the novel and included several interactive elements. The comic uses parallax scrolling to create a 3D effect along with interactive story paths, animation, audio and augmented reality to make for a really immersive, engaging and hopefully scary experience.
So how did this come about? Well, it all began when Cyber-Duck Production & Marketing Director, Matt Gibson, was contacted by The Gadget Show about an interactive project named 'Dead on Arrival' Matt had created along with fellow interactive producer Geoff Gaviria. Their project had won them a prestigious British Interactive Media Association Award back in 2007. The Gadget Show production team discovered the web comic and were impressed. Upon discovering that Matt was now a director at Cyber-Duck they were keen to get us involved.
When it came to filming, Ortis paid our old offices in Borehamwood a visit along with the Gadget Show production crew and spent time shooting footage for the episode, including interviews with Matt as well as Jerome from the team who were the two main producers on the project.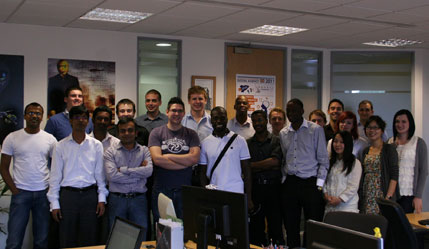 The programme will be aired tonight at 8pm, but if you miss it, you can still catch the episode online using 5FD. We'll also try to get a clip from the show on next week's weekly Cyber-Duck update on Friday. Visit the Interactive Dracula Comic here or alternatively, watch the screen-recording below: