At Cyber-Duck, we're big fans of the Drupal content management system (CMS). Our experts often get asked about the Drupal platform. Here are some of the most frequently asked questions. And if you have others, do get in touch and we'll do our best to help.
What is Drupal?
Drupal is an open-source content management framework that runs more than a million websites worldwide. It's popular because of its power, flexibility and scalability.
What is Drupal used for?
Drupal is used to build all kinds of websites, from small sites with a few pages to complex presences for major multinational brands and services.
At Cyber-Duck, we've used Drupal to build websites for the Cabinet Office, Wilmington Plc and Sport England, to name just three.
Drupal's big strength is that it's an open-source platform that can scale as an enterprise solution.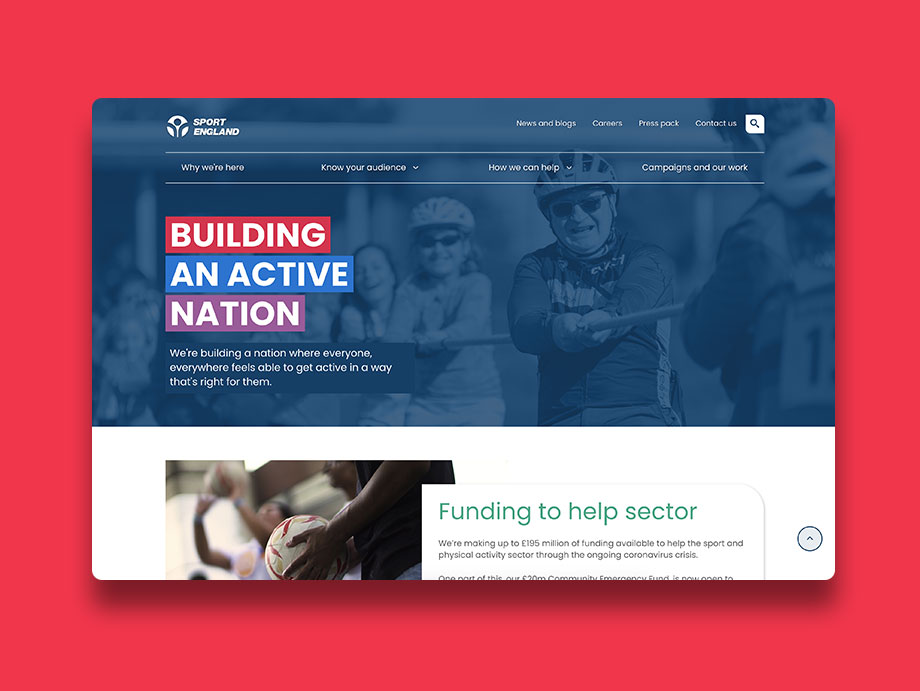 Drupal is an open-source platform that scales as an enterprise solution.
How Drupal works
Drupal is an open-source content management framework that provides good, free, out-of-the-box functionality that you can then tailor to your site's needs, using core, community-built or custom modules.
Because Drupal is open source, in addition to the support and development provided by Drupal.org, there's a whole ecosystem of Drupal developers, working to strengthen and extend the Drupal platform.
What programming language does Drupal use - PHP?
Yes, Drupal uses PHP. Because it's an open-source PHP framework, if you need to extend its functionality you can – it's not a black box. You can download and enable additional free community modules, create your own simple custom modules to make a minor change to how the system works or create very complex changes to implement highly specific functionality by using Drupal's hook system and API. You can also take existing themes and use those as the base to give your website its own unique look.
How to build a website with Drupal
To build a website in Drupal, first you'll need to gather your requirements. Then you'll plan the content and functionality for your new site.
As your plan develops and elements pass user testing, you can start implementing Drupal and integrating it with any third-party services, like your CRM. The front-end team can start building in parallel alongside the back-end work. This part can happen quite quickly, thanks to Drupal's out-of-the-box functionality.
Finally, you'll need to test your new site carefully to ensure that it displays as expected across multiple devices and the functionality, analytics and any integrations all work as intended. This will include QA testing, which can be automated.
If you'd like to explore what a Drupal site build might involve for your organisation, do get in touch – we'll happily chat through your needs.
How to run a Drupal site
Running a Drupal site is generally straightforward. When there's a release from Drupal.org or in the Drupal community for any of your modules, you just pull down the change, update the module, check it works as expected and deploy to production. These changes may be security related, but more often than not they simply add requested functionality, improve performance or fix minor bugs.
Occasionally, changes are more complicated. These cases are rare and when they occur, they're well documented by the community. In these instances, you need to allow time and resource for testing and iteration.
What is Drupal development?
Drupal development is development on the Drupal content management platform. This could involve setting up or migrating a Drupal site, integrating Drupal with another system, building a custom module or adapting a Drupal community module to your needs.
Is Drupal responsive?
Drupal's display is controlled by its theme layer. This defines how your site should look across devices. Drupal 8 uses the Twig template engine by default.
This means that it's down to you whether your Drupal site is responsive or not, because it depends on your theme. There are thousands of Drupal themes available that can be customised, and the vast majority of these are responsive. For example, a lot of sites use Bootstrap as a base theme, which is mobile-first.
Is Drupal accessible?
Again, whether or not your Drupal site is accessible is ultimately up to you – it depends on your theme layer.
However, Drupal is committed to accessibility and is ensuring that all Drupal core features meet WCAG 2.0 and ATAG 2.0 guidelines. You can also look for themes marked with Drupal accessibility hashtags – these are built by developers who actively support accessibility improvements. You can find out more about Drupal and accessibility on Drupal.org's accessibility page and in its Drupal 8 accessibility documentation.
How to find the Drupal version of my website
If you're wondering what version of Drupal you're using, here's how you can find out.
Log in as the admin user and visit Admin > Reports > Status report. That will give you the exact version.
Look at a file called CHANGELOG.txt at the top level for Drupal 6 or Drupal 7 and under core/CHANGELOG.txt for Drupal 8.
That file might even be accessible via the browser at www.site.com/CHANGELOG.txt or www.site.com/core/CHANGELOG.txt
If your site has a directory at the top level called "core", this means it is at least Drupal 8.
Look in /includes/bootstrap.inc for a version.
You can sometimes see if your site's running Drupal in your HTML source code:
Look for /sites/default (Drupal)
Look for /core/ (Drupal 8)
Look for "Drupal"
How to make a Drupal module
There is plenty of documentation available freely online to help you build a Drupal module. It's also worth checking to see if an existing core or community module could be utilised to serve your purpose. Drupal is so mature that creating large custom modules is becoming an exception.
How to host a Drupal website
A Drupal site is hosted the same way as any other website. You set up a hosting service, database server and file system, upload your files and you're done.
However, there are specialist Drupal hosting providers. These services can bring some benefits, such as the ability to deploy using a command line prompt. They have a good relationship with Drupal and know what the best server settings for a Drupal site will be.
How to improve your Drupal site's performance
There are many ways to improve the performance of your Drupal site. Your Drupal team should be able to advise you if you have any concerns.
If you're working with an existing site, then consider running a performance audit. Check any custom modules or code, check your core and community modules are up to date and remove any you're not using. Our previous blog explains how you should update from Drupal 7 to Drupal 9 in stages, before 7 reaches end-of-life.
Check if your site's caching and security settings are in line with Drupal's recommendations and then follow the steps for a new site laid out below.
If you're building a Drupal site from scratch, there's a list of recommendations for caching and security settings. There are also community modules you can use to boost your Drupal site's performance.
Hosting is also something to look at. Better hosting (which usually means more expensive) should mean higher quality servers, more uptime and greater bandwidth. Again, this is where a specialist Drupal hosting service can advise you. Cloud hosting services such as AWS also provide a lot of flexibility, so you only pay for what you need.
If you have any questions about your Drupal site, or would like to speak to our expert team about a Drupal build, upgrade or migration, do get in touch – we're here to help.
Read the next two blogs in this series: