We're no strangers to receiving awards for our web and mobile production at Cyber-Duck, but that didn't stop everyone in the office squealing like excited teenagers when we heard that we have just won an Award of Excellence in the 18th Annual Communicator Awards in the category of Charitable Organisations/Non-Profit for our work on 'Arsenal Double Club'.
For nearly two decades, The Communicator Awards have been recognising international talent in marketing and communication. They are one of the largest and most important award programs of their kind and receive over 6,000 entries every year from companies and individuals who think they have what it takes to win a celebrated award.
The Award of Excellence is the highest achievement possible to attain with at least 90 points awarded out of 100 by a panel of top-tier judges from professional backgrounds in media, communications, advertising, creative and marketing industries.
Arsenal Double Club
The Arsenal Double Club was established in 1998 after the Gunners thrashed Newcastle in an epic FA Cup final game that resulted in Arsenal taking home the trophy. High on the thrill of winning, Arsenal in the Community decided to celebrate the double winnings of Arsenal that year by providing literacy modules in a number of primary schools in Hertfordshire and Islington.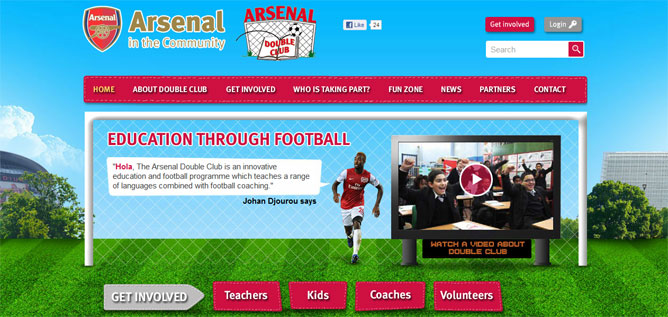 The programme allows students to take an interest in another language by teaching core communication skills in a fun environment. Each session lasts 90 minutes, with the time split between language learning and football training, switching over at 'half-time'. It is a fun and successful way for young people to learn about new languages and cultures, as well as getting some more active exercise in their daily routine.
Ducks to the rescue
Cyber-Duck were approached by The Arsenal Double Club to create a brand new website for them so they could effectively market and promote their education programme to get more schools involved. They were looking for something that was easy to use, fun and appealing for all age groups, as well as utilising a CMS (Content Management System) to enable new information to be uploaded quickly and easily.
This is exactly the area of expertise for the pros at Cyber-Duck, so we got straight to it and created a website that Samir Singh, Education Assistant at Arsenal Double Club explained as, "The new website for Arsenal Double Club's language programme is fantastic. We are hoping that it will lead to many more schools signing up to the scheme."
The Process
Like all our projects, Cyber-Duck utilised our UCD (User Centred Design) approach when creating the Arsenal Double Club website. This method involves the use of sophisticated eye tracking tools and wireframe schematics to generate a user friendly interface and information design as well as card-sorting techniques to ensure the information architecture was well-planned. With the layout decided, Cyber-Duck set about making a distinctive, creative design that would be eye catching and include plenty of Arsenal branding.
The end result was a website that offered all the necessary information for schools, teachers and parents to understand about the programme and also provided an entertaining experience for children. This was achieved by including full details of the courses and pricing, video examples of lessons and news to keep the visitors updated. For the kids, Cyber-Duck developed a penalty shootout Flash game using Gunnersaurus, Arsenal's mascot, to help them practice their newly learnt language skills.
The Award
Cyber-Duck are delighted to win an award for the Arsenal Double Club website and Danny Bluestone, Managing Director, had this to say about the news, "We have been lucky enough to win a number of awards for our work, but to receive an Award of Excellence from the Communicators year on year proves that our User Centred Design methodology is the key for our success."