Cyber-Duck's Meetup group 'The Digital Pond' successfully hosted its first event from Central Working in London this Tuesday.
Node.js is changing the way real-time web apps are built and developed, and although not completely new, it is something that many UK developers are not yet familiar with. With this in mind, we wanted to help teach both beginner and 'hard-core' web developers about the benefits.
Our 'Node.js showcase' gave members the opportunity to speak to and learn from some of London's most innovative web developers. The expert panel held real life demonstrations of how they went about exploiting the potential of the pioneering server-side Javascript implementation. In addition to the array of talented guest Node.js panellists, there was free beer and pizza for all who attended.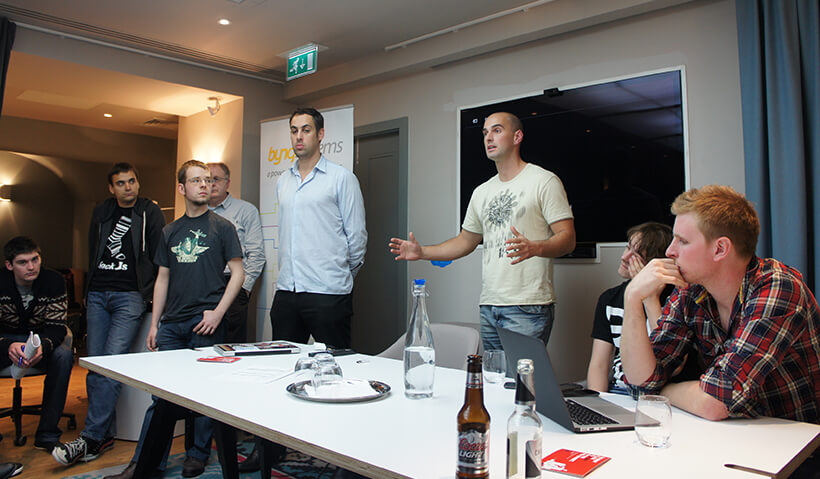 Among the presenters were Cyber-Duck's talented duo; John Hamelink and Gareth Drew, who spoke in detail about Cyber-Duck's latest R&D project; Coffee Lottery. The web application is designed to put some fun into making coffee for the office. All participants, whether they're in the office or at home, sign into the website through Twitter, before being invited to start a round; participants then have 5 minutes to register their order before Coffee Lottery selects one at random who has to make the whole lot!
While the application was built in PHP with twitter's oAuth API, it still manages to demonstrate how Node.js can be used to add an extra sparkle to the project by enabling real-time functionality with relatively little effort. During the event the pair spoke about how they incorporated node.js into the project as well as presenting a live demonstration of Coffee Lottery in action.
Further speakers included Jonah Fox who presented brequire - a CommonJS environment for the browser, Rob Tweed who spoke about the development of Javascript/Node.js front-ends for Global Storage databases, Marek Majkowski who demonstrated the SockJS framework, Kornel Lesinski who showed us his 'Lightsaber Centralhack' project and Mike Cronnelly who spoke about his experiences developing and hosting two large node.js websites for News International.
Special thanks are in order for all our Sponsors of the event, which included Byng Systems, Couchbase and Clock. We have plenty more Meetups planned for 2012 in user experience, marketing and developmen. Join the Digital Pond Meetup page to ensure you stay up to date.