Cyber-Duck begin testing on their very first podcast and Netflix is on its way to the UK.
Today a few members of the team began testing for our very first Cyber-Duck podcast. The podcast featured a variety of topics including the launch of Android's Ice Cream Sandwich software, Netflix coming to the UK, the Apple iCloud and our panel of Gil, John and Neil shared their thoughts on the best gadget they've ever owned.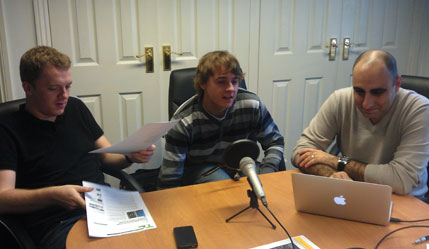 Industry News
Amazon have announced that Samsung's latest smartphone, the Galaxy Nexus, is to be available from 17th November. The handset can be picked up SIM free for a mere £550 and will be the first smartphone to support Android's latest 'Ice Cream Sandwich' iteration. Features of the new device include a massive 4.65-inch Super AMOLED screen, dual-core 1.2GHz processor, 32GB of storage, and a 1,750mAh battery.
Netflix, an online movie streaming service currently available in the United States, have announced plans to take their service over to the shores of the UK. Users can pay a fixed monthly fee, and in return will be able to stream through their massive database of movies to a PC, TV, games console, Android smartphone and tablet as well as a variety of Apple devices. The release date and price has yet to be revealed, but be sure you can find out all that information here as soon as we know.
Apple has been granted a patent which it filed for back in 2009 on the unlocking of a smartphone using touchscreen gestures, which includes swiping and pattern gestures. Competitors to Apple which would seem to violate this new patent include Google's Android and Microsoft's Windows phone 7, and it now looks as if Apple will begin legal proceedings against the two competitors.
Continuing the theme of patent lawsuits and Amazon has revealed that 11 separate companies have filed lawsuits against the company since the turn of 2011. The number is more than 3 times the number from 2010, with claims that Amazon have infringed a fellow companies sales system, a firms intellectual property and that its Kindle uses technologies owned by others. Amazon have announced they intend to dispute all the claims as they prepare to "vigorously defend" their company.
Google's Android operating software has surpassed Apple's iOS as the most popular platform for application downloads. Reasons have been put down to the fact that customers are buying more android phones than Apple, with Google accounting for 44% of all app downloads in the second quarter of this financial year. We also found a cool infographic we would like to share with you, which showcases the social app activities of Apple and Android users. Enjoy!
This week has also seen the launch of Unthink, an anti-Facebook social network which is looking to curb the market dominance of facebook in the social media industry. Unthink bills itself as being a more open, more honest form of social networking, giving users ownership of their own data and not passing their information on to advertisers. It now remains to be seen whether Unthink will use Facebook to spread the word of the social media platform.
Finally, Facebook have announced they intend build a large server farm in Sweden, near the Arctic Circle. The reason behind this is they want to take advantage of the countries cold climate to help keep all their equipment cool.