Running effective design sprints and workshops are key to the success of any design team. But where do you start? What are the best tools and techniques for your project? How do you manage your team, projects and research effectively?
All of this, plus the challenges of a COVID world where everyone is working remotely can seem daunting. But Cyber-Duck has the solution and decided to help by delivering the Remote Design Sprints Masterclass with our terrific partners at Dovetail and ClickUp.
What is a remote design sprint?
Kicking off the session we had our very own Sam Hooper, UX Lead at Cyber-Duck, to give us an overview of what a remote design sprint is, why it's used and what it's good for.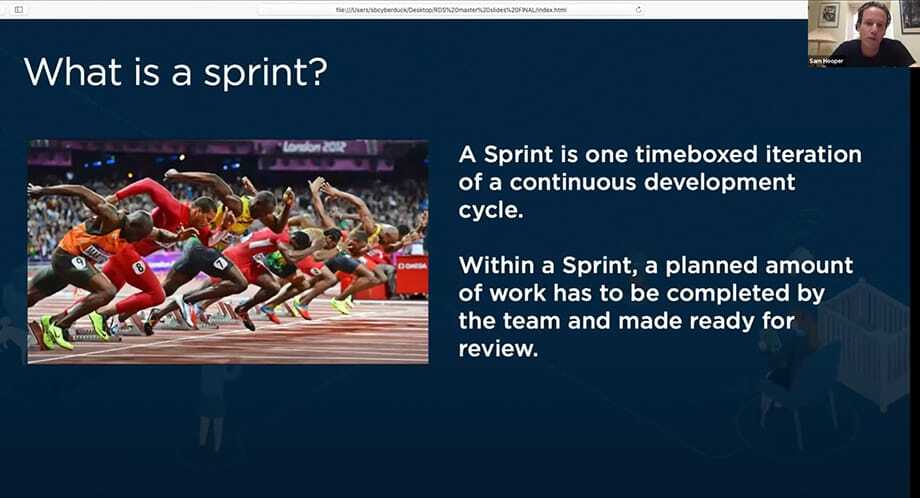 Our UX Lead, Sam introduces the idea of a design sprint.
A sprint in the world of UX and design is much the same as a sprint in athletics. Just like Usain Bolt, designers and marketers in their sprint are looking to achieve a specific goal in a timeboxed section of a development cycle. Unlike Usain Bolt, a design sprint is often completing a specific section of a wider project. The sprint is the section you are running, but the whole project is a relay of multiple sprints.
Sprints are good for setting clear goals and working through big challenges in small parts. They typically follow a defined format, beginning with generating an idea or identifying the problem - and concluding with testing a solution which enacts or solves it.

Moving from ideation / problems to test / validate.
What are the benefits?
As you might have guessed, the main benefit of the sprint format is its speed. Typically taking place across a working week (5 days), sprints are great at getting the big projects moving by breaking them down into clear sections, with defined start and finish lines.
What this does require is thorough planning. Before you put your feet in the starting blocks, it's imperative you and the team have invested the proper time preparing a clear roadmap. This roadmap must include everything from the context, to the team and the tools you'll be using.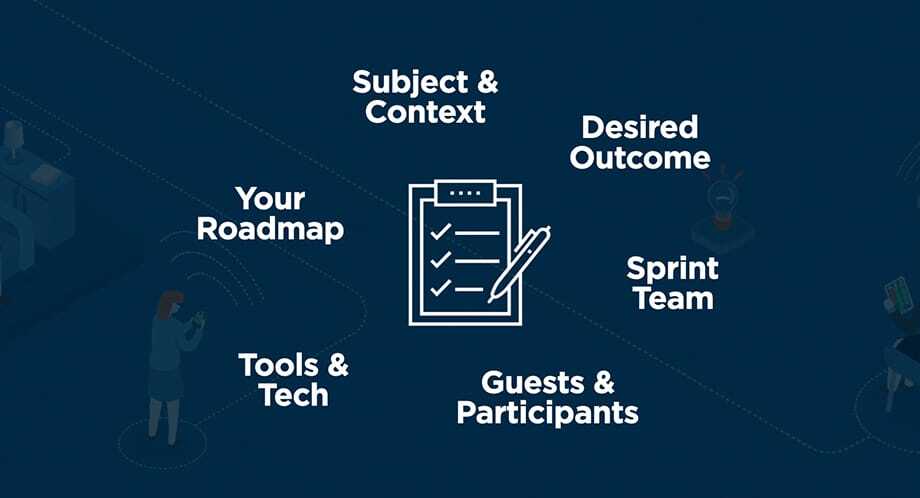 Creating a roadmap.
Once you've gathered your trusty teammates and sharpened your tools - you are ready to begin the sprint. Sam put together a handy slide illustrating what a design sprint will look like as your progress through the week.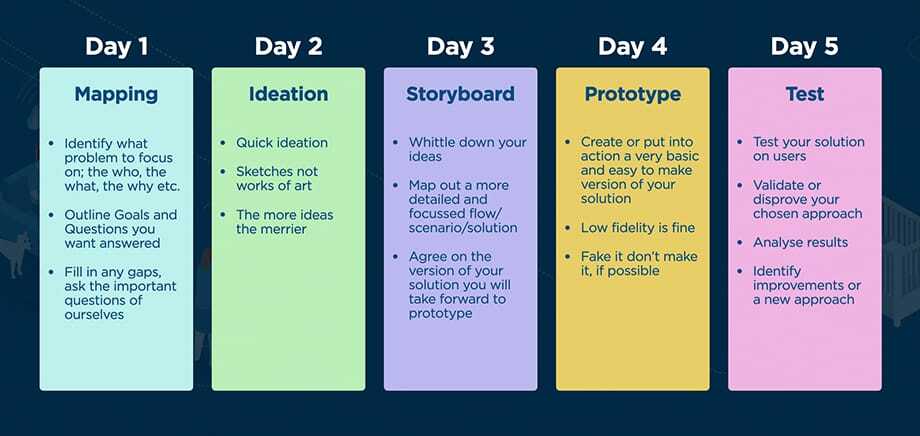 A traditional design sprint.
One of the most important things to track on a sprint is who is where and when. Different sections will require different people, specialists or guests to overview.
What's changed?
If you had asked us last year what a design sprint looks like, we would've answered with depictions of a sprint team huddled together in a room, surrounded by whiteboards and armed to the teeth with markers and post-it notes.
Of course, the emergence of COVID-19 has changed all this. Now we are all forced to work and collaborate remotely - but that's by no means a disaster. For us at Cyber-Duck, we've been working remotely with our teams and clients around the globe for years. In fact, there are some distinct benefits from this way of working - in particular it is much easier to be inclusive with attendance. With no limits to physical space, it's much easier to get everyone you need involved together virtually.
However it is important to remember how life under lockdown has changed us. Zoom fatigue is a very real thing. People can spend all day clicking between meetings and staring at a screen all day and this is not conducive to a healthy life - or an effective way of working.
With a properly structured remote design sprint, you can factor in for Zoom fatigue. Your sprint shouldn't be singular chunks slogged out. Instead, you must take your clear sets of teams and participants and schedule their work in sections which allows people the time to break off and recuperate. This is all part of the preparation that should be completed before any sprint begins.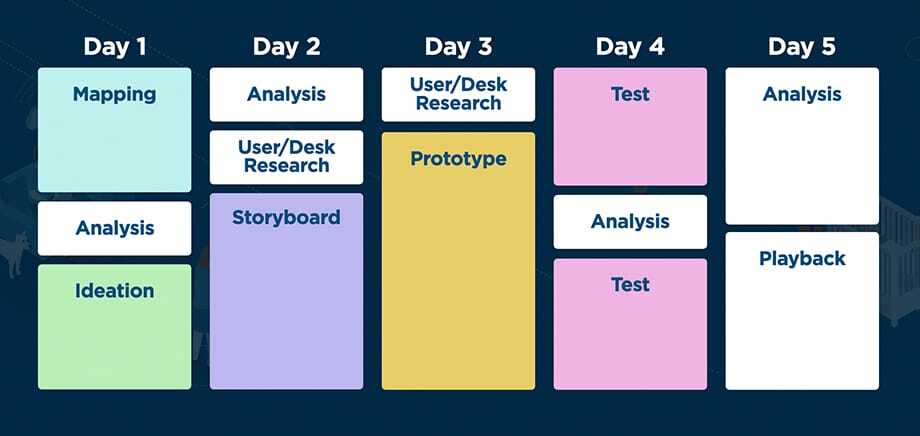 Our recommended, current design sprint.
How can you conduct research in a design sprint?
The masterclass then covered how to conduct data analysis. User research plays a key role in a design sprint. It can be used to understand the users and their needs before the sprint occurs - but also it can be used to confirm the validity of a feature - or equally unveil a new opportunity or use for the product.
Lucy Denton, Senior UX Designer at Dovetail, then gave a live demo of the platform. Dovetail is a user research platform which allows teams to create a research repository.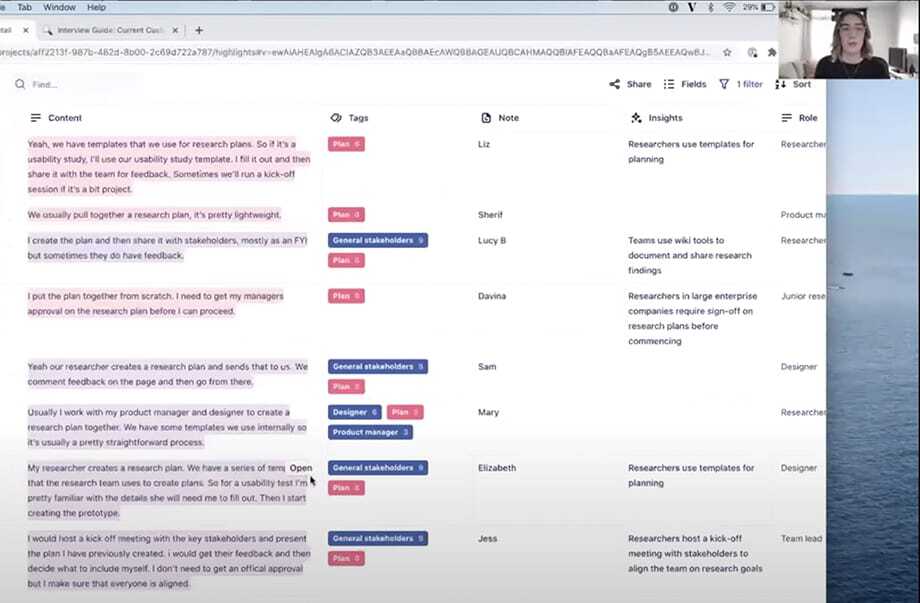 Lucy takes us through DoveTail's features.
It takes any type of qualitative data, from surveys to individual feedback, and allows teams to effectively analyse and process this data from home. It allows greater team collaboration, data analysis and can lead to teams producing more effective, organised and higher quality research takeaways. For an extended 60 day trial of Dovetail, head here.
What are the best tools to assist with a remote sprint?
Communication is key to a successful design sprint. And so our recommendations are the big hitters you are already familiar with; Zoom, Google Hangouts and Microsoft Teams to name a few.
Next, the focus shifted to how to manage teams remotely. Sophia Kaminski, the Customer Success Manager at ClickUp, gave a live demo of the platform. ClickUp is a project management tool which combines the benefits of many industry-leading tools into a singular platform, and lets teams manage projects, workflows, tasks, to-do lists, goal and time tracking and stay organised and on track in one place.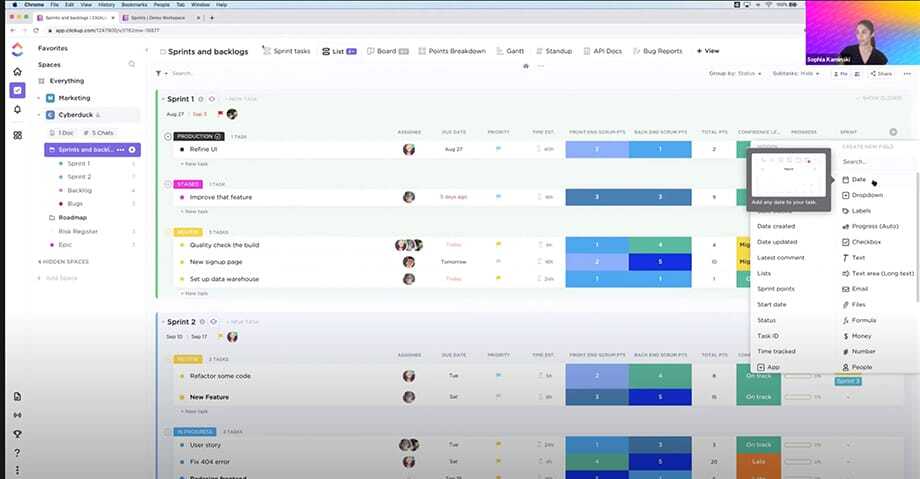 Sophia takes us through ClickUp.
Our UX Lead, Sam finished up with recommendations of further tools to replicate the creative and collaborative nature of a sprint remotely, tools such as Miro and Mural offer intuitive creative templates that allow teams to share and visualise ideas quickly - as well as split into smaller groups and cast votes on solutions or prototypes.
When it comes to developing a prototype - it really boils down to the preferences of the designer. Our team typically uses tools like Sketch, InVision, Adobe Xd or Photoshop.
Summary
Whilst the world will only see the glamour and the glory of Usain Bolt's 9.58 second blitz to glory, the real work that allowed the successful sprint happened behind the scenes.
Planning, preparation and communication all lay the foundation for successful sprints - it doesn't matter whether you are Usain Bolt or a remote designer - the work before the sprint is what sets you up for success. You need to know who is doing what and when, and what tools they'll need to get the job done.
Check out the highlights reel and our white paper on running Remote Design Sprints. If you'd like to watch the entire webinar, please get in touch.