Content Management Systems (CMS) come in all shapes and sizes, all with varying functionality, flexibility and usability levels. For most organisations, the capabilities of their CMS will reflect their internal processes and what they hope to achieve through their digital offering.
But there always comes a time when your organisation's needs or the rate of technological progress means that your CMS will become outdated. Likewise, if you're starting on a new venture you may need a new CMS. When that happens, you need to know how to select the best CMS for your organisation's needs. This article gives a bit of history on how CMS systems have evolved, new concepts within CMS and some key questions you need to ask yourself before you change your platform.
What a Traditional CMS Was Like
Traditionally, a CMS did exactly what it said on the tin: it managed content on a particular website. However, as time wore on organisations pushed for more and more functionality from their CMS, which was really designed (using a WYISWG authoring mode) to create and edit desktop websites. Design of websites essentially became married to the CMS, which made the CMS unwieldy and inflexible. In particular, it meant that when an organisation needed to deliver content to a mobile app, a web app or an internet of things (IoT) device, it needed to break conformity with how the CMS was originally designed. Furthermore, as the web became more powerful, organisations needed to integrate their CRM and workflows into other web tools and platforms through APIs and needed to move away from having a website bolted onto their CMS. This was something that was quite painstaking for many organisations.
Moving Forward - a Modern CMS
Let's explore modern concepts that underpin a modern CMS system: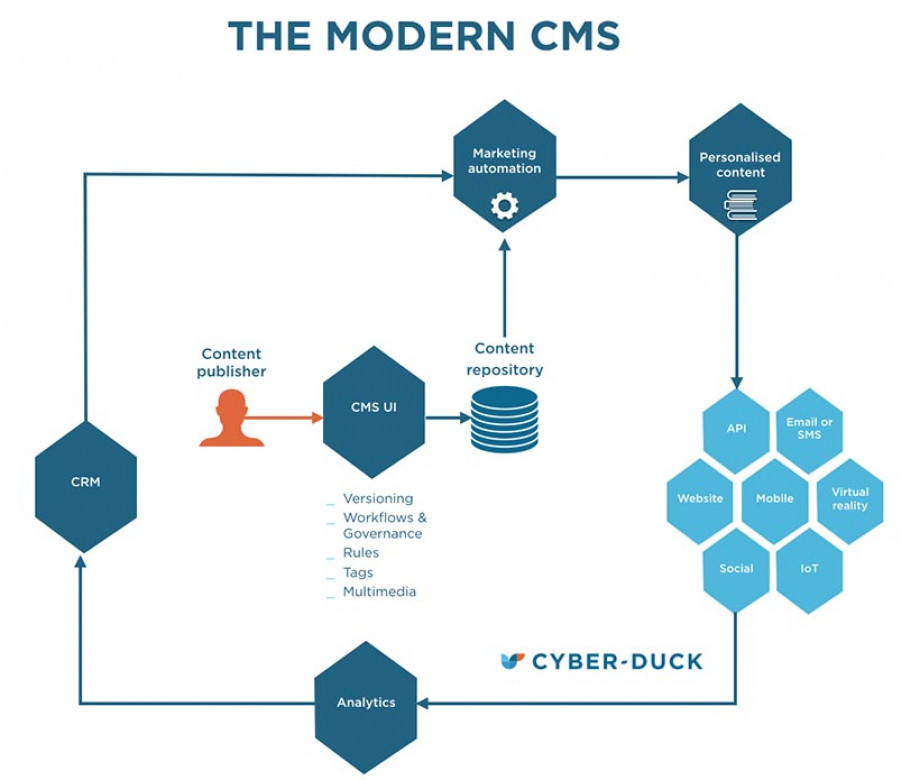 CRM - The premise of how a CRM works hasn't changed, but the ability for a CMS and CRM to work alongside each other in unison has. A modern CMS will be able to receive events from multiple channels and record user activity. The user will then be scored and segmented accordingly. Based on the events, an organisation can then manage its customer service, sales pipeline and product improvements efficiently. The CRM also empowers marketers to push content to a variety of different channels such as email, push notifications, SMS and social.
Analytics - Using advanced analytics, it is possible to track and identify user behaviours based on persona profiles and demographics. The data captured through various analytical tools is then channelled back into the marketing automation engine to further improve the user experience.
CMS UI - This is a place where a content publisher manages all their content and categorises which content goes where. In a traditional CMS, the content would be stored as 'full content' with a look and feel 'attached' as well as being optimised for a desktop website only. Whereas with a modern CMS, all content is stored as 'raw data' so it can be transformed and delivered to the right channel in the appropriate format.
Content repository - Depending on the CMS you select, your data would be stored here. This could be a standard database using SQL or GraphQL which has a more powerful querying language to return search data more accurately and faster.
Marketing automation - How this is setup will be dependent on the business logic of the organisation. The marketing automation is reliant on a solid CRM as well as taking data from several different sources. This allows the creation of rules around user behaviours that will trigger specific events depending on the persona or segment logic.
Personalised content - With a modern CMS, CRM and marketing automation, it is possible to deliver highly targeted and personalised content to the right user on the right channel at the right time. With only 6% of web content management professionals having implemented a personalisation strategy as of January this year, there is still a long way to go!
So, What Is a Headless CMS?
The Headless CMS approach has been making waves recently and is definitely worthy of being called a revolutionary approach to CMS. A headless CMS, works in tandem with APIs to analyse users and provide them targeted content based on their segment and persona profile. It delivers consistently high-quality experiences for your users that are optimised for each channel.
Questions to ask before you change your CMS
Here is a list of questions that you should ask yourself before you change or upgrade your CMS system:
Features - Does the CMS have too many features and is it over-bloated or not scalable enough?
Performance - Can the CMS cope with the speed and agility you need to deliver content to your relevant channels?
Integrations - How will the CMS work with other systems within your workflow, compliance and governance requirements?
Extensibility - Can the system evolve with changing user needs such as personalisation?
User friendliness - Can your team easily manage content that is optimised to personas?
Cost - Consider the licencing and maintenance costs, as well as the cost of developers or an agency with this specific CMS skillset.
Support - How well is the CMS supported, and what is the development community like?
Security - Does the CMS provide adequate protection for an organisation of your size?
CRM readiness – Are your other systems, such as your CRM and marketing automation systems, fully compatible with your CMS?
Data migration – Have you mapped out how you will migrate all your legacy data, SEO setup and permissions into the new or upgraded CMS?
Once you've asked yourself all these questions, are you completely confident that you know which system you need and why?
Selecting the Right CMS*
There are many types of CMS systems. Each have their own merits. There are dozens of ways to score a CMS but we thought we would focus on the end-user ease of use (the content publisher) and how much developers (the CMS programmer) dread using a given system. Clearly if end publishers are happy with the CMS and developers like implementing and supporting a CMS, they will be able to deliver more effective results – as such, these are two critical factors to consider (alongside things like price, flexibility, and integrations).
Let's look at a few examples. Adobe Experience Manager is where we'll start. This CMS runs on Java programming language, with a licence cost starting at £190,000. On a scale of one to ten, users report a ease of use* rating of 7.1. (*Independent user reviews on g2crowd.com ranking ease of use using the CMS).
Another programming language is PHP. The most well-known PHP-driven CMS is Wordpress, which boasts zero fees and a user rating of 8.4. A highly flexible CMS is Silverstripe, running on PHP with zero fees and an end-user rating of 7.3. You also have Drupal, which has zero fees as well but a user rating of 6.9.
If you want to use a .NET programming language, fees will start to apply again. Sitecore licence costs start at £40,000 - its end-users rate its ease at 6.3. Sitefinity is another candidate, with licence costs starting at £15,000 for 10 editors and an end-user rating of 8.0. Finally, you have Kentico, which has licence costs starting at £3,400 and an end-user rating of 8.2.
Ultimately, you'll need expert advice to settle on which CMS will be best for your organisation - if you decide to go it alone, we advise you to be careful!
Be Flexible When Selecting Your New CMS
The whole point of the modern CMS is to present your audience with personalised content that is appealing at the right moment and within the right context, be it email, a website, a mobile or even virtual reality.
What is key is that the end user or publisher is satisfied with how easy it is to use the CMS, but it's also crucial that the system is flexible and that it can integrate into other tools such as CRM and fit into their workflows. As the Stack Overflow data shows, it's also equally important that the developers or agency are happy to support the CMS of choice.
One mistake we see in a lot of briefs from clients is a 'prescribed' CMS or tech stack. It is important to work with the agency of choice and go through a process to find the right tools and solutions for the future.
Cyber-Duck can help organisations audit their CMS requirements and select the right platform before any critical decisions are made. We'd love to hear from you and see how we can help you with your project - get in touch.