We're happy that the Cyber-Duck team has been shortlisted for not one (or even two) but FOUR Wirehive 100 Awards this year! As proud winners of the 'Best Use of Tech' category in 2013, we're up for the double this year for our Need a Property project. With further nominations for Creative, Account Handler and Techie of the Year, we're excited to see the brilliant work of key team members being recognised.
Aiming to showcase digital excellence, the Wirehive 100 Awards celebrate the outstanding range of work from agencies based outside of London in the southern counties. This year saw a 40% increase in competitive entries compared to the previous year and a distinguished, independent panel of the best in digital selected the shortlist. We are looking forward to celebrating at the award ceremony on October 16th in the striking setting of the Denbies Wine Estate, England's largest vineyard. Read on to find out more about each of our nominations!
Best Use of Tech: Need a Property
Need a Property (NAP) is a leading property search portal helping users to find their dream homes to buy or rent through their up-to-date listings, added directly by over 3,000 estate agents across the UK.
We developed a highly accessible and engaging portal, integrating clever features to help users' decision-making process. The advanced search engine indexes over one million properties, but rapidly returns properties filtered by price, rooms and other features. The portal can also analyse surrounding schools, transport links, area or other interests by pulling open source data from Yelp, Eventbrite, and many more services. As a unique differentiator, we drew on the INRIX's 'driving intelligence' to create the first UK 'Travel Time' search; users can search for available properties within a 'driving time' radius of their office, for example.
Within the first six months of launch, NAP gained an increase of over 550% in monthly unique visitors. By integrating unique, tricky technical features and achieving great results, we believe that NAP is a worthy finalist, and look forward to seeing if we can hold on to our tech crown.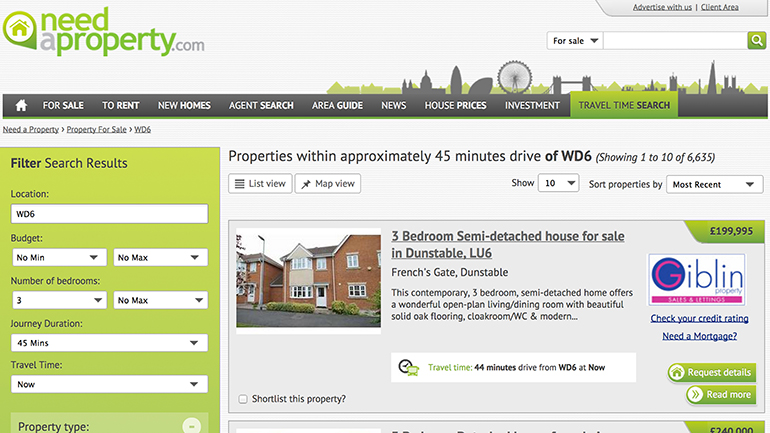 Our 'Travel Time' search feature in action on NAP showing property results within driving distance of our office.
Techie of the Year: Gareth Drew
Of course, we believe Gareth is a great fit for the award (affectionately) known as the Techie 'Super Geek' of the Year; responsible for managing technical projects, he has lead the team to deliver award-winning solutions for four years. Gareth also finds the time to lead our creative Research and Development (R&D) team, solving problems from visualising crime levels across the UK (CrimeTimeline) to answering one of life's most difficult questions: when is it okay to BBQ in the notorious British weather?
Creative of the Year: Craig Gardner
The team have had a lot of fun with our Production Lead's nomination, nicknaming him 'Craig of the Year'. Rising to management level less than 18 months after joining the company, Craig enjoys devising unique designs to delight our clients' users, and encouraging students through leading BIMA D-Day events. Craig was also the brains behind another R&D project, the 'Cuckoo Quack', in which an antique cuckoo clock was transformed into an online communication system, reacting to Facebook, Twitter and server events.
Account Handler of the Year: Siji Onabanjo
Siji, our personable Strategy Manager, has been instrumental to Cyber-Duck's successful growth in the three years he has been with the company. In that time, he has been involved in securing many of our clients and ensuring they continually benefit from the high level of service we offer. Equally passionate about the digital community, Siji founded and continues to organise The Digital Pond, London's largest free digital meetup, with a membership of over 1,200.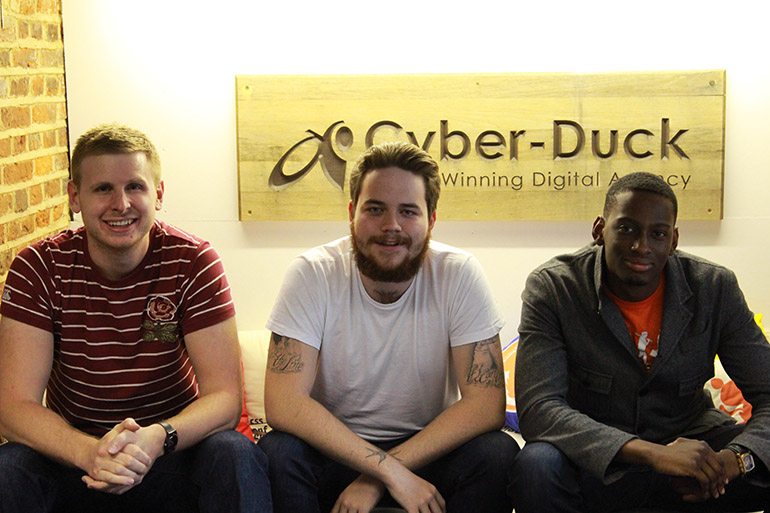 Gareth, Craig and Siji are very happy to be recognised as finalists for the individual Wirehive 100 Awards this year.
We have our fingers crossed for all our nominations and look forward to the finding out the results later this month.