The battle to encourage businesses to shift away from PDFs has been a long one. As many of us know, PDFs can often be problematic for users with accessibility needs and rarely comply with open standards:
They're not responsive

They're not designed to be read on-screen

They can be difficult to navigate

It's tricky to change their colour schemes and text size, which some users with visual impairments need to do

They're harder to maintain, and so easily become out of date
Change is going to take time, but it is important.
Recently, the UK government updated its content design guidance for open formats. The update has underlined a commitment to open standards and clearly mandated GOV.UK publishers to provide accessible alternatives to PDFs.
But is this guidance what's best for web users with disabilities?
We've been speaking to industry experts and users with disabilities to truly understand the best way to deliver accessible content online. We've gained fantastic insight, which we want to share with you on this webinar.
Attendees learnt about:
Adopting an accessible mindset:

Why accessibility is not a bolt-on and is a way you think about content design and how you display information.

Regulation and compliance: What you need to know about complying with Governments' regulations and guidance for online content

.

The PDF challenge:

Wh

y PDFs can still be of value, and when to use them.

Applying accessibility to PDFs:

What steps you need to take to make your PDF content more widely accessible.

Addressing changes in your CMS:

How CMS platforms like Drupal are making content accessibility easier.
Missed the webinar? Watch the highlights below and download the full on-demand webinar using the form.
Want to see if your PDF are accessible? Download out PDF Accessibility Checklist to get started.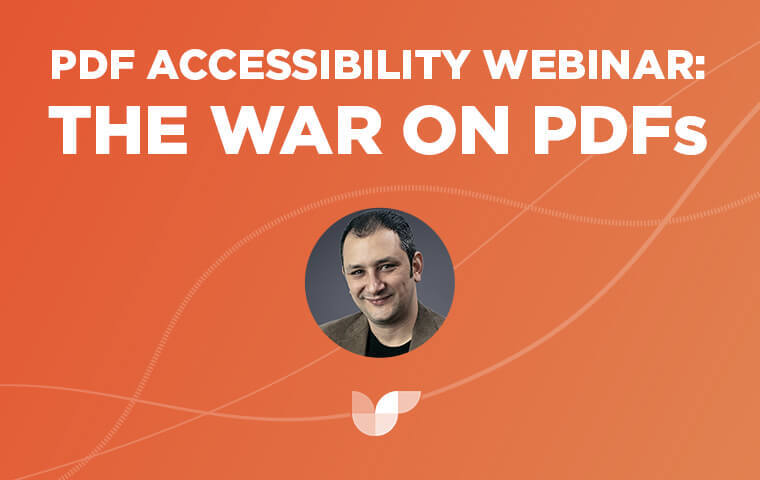 Watch our PDF Accessibility Webinar on-demand
Sign-up to watch the PDF Accessibility Webinar: The War on PDFs
- or complete the form below -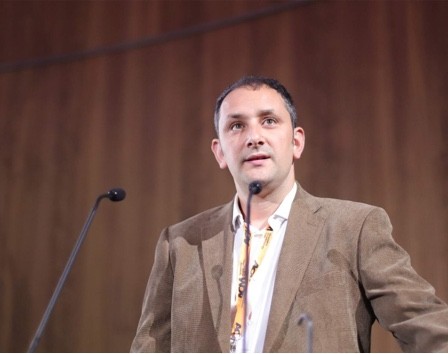 Meet Danny
Danny Bluestone is the CEO of Cyber-Duck, a leading full-service digital agency. He founded Cyber-Duck in 2005, inspired by fusing creative, technical and marketing expertise into a superior user experience. Now the independent agency works internationally with prestigious brands, including the Bank of England, Cancer Research and Arsenal FC.
Transcript
Without further ado, I'll just introduce you to the content of the talk today.

I'm going to start off by exploring: 'Is there a war at all on PDFs?'

In terms of people with disabilities, 1 billion people today live with some form of disability; that doesn't include people who are not reporting their disabilities and that number may
include temporary disabilities as well.

First of all, how can we live without the internet? No other invention has been more pivotal since the Gutenberg printing press in the 1400s.

For most of us the entire world is visible, audible and pretty much at our fingertips online, but people with disabilities have huge challenges.

How does this sort of accessibility fit into my world? So obviously at Cyber-Duck, we have some fantastic clients.

One of them is Sport England, where we've helped them to replatform and taking multiple websites with thousands of webpages, thousands of PDFs... the work that we have with the client is ongoing.

So in this particular slide here, it's basically a usability test with a blind user, and basically what the blind user experiences before the PDFs have been optimised... because
again, you have two types of PDFs: optimised PDFs and non optimised PDFs.

In this instance here, the PDFs were accessible, but they were quite fiddly for the user as we'll see in a minute; the keyboard shortcuts did not work for him, unlike in HTML.

With this particular PDF, the blind user needed to be familiar with the document first because
there wasn't a table of contents. They couldn't move around at ease. And obviously one lesson here is PDF should always have tables of content.

The internet is not just about PDFs. Users still publish other documents and put them online like Word docs, EPUB files as well. In some industries they require PDFs for annual reports.

So the war on PDFs is a symptom of a wider problem. Are we in fact, obsessing over the wrong issue?

There are other symptoms like inaccessible HTML apps, and even inaccessible books. The war should not be on PDFs. The war should not even be a war, but a battle for inclusivity.

We can only succeed if we collaborate with users with disabilities and really everything that we produce has to be tested with these people to make sure that they can extract value from what we're producing and actually understand the content and engage with it.

This is where inclusive design is really important and inclusive design actually recognises that accessibility and inclusive design benefits everybody.

And if everybody lives long enough, they'll experience at least one eye condition in their lifetime. At the moment, 2.4% of Americans are blind or have low vision. So it just gives you some perspective.

And it's not just about blind users, as designers, we need to cater for four very different types of disabilities. I think a really robust way to bake this accessibility in and inclusive design in is to use design principles.

At Cyber-Duck we've created a PDF accessibility checklist. We'll give you all of these
resources for you to download.