So you've heard about Google's latest 'Panda' update and are wondering if you should be concerned for your search rankings. You're right to be concerned - the altered algorithm has completely destroyed the business model of many websites and caused panic amongst many others.
What is Google Panda?
Panda is the latest update to the Google Algorithm which is designed to highlight the difference between high quality, original content, and the 'spammy' SEO driven pages which rarely provide us with the information we are looking for. Well that's the theory anyway. The update came into practice in the US back in February, and last week it was implemented across all English language regions, including the UK.
Who has been hit worst?
The update is a deliberate attempt to cut down on the amount of 'content farming' on the internet, so all websites that simply re-produce duplicated content would have been hit hardest by the latest update.
A study by web analytics firm Searchmetrics shows that websites such as Pocket Lint, Electric Pig, Tech Radar, TechEye, RegHardware, PC Advisor, IT Pro Portal and the respected Computer Weekly have all dropped significantly since the change. Microsoft Ciao, a shopping comparison website has also been affected as well as many voucher and discount websites, which do not carry a great deal of quality content.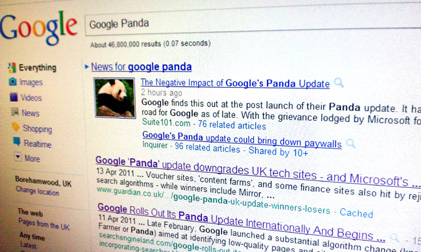 How will it affect my website?
It may sound obvious, but the first thing you can do is search and see if the update has affected your website. Search key terms you know usually bring up one of your pages. The changes will not necessarily be negative, you may even have benefited from competitors dropping in the rankings. If you have seen a drop then this is likely to be represented in your traffic and conversion levels as almost no one looks beyond the second page of search results.
What can I do get my website back to their usual rankings?
At the moment it's not clear how you can resolve this issue. Websites have been penalised in a bid to diminish poor quality content on the internet, which we are frequently stumbling across. In short, there is no simple way out of this. But if I were you, I would start producing original, high quality content, the chances are that you wouldn't be in a bad situation for long.