Google recently unveiled a host of new ad features at the Google Marketing Live event in San Francisco. These new features have got SEO specialists the world over pretty worried. We're here to tell you why that is. We'll also show you why the changes are beneficial to PPC marketers, as well as why the changes could end up encouraging SEO marketers to get smart and try new, more effective methods.
What did Google show at Google Marketing Live 2019?
At its annual marketing event, Google announced a range of new ad products. Partly, these products seek to enhance the top-of-funnel customer experiences and pitch Google as more of a competitor against Amazon.
The new ad products are highly visible and they will appear across numerous Google properties. They include:
Discovery ads, which will natively sit in the Discover feed on mobile and in apps
Gallery ads, which will appear as a carousel of up to 8 images at the top of the search engine results page (SERPs)
Showcase Shopping ads, which have an expanded remit. Now they will appear in Google Images, YouTube and Google Discover
Local campaigns now have new inventory on Maps to enhance the ad product
Smart shopping campaigns have been given priority over standard and display remarketing campaigns. This is an automated campaign product running across Google Search, YouTube and Gmail
There were other announcements too, but it's the Discovery and Gallery ads that have got SEOs' backs up.
What are Google Discovery Ads?
Google Discovery Ads are a new Google ad product that will bring native ads to the Google Discover feed. They will have a similar look and feel to posts in the Discover feed, and could make it easier to get content to users.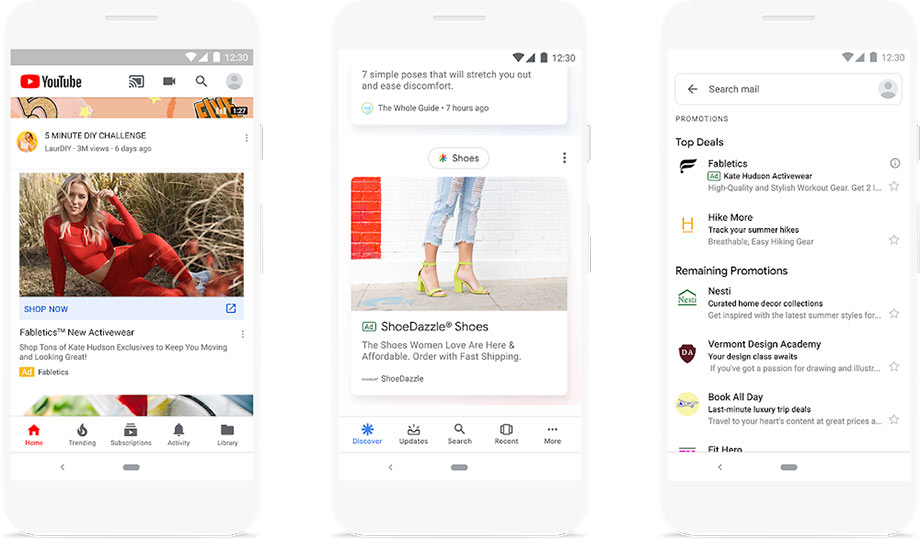 Discovery ads expand on Google's Discover feed, which first made an appearance last September. The Discover feed looks a lot like a social media platform's news feed. It brings news, posts, videos and articles to users in the space below the search field on Google's home page and app. For many critics – who believe Google's market dominance is thanks to its minimalism – the introduction of Discover felt like a dark turn, and it wouldn't be long until feature ads appeared.
The recent announcement confirms that Google does want to monetise the Discover feed. Discovery Ads will appear natively among posts in the Discover feed, kind of like the way Instagram ads sit in that platform's feed. What's more, Discovery Ads will be intent based, which means Discovery Ads will be very relevant to the user because they will draw on organic and map searches, video views and app downloads.
The ads are already appearing in Discover, with Google announcing that over 800 million users have already experienced Discovery Ads. There will be a full roll-out in 2019.
What are Google Gallery Ads?
Google Gallery Ads are a new mobile search ad format. They appear at the top of the SERPs as a carousel of up to 8 images, followed by a clear CTA. Users can swipe through the carousel or they can click an image and scroll through the gallery vertically.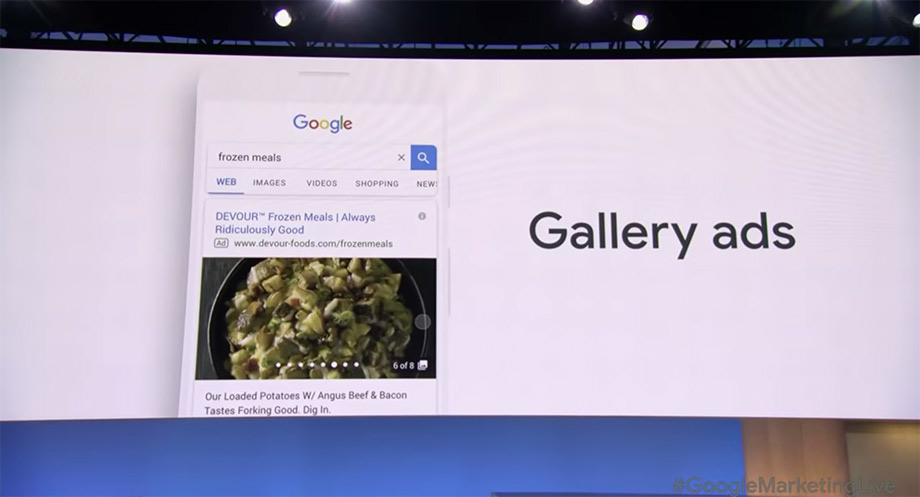 Gallery Ads are the new mobile search ad format from Google. The thing to know about these is that they are large. They take up a lot of the space on the search engine results page (SERP), which inevitably pushes the organic results further down the screen.
Gallery Ads feature at the top of the SERPs in a giant swipe-able carousel of up to eight images. Users will find a CTA to the advertiser's website at the end of the gallery. There are two ways users can engage with the gallery: either by swiping through the carousel or by clicking on an image to expand the gallery vertically so they can scroll through it (thereby hiding the rest of the SERPs until the user clicks back). You can also submit a 70-character description and up to three headlines to test with the Gallery Ads format.
Why did the new Google ad announcements annoy SEOs?
In short, Discovery and Gallery ads have annoyed SEOs because it will push organic results further down the SERPs and make it more difficult for their content to rank. There is still some room for speculation about how much the new ads will be used in practice, but the general consensus is that they will be bad for SEO.
Any change that pushes organic results down the SERPs is bound to worry SEOs. These specialists have a hard enough job as it is keeping up with all the subtle algorithmic changes Google releases to optimise performance. With these new ads, it feels to some SEOs like a swift kick in the teeth, mainly because it means it doesn't matter if your content ranks first, it still won't appear above the fold for users.
A lot of SEOs see this as massively debilitating to their work. But we have been here before. In fact, we all panic about the apocalyptical drop in traffic following a Google update all the time. Why should the Discovery and Gallery ads be any different?
The new Google ads will be a boon to PPC
It may be having SEOs ratcheting up the threat level to DEFCON 1, but over in the PPC camp the new Google ads are likely to be welcome news. Now, PPC marketers have more tools to play with and get their products and links in front of users. They can create more compelling content that's highly personalised and attuned to what users actually want to see.
Arguably though, the reason why Google did so well in the first place is that it shunned ad overkill. Its minimalist design was a far cry from Yahoo!'s, which was peppered with ads and unnecessary content. Google could be banking on the idea that their own ads will be highly personalised and relevant to the user, and that they are the go-to search engine for 88% of the market. But how users react to this new, ad-heavy version of Google is yet to be seen…
SEOs need to get smart to keep up
Nevertheless, all is not lost for SEOs. In the wake of these Discovery and Gallery Ads – as well as the other new features announced at Google Marketing Live 2019 – SEOs need to up their game once more to stay ahead of the curve.
If you're an SEO, it means it's time to get clever with your content. How can you make your content even more compelling for users? For instance, you could ask if your competitors have content that has made into the Featured Snippet slot on the SERPs? If so, take a look at their content and see how it's structured. Could you create your own content that answers the same question but has a better structure – say, a bullet point list – that Google will prefer to your competitor's?
Ultimately, you have to remember that SEO isn't going anywhere. Of course, it will be harder to get your content to the top of the SERPs, but at the end of the day users are looking for the most valuable content. If you prioritise great content, optimise your website properly, and have a little patience, the users will come to you. Just, try not to worry when your organic traffic drops for a little while!
Enhance your marketing with Cyber-Duck
If the new changes to Google's ad products have your marketing team worried, then our in-house SEO specialists in London and Leeds are here to help. We have specialised in digital marketing since 2005, and our expert marketing team has delivered exceptional SEO strategies to brands like HF Holidays, ecoPayz, Censornet and many more.
To find out how we can help your brand survive the latest changes to Google, contact us today.