We are delighted the Wirehive 100 Awards have recognised the passion, skill and experience of Cyber-Duck's leading figures for the second year in a row. Against a striking theatrical backdrop at Guildford's G-Live, our CEO Danny was announced as their first Digital Leader of the Year, while our Design Director Craig took the the Creative of the Year crown.
Looking beyond our capital, the Wirehive 100 Awards celebrate outstanding agencies, leaders and projects built with love across the South of England. Cyber-Duck has been up there right from the start. From intricate technical portals to our charismatic, creative individuals, we've been featured as finalists and winners year-on-year, since the awards' conception in 2012.
And 2015 was no different. Three of our Directors became impressive finalists, celebrating with a 'Night at the Theatre' at Guildford's G-Live. Dusting off the black tie, we were treated to a circus-themed spectacle and comedy laughs before crossing our fingers for the winners' announcements.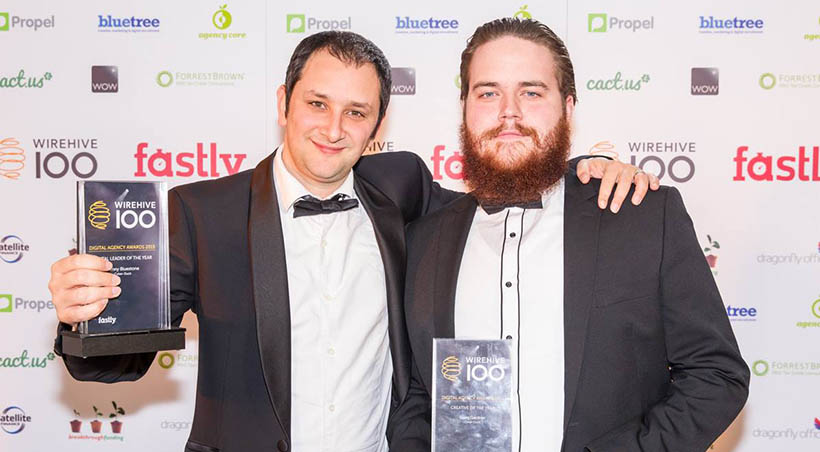 Digital Leader of the Year
Our CEO Danny was crowned Wirehive 100's very first Digital Leader of the Year. Since we began in 2005, Danny's vision, values and expertise have led our agency to year-on-year growth with no external investment.
Guided by an accredited design process, our passionate team now enjoys devising digital campaigns to solve the most challenging briefs, from revered brands right to dynamic startups. Danny continues to lead our strategic growth alongside active involvement as a strategist, producer and counsel to key clients. Combined with Lloyds Bank National Business Awards' nomination for the Entrepreneur of the Year, we're immensely proud of Danny's achievements.
Creative of the Year
Hot on the heels of his commendation in 2014, we're delighted that our Design Director, Craig was announced as the Creative of the Year. Promoted to the board at just 24, Craig excels at crafting unique designs, which exceed the requirements and desires of our clients and their users.
Craig is dedicated to inspiring our creative team and community work with BIMA, while tackling tricky projects with colossal internal expectations; bringing our re-brand into a beautiful new website, in just two months. Not content with submitting the norm, Craig's entry wowed the Wirehive judges; he designed and built a microsite, exploring his creative portfolio with a bit of help from his favourite Lambretta scooter.
13th Top Digital Agency in the South
The Wirehive 100 League Table is the grand finale – an objective financial ranking, which drives recognition for the hard work, creativity and innovation in the South. With rapid growth underpinned by our vision, values and partnerships with clients, we were announced as the 13th top agency of 2015. Check out the video we shared to celebrate our rollercoaster ride towards our tenth birthday this summer!
Our team had a fantastic 'Night at the Theatre', celebrating our wins with Wirehive 100 – but it doesn't finish here. We're looking forward to sharing details about a new project with Wirehive in the New Year!