We are a Drupal Association Premium Supporting Partner and Acquia Silver Tier Partner and proud to have such a significant partnership with both Drupal and Acquia.
Therefore, you can only imagine our Drupal team were beyond ecstatic to find themselves joined by our surprise guest at our internal Drupal Town Hall. The guest was none other than Drupal and Acquia founder, Dries Buytaert. He has been infamously described by one of our technical leads: "Dries is Drupal".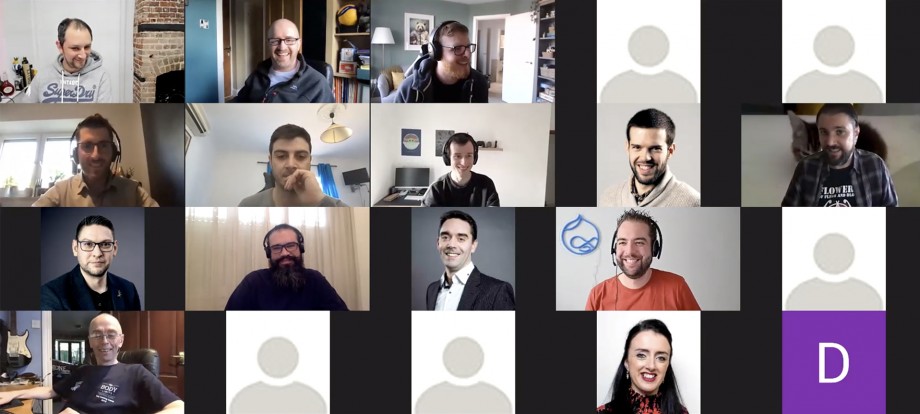 Dries speaking to our Drupal and Acquia developers on a Zoom call.
Painting the picture of Buytaert, the Drupal project began in 2001 as a free and open-source content management system (CMS) framework written in PHP and distributed under the GNU General Public License. Following from this success, Acquia was released in 2007 as a closed source software company providing enterprise products for Drupal. Through their resource, revenues and manifesto, Acquia tirelessly invests into Drupal and is their biggest contributor with the mission of continuing to make the platform free and the best headless and accessible CMS out there.
Buytaert was graciously placed in the spotlight and provided our eager-to-learn Drupal team with the opportunity to ask all questions Drupal-Acquia related – no filters applied and no rehearsals – a purely inquisitive conversation with Drupal creator and founder!
Drupal vs Other CMS
The first most notedly question asked by our Drupal website creators surrounded what the biggest drivers behind the creation of Drupal are, and how Drupal 10 aims to differ from other CMS.
Buytaert stated that Acquia has previously conducted significant research prior to the upcoming release of Drupal 10 – acknowledging the improvement opportunities of previous modules. The graph below showcases the trend of the different users and their approval ratings; beginners preferred WordPress, Adobe Manager Experience and Sitecore over Drupal – however once they became experts, their approval ratings for other CMSs gradually goes down, and Drupal approval ratings curve upwards. This positions Drupal as the world's most highly rated CMS to build on according to developers.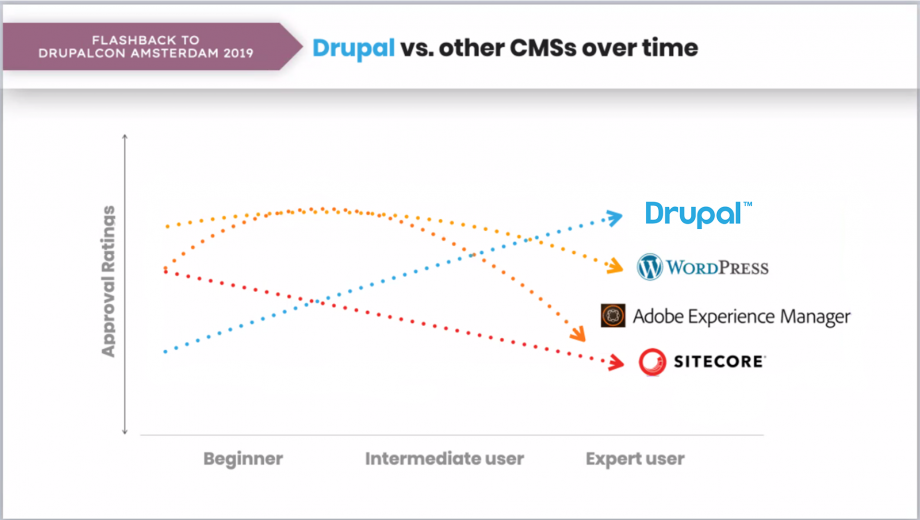 Drupal vs. other CMS over time graph.
Claro - a clean, accessible and power Drupal administrative theme
Dries said that when it comes to his Drupal project it is "all about learning from other projects and incorporating the best ideas". Drupal 9 and 10 have leveraged this mentality and turned Drupal into something that is ideal for both beginners and experts, with it being an easy out-of-the-box experience with new tools such as layout builder, drag & drop and media library. In addition to the highly anticipated Claro: a clean, accessible and power Drupal administrative theme which has improved both the look and feel, installation experience and authoring content creation. No folks, it does not just stop there, Buytaert outlined Olivero: a Drupal core initiative new front-end theme in beta.
Better contributor experience through GitLab
In addition, Dries, the Drupal founder highlighted the push to improve the Drupal association contributor experience through a push towards creating migration from Drupal's tools to GitLab. This is in alignment with Drupal's core team philosophy which values and relies on contribution code from the Drupal community. At Cyber-Duck we are motivated to contributing more back to the Drupal community – allowing us to build on our existing testing proficiencies.
Accessibility vs Customisation
Next was the all-important question of accessibility vs customisation. As developers we are aware when customisation takes places, it is vital to not loose basic accessibility for visually impaired users. At Cyber-Duck we are dedicated to both fulfilling accessibility standards and building bespoke custom designed websites with specific client requirements.
The dedication of our Drupal team to create accessibility websites is evidenced by our current government-body project where our developers have been tasked to transition multiple websites into a new single solution and build a user-friendly website to improve accessibility and ease of use. Watch this space here for a case study where we received a 96% accessibility score evaluated against the W3C Web Content Accessibility Guidelines (WCAG) 2.1 up to conformance level AA.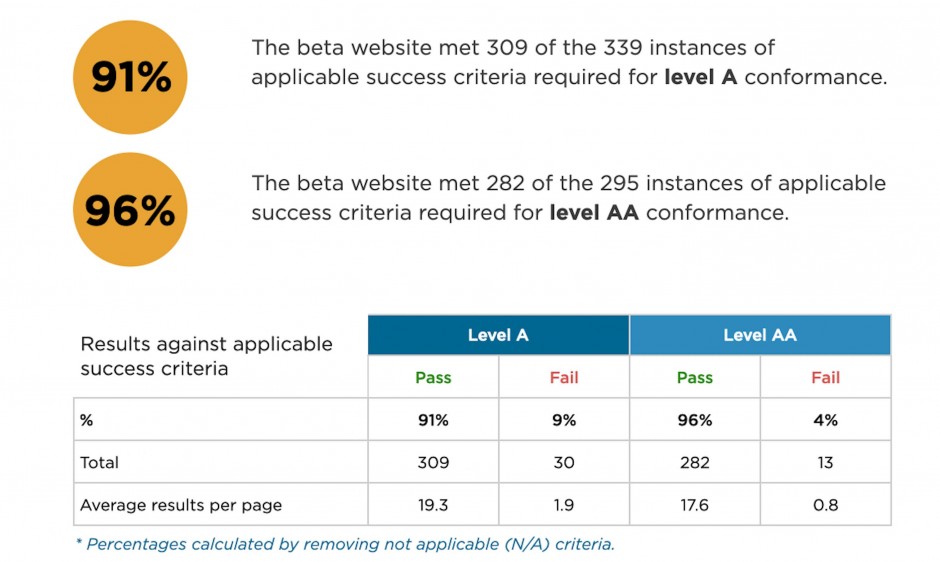 Accessibility score for a government-body website project.
Starter Kit
Drupal's founder echoed our Drupal team's passion and advocacy on accessibility standards. The Drupal team are currently working on a new Starter Kit to be released in Drupal 9.2 to combat the issue surrounding when developers reference templates in Drupal Core and customise it – where it inevitably breaks the theme and thus cannot do a clean-up.
In contrast, the new Starter Kit aims to follow a scaffolding approach whereby when developers apply customisation, they are no longer required to have to reference the original template – essentially the Starter Kit acting as a clone.
Best CMS for accessibility – Drupal?
Additionally, Drupal Core has an accessibility team who conduct an extensive accessibility review – taking that extra mile to ensure accessibility. Buytaert ensured that when Claro and Olivero are stable, these will be "state-of-the-art for accessibility" with features including integrating Microsoft high-contrast mode to Drupal, ensuring accessibility for those with visual impairments.
In the future, Drupal want to generate accessibility templates, however at the moment this is up to the developer, hence the importance of selecting a Drupal development services agency and why you should trust Cyber-Duck.
Open Source vs Closed Source
Drupal having the following features: Security, Performance & Scaling, Multilingual, Accessibility, Marketing Automation, Content Authoring, Personalisation and Content as a Service. Drupal being government entities go-to-choice due to it being open source.
The inevitable question of open source vs closed source was asked to the Drupal and Acquia founder with Drupal being an open source content management system and Acquia, a proprietary technology suite that enhances the Drupal proposition adding in more capabilities.
The Cyber-Duck Drupal team were intrigued to understand the business model differences between an open source (Drupal) and closed source (Acquia) mentality and how it can benefit different types of clients. With the notion that Drupal is the de facto choice for UK government CMS systems, one of the first questions we asked was how public sector government clients can procure some of Acquia's products which are generally proprietary and not open source. Dries mentioned that it is down to the procurement policies of different organisations and they can choose either Drupal or Drupal and Acquia.
Building upon this, Acquia's new UK Government Accelerator aims to also enable government departments to have the security, reliability and agility they desire.
Acquia site migration
Acquia having features split into Drupal Cloud and Marketing Cloud. Buytaert depicted the Migration tool, which aims to migrate customers from Drupal 7 to Drupal 9, as Acquia's "magic tool" unique to solely Acquia customers.
The magic in the Migration tool is tied with Acquia's Cloud product, where a hardware environment is created to allow developers to test migration. In addition, a React UI is built to help developers migrate and complete mapping fields. This makes it extremely time and cost-efficient as it accelerates the migration process.
Thus highlighting both open source Drupal and closed source Acquia as ideal for government entities, companies and website creators whom require reliable sites with top-of-the-panel security.
Final Thoughts
Buytaert ended on a thank you to our talented Drupal team "Thank you for using Drupal, working with Acquia, hopefully we will do lots of great projects and make Drupal better too" and to which we reply with a massive "hear hear!".
We truly are really appreciative to have had such an exceptional visit and hope to see Dries Buytaert around the pond again to further advance our Drupal expertise.
If you would like to learn more about the Drupal upgrade or would like to discuss your Drupal or Acquia site migration, please contact us here and check out our Drupal and Acquia service pages for a partner you can trust.