The Ducks were delighted with our success at the Wirehive 100 Award Ceremony last week. Joining the best in digital in the striking setting of England's largest vineyard, Cyber-Duck were recognised as the 13th top agency in the South. With our Strategy Manager Siji announced as the Account Handler of the Year, and Production Lead Craig highly commended for Creative, the night showcased our fantastic team.
Celebrating digital excellence, the Wirehive 100 Awards recognise outstanding agencies based in the southern counties, outside of London. We were up for a record-breaking FOUR awards this year, a fantastic feat considering there was a 40% increase in competitive entries this year. Our team was nominated for every single individual award available, spanning Creative, Techie and Account Handler of the Year, as well as Best Tech, which we won last year.
We couldn't wait to celebrate in the striking setting of England's largest vineyard, the Denbies Wine Estate. The team scrubbed up well for the occasion and were treated to a champagne reception and lavish three-course meal, before enjoying a set by risqué-comedian Chris Ramsey and the winners' announcements.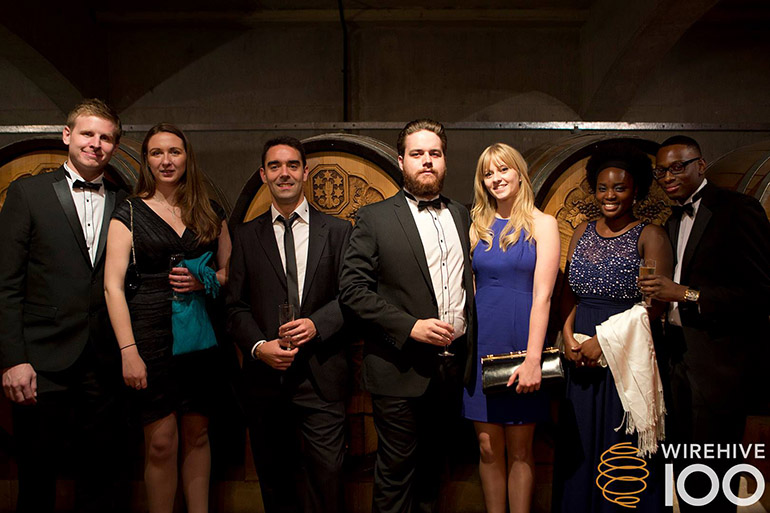 The Cyber-Duck team looking smart for the Wirehive 100 Award Ceremony.
13th Top Southern Digital Agency
As the Wirehive 100 League Table promotes the best in digital of the South, we were happy to be named as the 13th top digital agency – rising from 18th just one year ago! This showcases our rapid growth, achieved by our vision and the success of our recent projects; we summarised our highlights of 2013 in a nostalgic timeline, and are looking forward to sharing the heights of 2014 in this year's infographic, from speaking at SXSW to award wins like this.
Account Handler of the Year Winner
As a key figure behind the scenes of Cyber-Duck's rapid growth, we were delighted to see the hard work of our charismatic Strategy Manager recognised. Announced as the Account Handler of the Year, Siji has been instrumental in securing many of our clients and ensuring they continue to benefit from our brilliant services. He also founded The Digital Pond: with a membership of over 1,300, it has become one of London's most exciting, free digital meet-ups.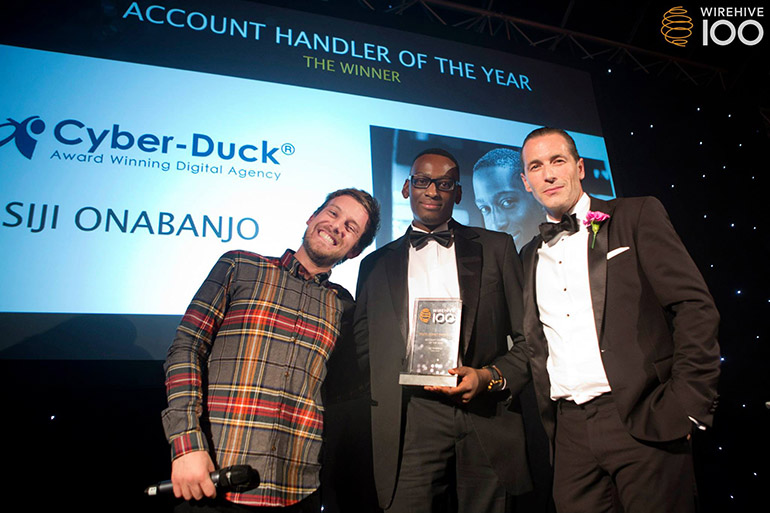 Siji receives his award for the Account Handler of the Year.
An Award-Winning Team
We were excited to see our Production Lead, Craig highly commended as a (close!) runner-up for Creative of the Year. This recognises the creative range of work he consistently devises for our clients and his role in original R&D projects like the 'Cuckoo Quack'. Fellow finalist and our Technical Lead, Gareth, leads this innovative department, so despite narrowly missing out on first place he is still our 'Super Geek' of the Year.
We thoroughly enjoyed the evening, and would like to extend our congratulations to all the other winners and nominees – there really is some great digital talent in the South.