At Cyber-Duck, we're proud of our award-winning heritage. Over the years, we've collected accolades from the Deloitte Technology Fast 500, Econsultancy, UXUK, Wirehive 100, UK Agency Awards and more. Now, we have yet another from The Drum's DADI Awards!
The Drum Awards for the Digital Industries (DADI) are managed by the media and marketing publishing powerhouse. They reward agencies that have produced digital strategies, campaigns and projects that are exciting and innovative over the last year.
Last night, Cyber-Duck was chosen! We won a UX & Usability Award for our work on Lyk by Thomas Cook Money. Our UX team were also highly commended for the Production Team of the Year – and we had two further nominations for our Technology team and Lyk again, for the Financial Services category.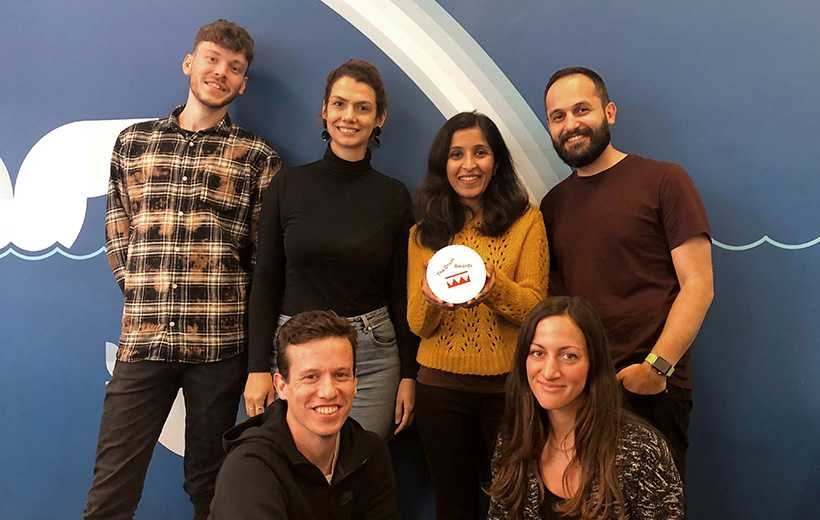 This recognises our agency's heritage in user experience. We put users at the heart of everything we do at Cyber-Duck – and we're proud to lead the way about just how that's done. Last month, we released the second edition of our UX Handbook, revealing the process used for brands like Thomas Cook Money, the Bank of England and Cancer Research. So, we're delighted that our UX process has won yet another award.
Lyk by Thomas Cook Money
With financial technology evolving faster than ever, Thomas Cook Money (TCM) was established to build upon Thomas Cook's heritage of financial services for holidaymakers. TCM engaged Cyber-Duck to assist with the digital transformation of the Cash Passport product.
The outcome was Lyk, a mobile-led, prepaid Mastercard travel card. Cyber-Duck's planned and developed its user experience strategy, marketing framework and even reviewed the CRM and Content Management workflows, all in less than three months. Read more about how we did it on our case study.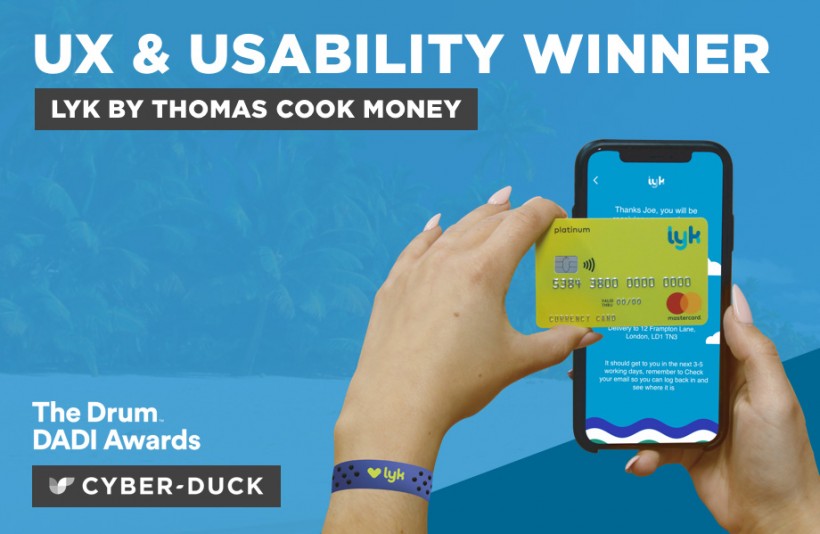 TCM even innovated further by capitalising on the wearables trend for holiday spending. Based on Cyber-Duck's strategy, the Waveband was the new, easy way to make contactless payments via a colourful, lightweight band that was linked directly to a Lyk card.
Following this project, the amount of Lyk cards issued increased by 45% in comparison to the last financial year. This is because together, we increased Lyk's brand awareness and availability. Overall, 130,000 Lyk cards were issued and 1,200 Waveband wearables purchased.
James Done, the Travel Money Director at TCM, said: "Right from the pitch, Cyber-Duck demonstrated great customer knowledge, innovative solutions to problems and won the trust of the Thomas Cook Money team. I have worked with many agencies in my career and everything that Cyber-Duck said they could deliver, was delivered."
But clearly, this award win was bittersweet. We were devastated to hear the news about Thomas Cook last month. Since 2016, they were a loved client; we count the employees we worked with as friends of ours. This award win only highlights their hard work with us to generate such strong results. Our best wishes are still with their staff and families.