DrupalCon is a highlight of our tech team's calendar each year. A week-long tech and marketing conference celebrating all things Drupal, with a wide range of topics including: Leadership, Management, Business, DevOps, Content, Marketing, Site Building, User Experience, Accessibility, Design, and Community Health. There is something for everyone.
When Covid-19 forced the world into lockdown last year, the team at the Drupal Association pledged that the global crisis would not deter them from delivering an engaging and internationally successful event. They quickly pivoted the event online, with such success that it continued online this year. One of the many benefits of taking this event online is the increased accessibility; with no need for travel or accommodation, costs are reduced and the ability to dip in and out of the conference around work commitments reduces resourcing challenges; enabling more people to attend.
This year's event was attended by more than 2,250 people, including 10 of our own Ducks, and there were over 140 sessions for them to choose from. One of the keynote sessions was delivered by our very own CEO, Danny Bluestone, who gave a highly anticipated talk on 'The War on PDFs' attended by over 450 people. The session was so well received we delivered it again two weeks later for non-ticket holders as a free webinar and a month on we're still getting requests for a copy of the recording.
We're such big fans of DrupalCon we also joined as sponsors this year, hosting a booth over the five days and sharing valuable content to attendees such as our UX Handbook. Our Client Services Manager, Sylvain Reiter, also delivered a lightening talk on how we applied accessibility throughout the entire project lifecycle, when overhauling the Sport England website.
In celebration of this year's conference, we've asked some of the team to share their favourite sessions:
Driesnote
Always one of the key sessions, if not THE key session, of DrupalCon is the Driesnote. Dries Buytaert is the founder of Drupal and each year gives a highly engaging presentation on the future of Drupal.
This year, Dries opened his session by looking back over the last year and the impact Covid-19 has had on the Drupal community. This includes the challenges associated with hosting DrupalCon as a live event, and the emotional challenge for friends and family within the community who lost friends and family to Covid. Dries paid tribute to long-time Drupal contributor, Ben Chavet, who lost his battle with the virus earlier this year. It was a very touching tribute which highlighted the importance of the community not only to Drupal, but to Dries as well.
Dries then paid tribute to the vaccine programmes, which are paving the way out of this pandemic and offering us a future which includes live events again. He shared that three of the four main vaccine producers use Drupal for their websites and the one which doesn't, AstraZeneca, was developed by the University of Oxford who also use Drupal.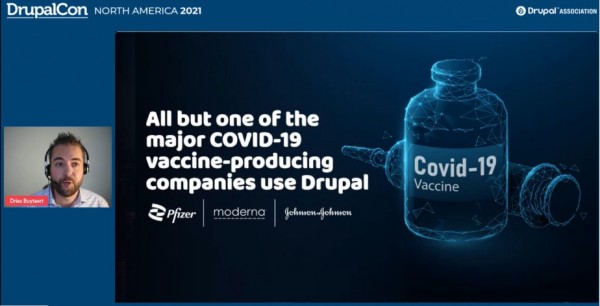 Looking forward, one of Dries' key points for this year was the need for Drupal to continue improving the 'out of the box' experience, with a focus on simplicity and point-and-click functionality. 
This focus was a driving force for the five key initiatives for the upcoming launch of Drupal 10:
Decoupled menus, the best way for JavaScript front-ends to consume configurable menus managed in Drupal.
Easy out of the box, making it as easy for new users to pick up and run a Drupal website as it currently is on the likes of WordPress, whilst making the intermediate and expert experience even stronger.
Automatic updates, reducing the need for professional developers in order to update your website. This will give you the option to both automatically update your site and rollback when things go wrong.
D10 readiness, updating any site components which will reach end of life with the launch of Drupal 10.
New front-end theme, along with improving the out-of-the-box experience, Drupal is getting a brand-new, modern, accessible default theme.
It was extremely exciting to learn that a module store could arrive as part of Drupal 10. This move further cements Drupal as easy to use for beginners and continues to set them apart as a leading Content Management System.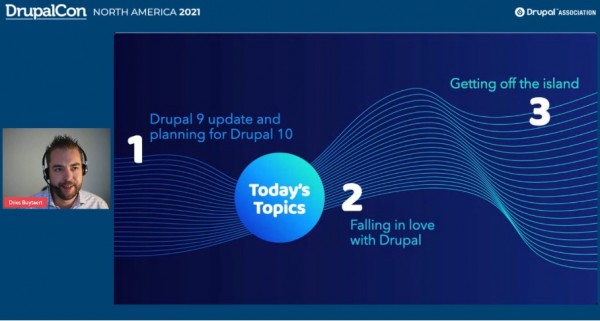 Ending the Feud Between Developers and Marketers 
In this session, developer Ron Northcutt and marketer Mariam Ahmad from Acquia explored how Drupal can help to mend the divide between developers and marketers when it comes to content management.
Particularly since Drupal 8, there has been a shift away from developers creating fully formed websites to developers creating platforms through which marketers can create their own website. In the past, every site change needed an expert. This development life cycle could cause delivery delays. Now the focus is very much on creating an intuitive system empowering content creators so they can add new content as required. This frees up development resources for innovation rather than day-to-day content creation.
Ron and Mariam discuss the different viewpoints of developers and marketers when it comes to the website and how both teams can begin to speak the same language to achieve the common goal of "getting the required work done properly and on time".
The solution is a composable framework based on a well-designed component library that a site builder / content editor can use to construct pages for their website. This is a self-service, re-usable toolset based on components that are on-brand, fit for purpose and provide a seamless end-user experience. It's also an extensible solution meaning new components can be added as required by the developers through the normal development process.
Drupal already has all the tools to provide such a solution. The framework works in tandem with the information architecture of the site to enable the creation of feature-rich, dynamic and extensible websites.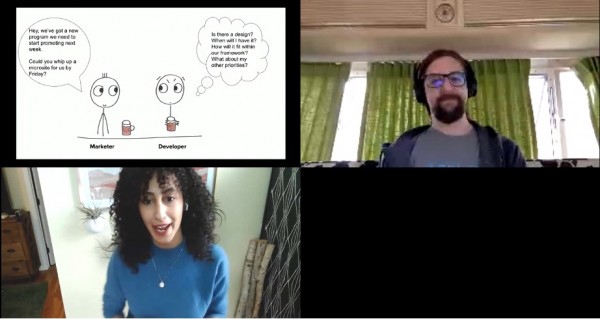 Upgrading to Drupal 9 using the Migrate API 
With almost 64% of users still using Drupal 7, Mauricio Dinarte from Agaric delivered a relevant and informative presentation.
Moving from any website framework/CMS is usually challenging - Drupal makes it easy. It offers a suite of tools that allow you to migrate content from any source, transform it as required, and import it into your new Drupal system.
The Drupal migration system allows creation of multiple migration components, transactionally applies them, and can enforce dependencies enabling creation of a migration procedure that can be repeatedly applied/tested and easily rolled back until your aims are achieved.
One of several sessions on migration, this session stood out by demonstrating how easy it can be to migrate content from an existing Drupal 7 system into Drupal 8 or 9.  If you'd like to know more, our free white paper 'Still Stuck on Drupal 7?' is a great place to start.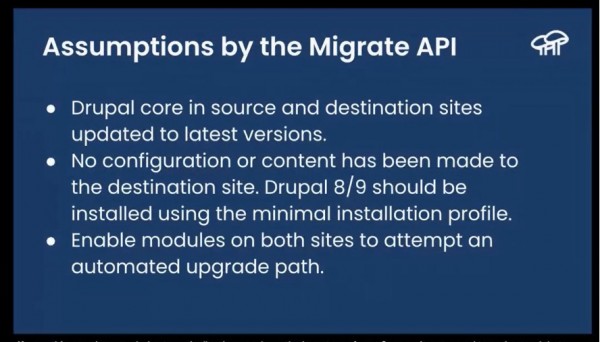 JSON:API 101: Understanding JSON:API in Drupal
In this session, Parvateesam Konapala from Pegasus Systems exposed the main differences between the JSON API and RESTful core modules.
Most people are aware of the existence of a 'core' solution; however, it was pleasantly surprising to see what you receive out of the box with the JSON API and RESTful core modules. On first review, it appears that both JSON API and RESTful serve the same purpose, however, following this session we learnt that they do so in different ways.
The RESTful module exposes entities and other resources as RESTful web API as well as offering a rich variety of configurations which makes it extremely flexible to configure a resource API from a Drupal site.
The JSON:API module generates an API server that implements the JSON:API specification and includes a limited set of options to configure.
The JSON:API module doesn't allow for some of the features that the RESTful module does, although it does allow developers to configure a resource API just by installing the module. Overall, it covers the requirement for a big number of projects without the overhead of extra configurations.
It was helpful to see how the two options differ so developers can choose the option which best suits their project. More interestingly, we were encouraged to learn how both modules can be used in conjunction and that they aren't mutually exclusive.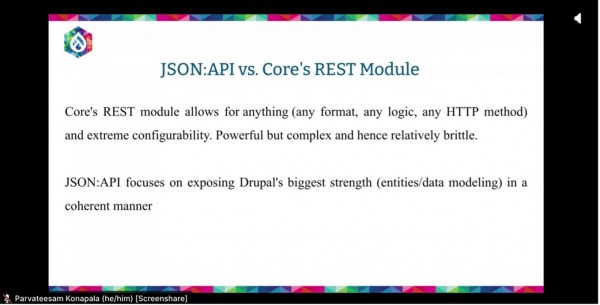 Decoupled horizons: Drupal's Next Decade
"Decoupling is not just a way of building a site, it could lead to a renaissance for the Drupal project itself." A highly engaging, philosophical, and interrogatory session delivered by Gabe Sullice.
Gabe had the audience enthralled by spending most of the session asking questions. With these questions, he drew a picture of what the future of Drupal could look like, something potentially entirely unrecognisable from what it is now.
The presentation material itself was delivered forwards initially, and then backwards. This created an almost sci-fi, speculative bird's-eye-view of the topic which was thoroughly engaging.
Overall, it was exciting to consider that Drupal could move away from being "merely" a CMS and instead power broader experiences, outside of the browser. Whilst this session was speculative and blue-sky, it was exciting, nonetheless.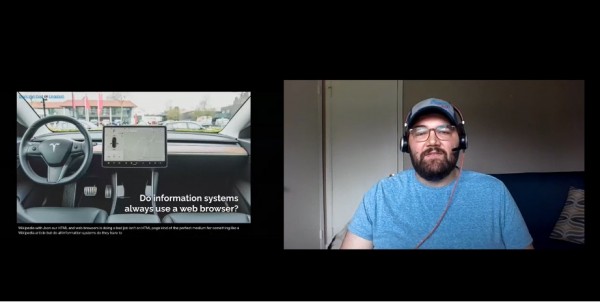 After an incredible five days, DrupalCon did not disappoint! With a diverse selection of speakers and topics, picking a top five was certainly a challenge. However, one of the many benefits of a virtual event is that ticket holders have access to the full library of sessions via Vimeo, allowing them to watch back any they missed or simply wish to re-visit.
DrupalCon has something for everyone, so in whichever capacity you work with Drupal, we would recommend attending next year. In the meantime, for those who couldn't attend this year, subscribe to the Drupal Association YouTube channel. The sessions will be uploaded in a few weeks' time, and the Driesnote is already available.
And whether you are looking to transform your own Drupal website, migrate to Drupal from another CMS, or migrate from Drupal 7 to Drupal 9 we can help you. Get in touch today to learn more about the services we offer and how we can help you transform your website to maximise your business growth.