In 2005, I was inspired to found Cyber-Duck by fusing research, creative, technical and marketing expertise into a superior user experience. As pioneers for that total approach to user-centred design, I encapsulated our award-winning, accredited process in a lengthy UX White Paper in 2015. Since then, a lot has changed in the UX world so it was time for an update. I'm excited to share my second edition of the UX Handbook!

Behind the scenes of the original paper
My agency, Cyber-Duck are well known for our innovative approach to User Experience (UX). Our skills and knowledge have driven transformative user-centred design to clients like the Bank of England, Thomas Cook Money, Mitsubishi Electric, Sport England and Cancer Research.
In 2015, I decided wanted to share the details of our hard-earned experience. This was because I could see a disjointed approach to UX was causing issues. All too often, brands approached design, technology and marketing as if they were siloed, which makes for a poorer end-product. At Cyber-Duck, that isn't the case. By linking multiple disciplines together, we provide service design. That's what makes our accredited user-centred design process so special, and I wanted to share it with the community, so they could build the digital products of tomorrow.
There were some great books about UX out there already – including Jesse James Garrett and Jakob Nielsen – but none of these gave practical tips on how to conduct a user-centred design project that intersected with software, SEO and branding.
With help from Matt, Sylvain, Gareth and Sofia, I wrote and launched what was then called the UX White Paper. It was a comprehensive guide to UX that aimed to help:
Businesses get to grips with the fundamental thinking behind UX design
UX designers, both junior and senior alike, brush up on their UX knowledge
The finished white paper (more a book by the time it was finished!) was a thorough look at user experience best practice. It enjoyed a great reception from the community when it launched online, with over 400 print editions distributed and over 500 downloads accrued.
But our process has evolved since we launched the first edition. We hope that its second edition, the UX Handbook, will be equally well-loved!
What to expect from the new UX Handbook
The fundamental philosophies that underpin UX haven't changed – it's still about delivering exceptional experiences to users. We aimed to address the changes that have taken place in our industry since we published the first edition in 2015. Throughout, we have highlighted the importance of content strategies and agile methodology and tracked the evolution of technology.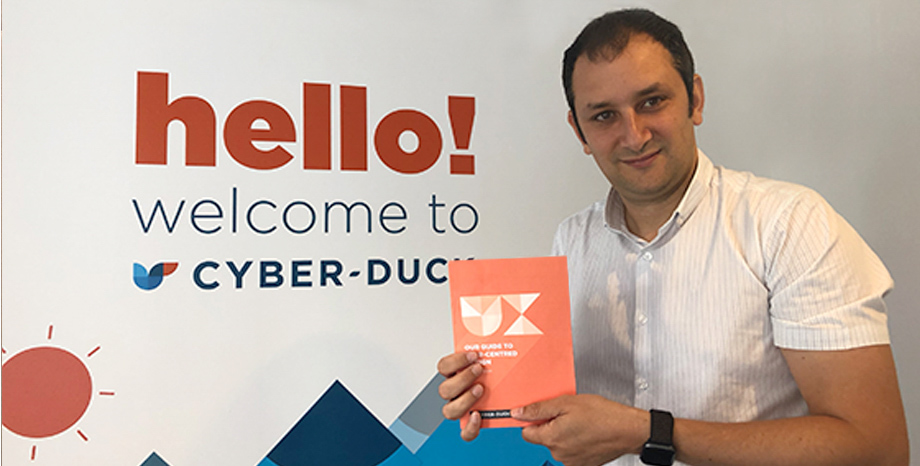 During the editing process, we decided to rename the paper. 'UX Handbook' better reflects its role as total introduction to user-centred design and the great feedback we've had from over 1,000 readers. Here's a snapshot of what content has changed for each key section.
planning
There is no single way to undertake the planning, design and development stages of a UX project. But since 2015, our Project Management Office (PMO) has been established by Benjamin. Inspired by our detailed quality management processes, I updated the advice on the critical stages of Requirements Gathering and Stakeholder Interviews.
The granularity of research conducted by our UX team has also grown. This has been reflected in updates to how we craft personas, content and analytical reviews. A case study from our colossal project with Mitsubishi Electric brings this to life.
Design
Previously, I had talked about the importance of 'flows of control'. But I now feel the ideas behind this term are better expressed by the term 'user journeys', so I've refreshed an entire section on user journeys in the UX Handbook.
User journeys detail how users navigate a web system or digital product based on the tasks they want to complete. In UX Handbook, I break down what user journeys are and show you the best practices for making them.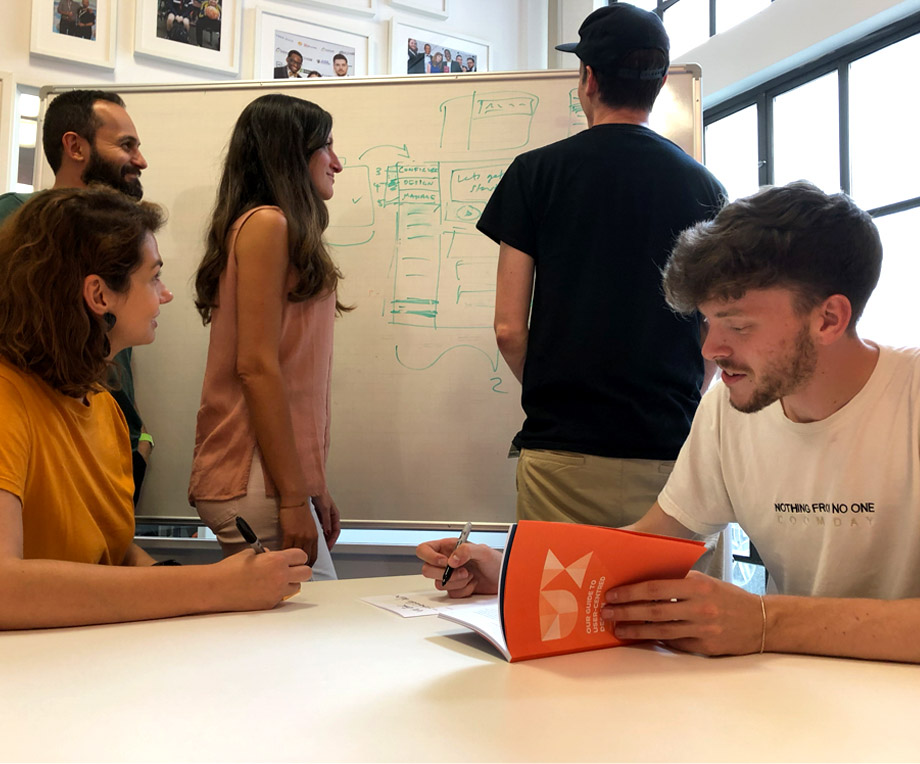 Our UX team reference our process while drawing interfaces.
I also discuss user stories, which are like 'requirement' blueprints designers, developers and QA analysts can use to validate products. I look at both user journeys and user stories further in UX Handbook.
A new section has been devoted to Design Systems, due to their increasing popularity. These are comprehensive guides organisations can use to ensure their designs and user experiences remain consistent across platforms and over time.
They define content strategy, tone of voice, typography, colour palettes, logo use and can even come with pre-coded components tech teams can pull and use to quickly build new pages.
Want to see a design system in action? Check out our very own Brand Bible, or head to our case study for the Bank of England to see how we transformed their online experience.
Development
Another major change to UX Handbook is on the technology front, particularly where front-end coding is concerned. I vamped up the technology section, showing why it's important to get into development as early as possible.
One of the most important aspects of our accredited user-centred design process is the test-driven development phase. We feel this is integral to UX, as it ensures that the technology and designs are working perfectly.
I also looked at new technologies, including progressive web apps (PWAs) and headless content management systems (CMS).
Download UX Handbook today
Download the UX Handbook today to learn more about the fundamentals of UX. This enhanced process can bring greater user understanding, engagement and action to your brand's digital experiences. If you would like a physical copy for your library, you can purchase a copy from Amazon.
But to truly benefit from Cyber-Duck's UX expertise, work with us. Our UX audits help clients to identify crucial issues with customer service and UX, allowing us to plot a suitable course forward for our clients.
Contact us today to benefit from our UX audits and improve your user experience for the better.